Regular price
Sale price
$24.97
Unit price
per
Sale
Sold out
✦ Main Benefits

Breathe easy with Immune Allergy. This supplement contains five specially-chosen, allergy-supporting herbs that help to balance allergic response. Each ingredient supports your allergen response in its own right, but together, they really pack a punch.*

Quercetin helps to balance histamine levels in your body, which supports your body's response to environmental allergens. It acts as a strong antioxidant, balancing inflammation and providing immune support.*

Bromelain is the perfect partner for Quercetin. It is an enzyme that helps your body to absorb Quercetin and helps to further balance inflammation, which many people experience during allergic response.*

We've added Eyebright, Nettle Leaf, and Butterbur Extract to the formula, as each of these ingredients are well-known for their allergy-supporting properties. Each one balances inflammation and provides allergy relief.*

Allergy Relief is made in the USA using globally-sourced ingredients. We use a GMP-certified facility, and each batch is third-party tested to ensure quality. Each serving is non-GMO, vegan, gluten-free, nut-free and soy-free.

* These statements have not been evaluated by the Food and Drug Administration. This product is not intended to diagnose, treat, cure, or prevent any disease.
✦ Is Good For

Individuals who experience seasonal or environmental allergies may find an Immune Allergy Supplement beneficial in managing their symptoms.*
An Immune Allergy Supplement is designed to support the immune system's response to allergens and help alleviate common allergy symptoms.*
This type of supplement may be particularly helpful for individuals who experience sneezing, itching, watery eyes, congestion, or other discomforts associated with allergies.*
By promoting a balanced immune response, an Immune Allergy Supplement can help reduce the severity and frequency of allergic reactions.*
The ingredients in an Immune Allergy Supplement are carefully selected to provide comprehensive support for individuals dealing with various types of allergies.*

It's important to note that dietary supplements are not intended to replace proper medical care or serve as a sole treatment for allergies. Individuals with severe or persistent allergies should consult with their healthcare professional for appropriate diagnosis and management strategies.
✦ How to Take

As a dietary supplement, take 2 capsules daily on an empty stomach if tolerated. If you have a more sensitive constitution, take 2 capsules daily with food or as directed by your healthcare provider.

For best results Vimerson Health products should be used alongside a healthy diet and regular exercise.
✦ Ingredients

Per Serving (2 capsules):

Quercetin (as Quercetin Dihydrate) (Sophora japonica, Seed pod) 500mg
Bromelain (1,6 GDU/mg) (Ananas comosus, Stem) 100mg
Eyebright (Euphrasia officinalis, Whole Herb) 200mg
Nettle (Urtica dioica, Leaf) 300mg
Butterbur Extract (15% Petasin) (Petasites hybridus, Root) 100mg


Other ingredients: Hypromellose (Capsule), Rice Flour, Magnesium Stearate, Silica.

Non-GMO, Vegan, Gluten-free, Dairy-Free, Sugar-Free and Soy-Free.
✦ More Information

Each bottle contains 60 Vegetarian Capsules for 30-day Supply.

Balance allergic response with two capsules of Immune Allergy a day. This unique combination of allergy-supporting herbs balances inflammation and helps you maintain a healthy immune system.*
✦ Safety

For adult use only. Do not use this product if you are pregnant or breastfeeding. Consult a healthcare practitioner before use if you have asthma, peptic ulcer disease, or any other medical condition if you are taking any anticoagulants or products containing acetylsalicylic acid (ASA), other salicylates, or medications known as CYP3A4 inducers. Do not use it if you are allergic to plants of the daisy family. Discontinue use and contact your doctor if you are experiencing any adverse events including allergic reactions. Consult a healthcare practitioner for use beyond 4 months. Remember you should not take dietary supplements as a substitute for a varied balanced diet or a healthy lifestyle.

CALIFORNIA RESIDENTS
Click here for Proposition 65 warning.
VIEW FULL DETAILS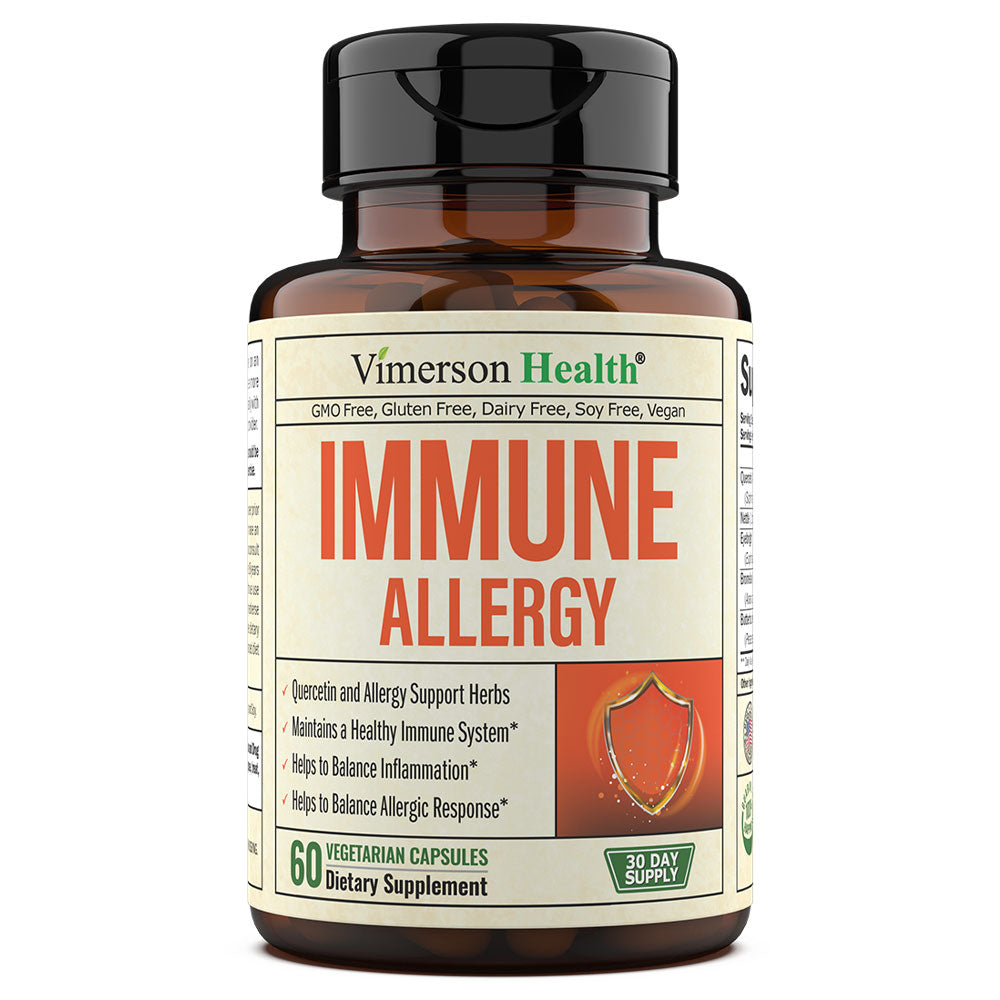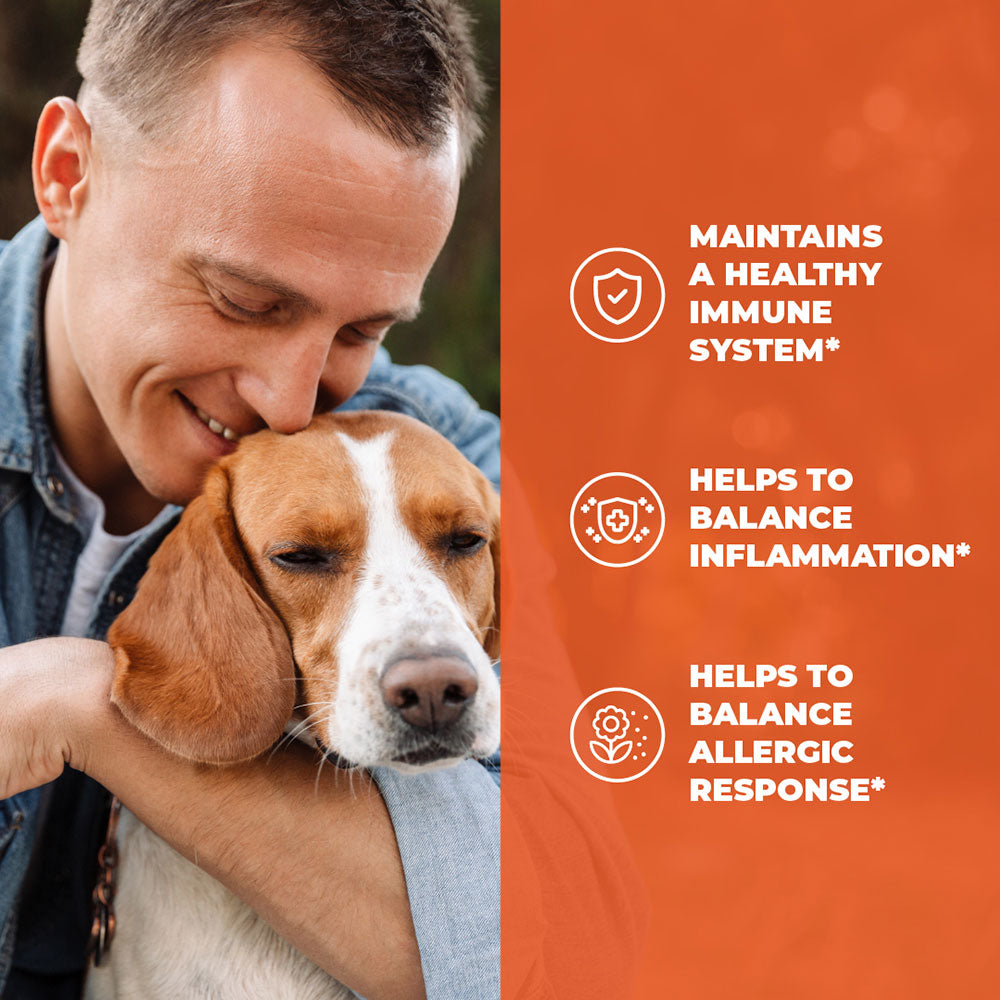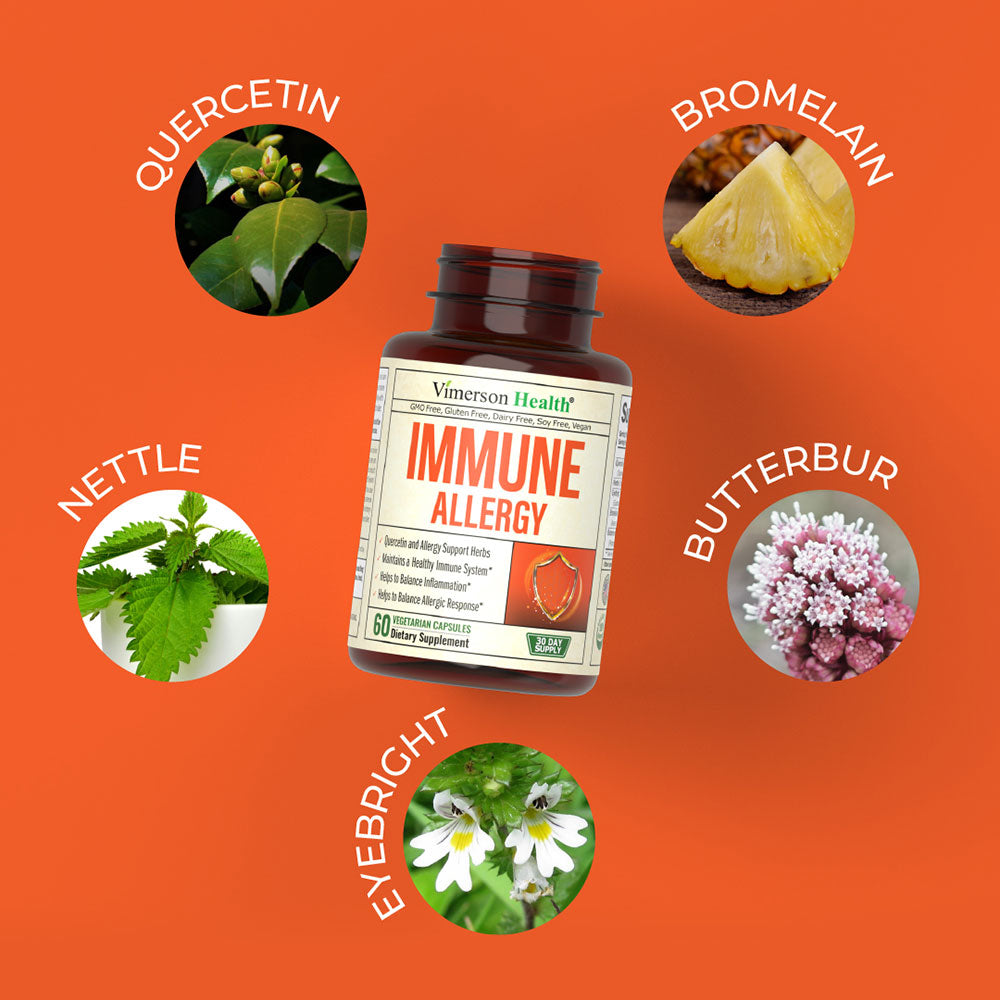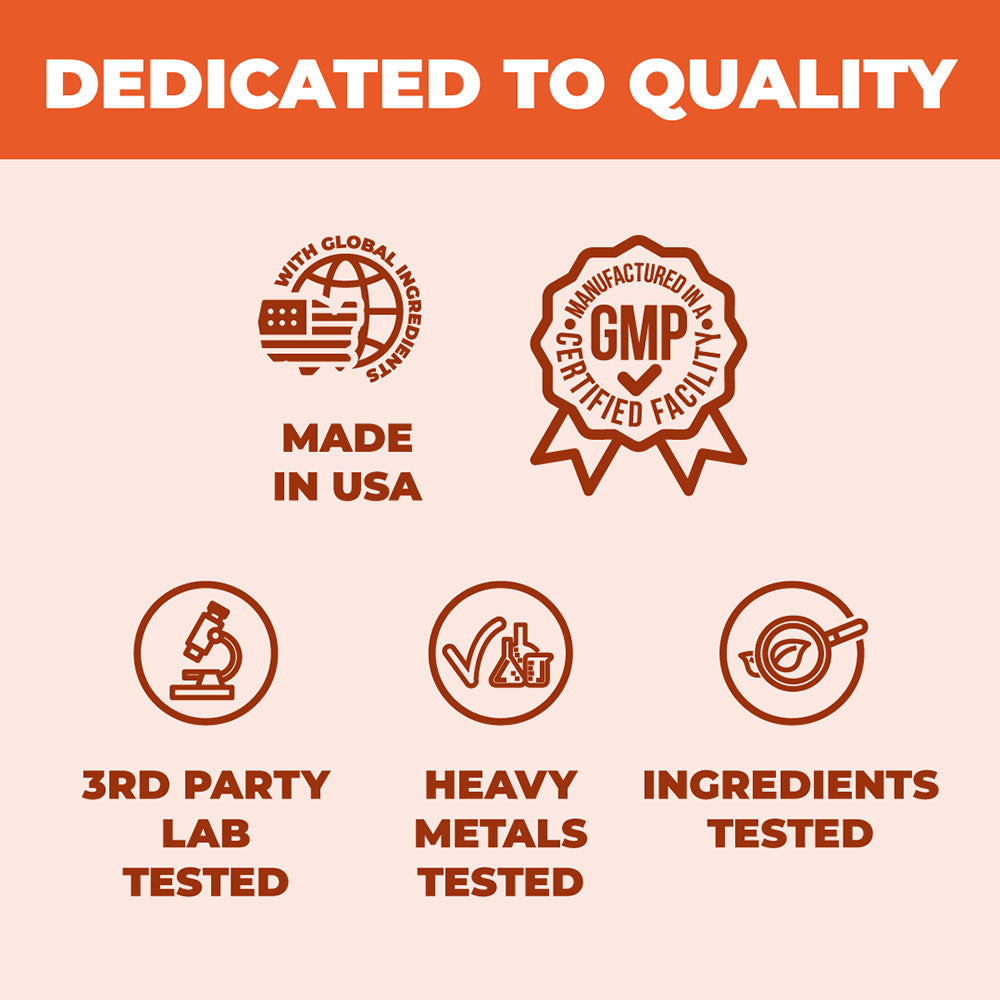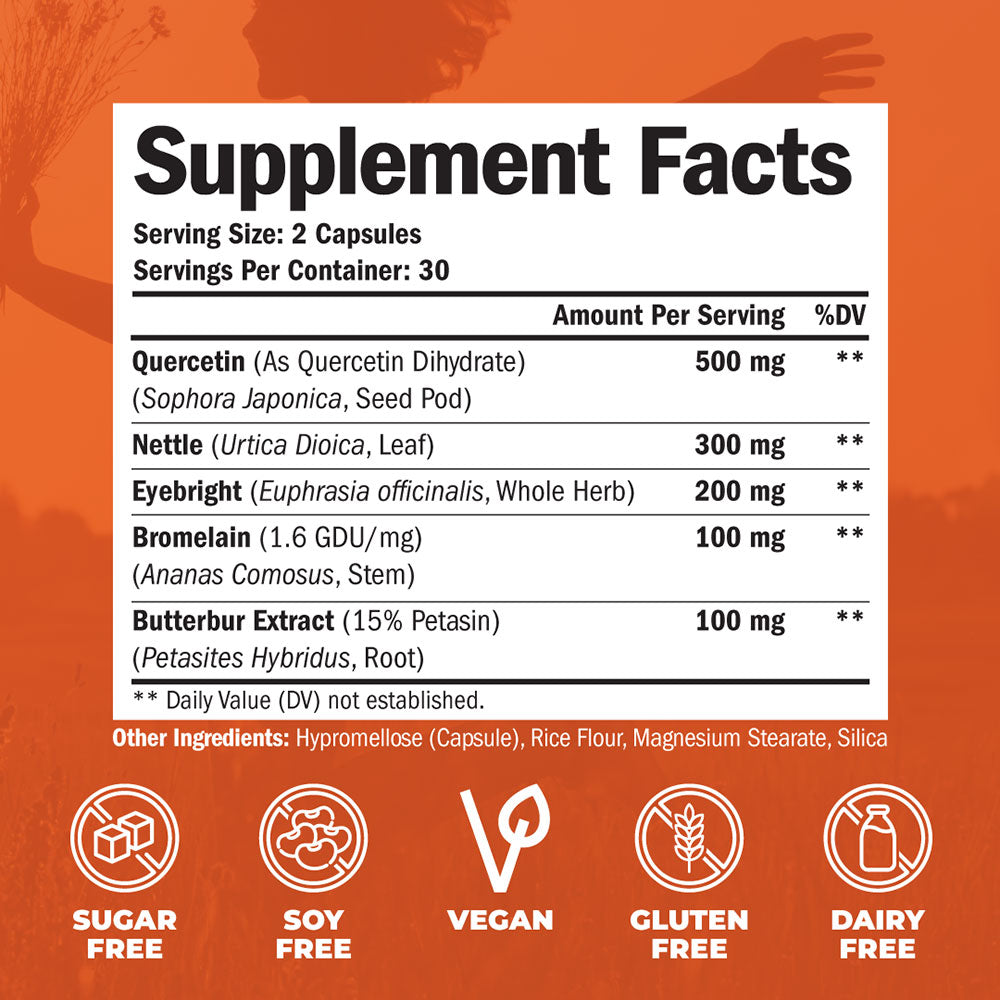 YOUR ULTIMATE ALLERGEN DEFENSE
Allergies can be a real damper on daily life, causing discomfort, frustration, and hindering daily activities. With our Immune Allergy Supplement, we bring forward a holistic approach to allergy support, fortifying your body's natural defenses.
ULTIMATE ALLERGY SUPPORT!
🌱 QUERCETIN AND ALLERGY SUPPORT HERBS*

🌱 MAINTAINS A HEALTHY IMMUNE SYSTEM*

🌱 HELPS TO BALANCE INFLAMMATION*

🌱 HELPS TO BALANCE ALLERGIC RESPONSE*
THE ALL-INCLUSIVE BLEND: A NEW DAWN FOR ALLERGY SUFFERERS
The harmonious blend of these components brings forth a supplement unparalleled in its capacity to offer holistic allergy support. It isn't just about providing relief; it's about enhancing the body's natural defenses against common allergens.
WHY CHOOSE OUR IMMUNE ALLERGY SUPPLEMENT?
1. ALL-NATURAL FORMULA

We harness the best quercetin along with other carefully sourced ingredients to bring you an all-natural allergy support that's second to none.

2. POTENT BLEND

The synergy of quercetin and bromelain, combined with the powerful properties of nettle (urtica dioica) and eyebright (euphrasia officinalis), offers a multi-pronged approach to environmental allergen relief.

3. QUALITY COMMITMENT

As an e-commerce brand, we ensure that our supplements are formulated with utmost care. Every batch undergoes stringent testing for purity and potency, standing testament to our commitment to quality.
YOUR NATURAL DEFENSE AGAINST ALLERGIES
In the modern era, as allergies become more commonplace, the search for effective, natural allergy support grows ever more critical. The amalgamation of Quercetin, Nettle, Eyebright, Bromelain, and Butterbur serves as a fortress against allergens.* With the perfect blend of these vital components with antihistamine properties, we introduce a robust solution to provide environmental allergen relief and reduce occasional discomfort and helps you to breathe easy.*
WHY THIS BLEND WORKS: THE POWER BEHIND EACH INGRIDIENT
1. QUERCETIN: THE ALLERGY ALLEVIATOR

WHAT EXACTLY IS QUERCETIN?
Derived from plants, quercetin is a type of flavonoid antioxidant that fights free radicals, balances inflammation, and yes, provides allergy relief.* It's not just another quercetin vitamin; it's nature's answer to seasonal woes.*
QUERCETIN AND ALLERGIES
Why do experts often recommend the best quercetin supplement for allergies? Because quercetin has antihistamine properties, it can help with sneezes, itchy eyes, and rashes.*

2. NETTLE: THE UNSUNG HERO

MORE THAN A PRICKLY PLANT
Nettle, or urtica dioica, often just seen as a stinging annoyance, is packed with beneficial compounds. Not only is it sought after for nettle for hair growth or nettle for skin, but its role in allergy relief, especially as nettle quercetin, can't be understated.*
BUSTING ALLERGIES WITH NETTLE*
Its inflammation balance properties make nettle excellent for allergy support. It stabilizes mast cells, thereby limiting the amount of histamine these cells release during an allergic reaction.*

3. EYEBRIGHT (EUPHRASIA OFFICINALIS): NATURE'S OPTOMETRIST

WHAT'S IN A NAME?
Eyebright, true to its name, has traditionally been used to maintain healthy mucous membranes in eyes and nose.* But its benefits go beyond eye bright benefit.* It's packed with inflammation balance compounds and tannins.*
EYEBRIGHT AND ALLERGIES
The eyebright herb, in supplement form, often comes as eyebright powder or eyebright supplement. It's known that the Quercetin and Luteolin found in this plant have antihistamine properties.*

4. BROMELAIN: THE EXOTIC ALLERGEN BUSTER

WHAT IS BROMELAIN?
Bromelain isn't just another bromelain vitamin. Extracted from pineapple stems, this enzyme does wonders in balancing tissue inflammation, making it a top contender as the best bromelain supplement.*
TACKLING ALLERGIES WITH BROMELAIN*
Besides aiding digestion, bromelain is essential for allergy support.* Particularly, bromelain sinus health supporter is popular among those seeking natural options. Its inflammation balance properties help reduce occasional discomfort and helps you to breathe easy.

5. BUTTERBUR: THE UNDERDOG

GOING BEYOND THE NAME
Butterbur, while lesser-known, is a powerhouse in its own right. It's been traditionally used for migraines and certain allergies, especially hay fever.*
ALLERGIES BE GONE
Studies have shown butterbur's effectiveness in supporting your body's response to environmental allergens and balancing histamine levels, making it a worthy mention alongside stalwarts like quercetin and bromelain.*
THE UNION OF QUERCETIN AND NETTLE
When we consider quercetin and nettles, we find a partnership built on synergy. Nettle, or urtica dioica, is a plant traditionally used for ailments ranging from joint pain to skin irritations. Known for its anti-inflammatory properties, nettle complements quercetin's efforts in battling allergies, particularly when combined in a nettle quercetin supplement.*
NATURE'S QUINTET FOR SEASONAL RELIEF
Balance allergic response with two capsules of Immune Allergy a day. This unique combination of allergy-supporting herbs balances inflammation and helps you maintain a healthy immune system.*
TOP BRAND

GMO FREE

QUALITY

GLUTEN FREE

MADE IN USA

INGREDIENTS TESTED
ℹ︎Frequently Asked Questions About Immune Allergy
DO ALLERGIES MEAN STRONG OR WEAK IMMUNE SYSTEM?

Allergies do not necessarily indicate a weak or strong immune system. Allergies are caused by an immune system overreaction to harmless substances. While allergies can be bothersome, they are not indicative of overall immune system strength or weakness. The immune system's response to allergens is specific to each individual and can vary. A properly functioning immune system maintains a delicate balance to protect against harmful pathogens while tolerating harmless substances. If you have concerns about your immune system or allergies, it is advisable to consult with a healthcare professional for a comprehensive evaluation.
WHY AM I SUDDENLY ALLERGIC TO EVERYTHING?

Experiencing sudden allergies can be perplexing, and several factors may contribute to this phenomenon. Changes in immune system response, environmental triggers, genetic predispositions, and exposure to new allergens are potential reasons. Allergy testing and medical guidance can help identify triggers and provide strategies for avoidance or treatment.
WHAT CAUSES ALLERGIES IN THE IMMUNE SYSTEM?

Allergies occur when the immune system identifies harmless substances, known as allergens, as threats and triggers an immune response. The immune system produces antibodies, such as immunoglobulin E (IgE), in response to allergens like pollen, dust mites, pet dander, or certain foods. Upon subsequent exposure, the immune system releases histamine and other chemicals, leading to allergy symptoms. The exact reasons why some individuals develop allergies are still not fully understood, but factors such as genetic predisposition, environmental exposures, and a dysregulated immune response may contribute. Consulting with a healthcare professional can help determine specific triggers and provide appropriate management strategies.
DO ALLERGIES GET WORSE WITH AGE?

The severity of allergies can vary among individuals and may or may not worsen with age. While some people may experience a decrease in allergy symptoms over time, others may notice an increase in severity or the development of new allergies. Age-related changes in the immune system and increased exposure to allergens over the years can influence allergic reactions. However, it is important to note that individual experiences may differ. Consulting with a healthcare professional can help assess and manage allergies effectively, providing personalized advice based on your specific situation.
CAN STRESS CAUSE ALLERGIES?

While stress itself does not directly cause allergies, it can potentially worsen existing allergy symptoms. Stress can negatively impact the immune system, making it more reactive to allergens. Additionally, stress may contribute to other factors such as poor sleep, unhealthy coping mechanisms, or neglecting self-care, which can indirectly affect allergy symptoms. It is important to manage stress effectively through techniques like relaxation exercises, exercise, and seeking support. However, allergies are complex, and individual responses can vary. Consulting with a healthcare professional can provide personalized guidance on managing allergies and stress effectively.
WHAT IS THE STRONGEST OVER THE COUNTER ANTIHISTAMINE?

When it comes to natural antihistamines, a combination of compounds like Quercetin, Eyebright, and Nettle may provide environmental allergen relief, maintaining healthy mucous membranes in your eyes and nose*. While individual responses can vary, these compounds have been associated with potential antihistamine properties*. However, it's important to note that the effectiveness of natural antihistamines can differ from person to person. Consulting with a healthcare professional can provide personalized advice on natural approaches to managing allergies.
HOW LONG DOES QUERCETIN TAKE TO WORK FOR ALLERGIES?

Quercetin is a natural antioxidant that some people use to manage allergies due to its potential antihistamine properties.* Its onset of action can vary based on dosage, individual factors, and the severity of the allergy symptoms. Typically, some individuals may notice symptom relief within hours of taking it, while for others, consistent use over several days or weeks might be necessary.* For best results and safety, consult a healthcare professional before use.
CAN I TAKE QUERCETIN BROMELAIN EVERYDAY?

Yes, many people take quercetin combined with bromelain daily to harness their synergistic effects. Quercetin has antihistamine properties, while bromelain can enhance its absorption and provide inflammation balance benefits.* Generally, this combination is considered safe for daily use at recommended doses. However, individual responses can vary, and potential drug interactions or side effects are possible. It's essential to consult a healthcare professional before starting regular supplementation.
IS NETTLE AN ANTIHISTAMINE?

Stinging nettle (Urtica dioica) has been traditionally used for its potential antihistamine properties.* Some studies suggest that nettle extract support your body in response to environmental allergens by inhibiting inflammatory pathways and histamine release.* Due to these properties, it's often considered a natural option for seasonal allergies.* However, if considering nettle for allergy relief, it's prudent to consult with a healthcare professional to ensure its suitability and proper dosage.
WHY TAKE QUERCETIN WITH BROMELAIN?

Taking quercetin with bromelain combines their synergistic benefits. Quercetin, a flavonoid with potential antihistamine and inflammation balance properties, may help stabilize cells and balance your body's release of histamine.* Bromelain, an enzyme from pineapples, can enhance quercetin's absorption and possesses its own inflammation balance effects.* Together, they may provide more effective balance for inflammation and allergies.* As always, it's essential to consult a healthcare professional before starting supplementation to ensure it's appropriate for individual needs.
*These Statements have not been evaluated by the Food and Drug Administration. This product is not intended to diagnose, treat, cure or prevent any disease.
Why Vimerson 💚
JUST PREMIUM SUPPLEMENTS YOU CAN TRUST.
Made in the USA in a GMP-Certified Facility with Globally-Sourced ingredients. Non-GMO, Vegan, Gluten-free, Dairy-Free, Sugar-Free and Soy-Free. A convenient flip-top bottle for on-the-go nutrition.
All Vimerson Health products contain no hormones and no preservatives.