Regular price
Sale price
$25.97
Unit price
per
Sale
Sold out
✦ Main Benefits

Support your lungs and respiratory system with this natural, plant-based formula. 7 key ingredients support the respiratory system, as well as balancing inflammation and supporting sinus health.*

Each capsule contains Oregano Leaf Extract, well known for providing respiratory support. Its strong antioxidant properties can also balance your immune system, which is essential when you're feeling under the weather.*

This unique combination of Mullein Leaf, English Ivy Extract, Eucalyptus and Thyme can't be found anywhere else! Each quality ingredient has been specially chosen to maintain a healthy respiratory system.*

If you're looking for respiratory support, chances are your immune system needs support too. To help, we've paired Quercetin (for fast-acting immune stimulation) with Bromelain (which helps balance inflammation and aids in Quercetin absorption).*

Respiratory Support is made in a GMP Certified, NSF Certified facility, then tested by an independent lab. This makes sure that you get all the benefits we're telling you about! It is also non GMO, Vegan, Gluten Free, Dairy Free, Soy Free and Nut Free.

* These statements have not been evaluated by the Food and Drug Administration. This product is not intended to diagnose, treat, cure, or prevent any disease.
✦ Is Good For

Individuals looking to support their immune system and promote overall respiratory health may find an Immune Respiratory Supplement beneficial.*
For those interested in supporting their lungs and respiratory system, this supplement may be considered.*
Some people believe that Immune Respiratory Supplements can help support the body's natural defense mechanisms and promote sinus health.*
Individuals who think they need protect and defend their lungs and respiratory tract may consider incorporating this supplement into their wellness routine.*
Immune Respiratory Supplements are often sought after as a supportive measure for overall respiratory well-being and to promote a healthy immune response.*

It's important to note that dietary supplements are not intended to replace a balanced diet or serve as a substitute for medical advice. Individuals should consult with their healthcare professional before starting any new dietary supplement, especially if they have any underlying health conditions or are taking medications.
✦ How to Take

As a dietary supplement, take 2 capsules daily on an empty stomach if tolerated. If you have a more sensitive constitution, take 1 or 2 capsule daily with food or as directed by your healthcare provider.

For best results Vimerson Health products should be used alongside a healthy diet and regular exercise.
✦ Ingredients

Per serving (2 capsules):

Oregano 4:1 Extract (Origanum vulgare, Leaf) 250mg
Thyme 4:1 Extract (Thymus vulgare, Leaf) 250mg
Mullein 4:1 Extract (Verbascrum thapus, Leaf) 200mg
Eucalyptus (Eucalyptus globulus, Leaf) 200mg
Quercetin (as Quercetin dihydrate)(Sophora japonica L, Buds) 100mg
English Ivy 4:1 Extract (Hedera helix, Stem) 100mg
Bromelain 600 GDU/g (Ananas comosus, Stem) 25mg


Other Ingredients: Hypromellose (Capsule).

Non-GMO, Vegan, Gluten-free, Dairy-Free, Sugar-Free and Soy-Free.
✦ More Information

Each bottle contains 60 Vegan Capsules for 30-day Supply.

Support your lungs and respiratory system with our natural, plant-based formula. Our team of scientists, nutritionists and herb specialists have specially chosen each ingredient to give your respiratory system extra care, as and when it needs it.*
✦ Safety

Consult your healthcare practitioner prior to use if you are taking any medications, or have an existing medical condition. You should also consult your healthcare practitioner if you are under 18 years of age, pregnant or breastfeeding. Discontinue use and contact your doctor if you experience any adverse reactions. Remember that you should not take dietary supplements as a substitute to a varied balanced diet or a healthy lifestyle.

CALIFORNIA RESIDENTS
Click here for Proposition 65 warning.
VIEW FULL DETAILS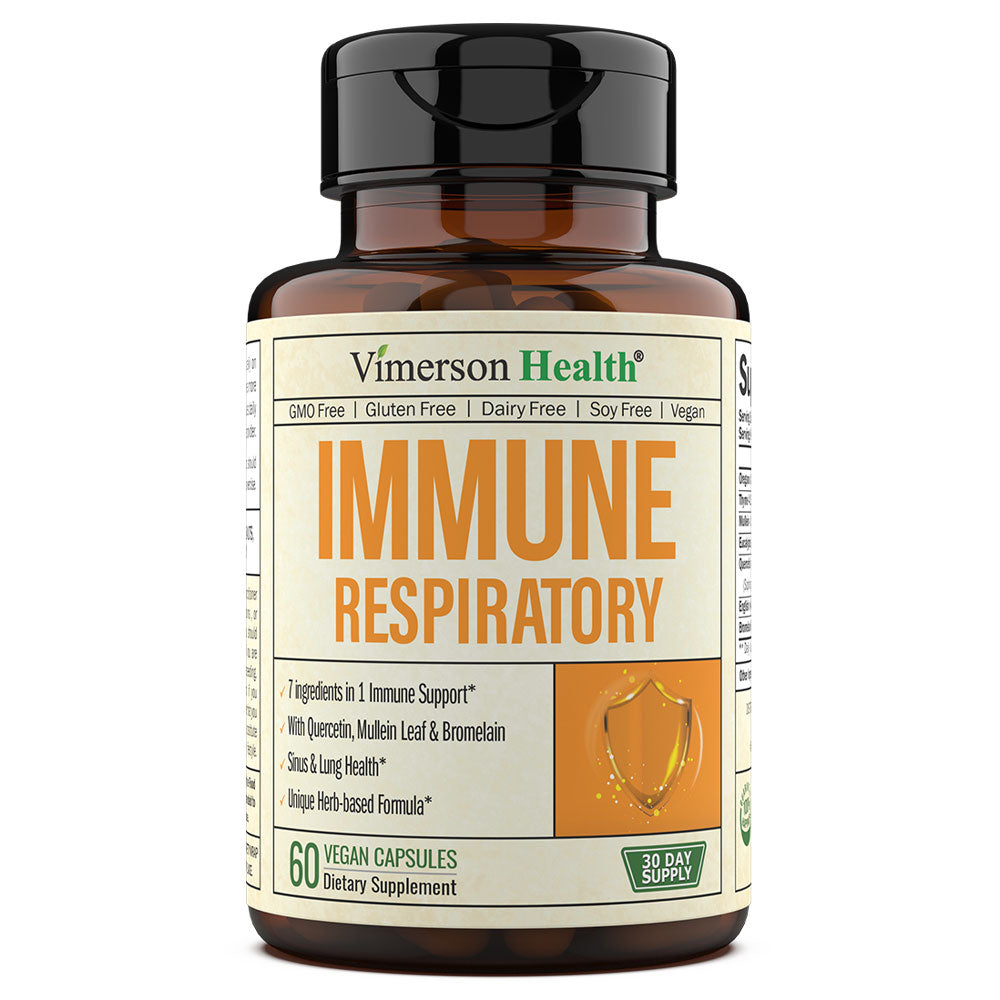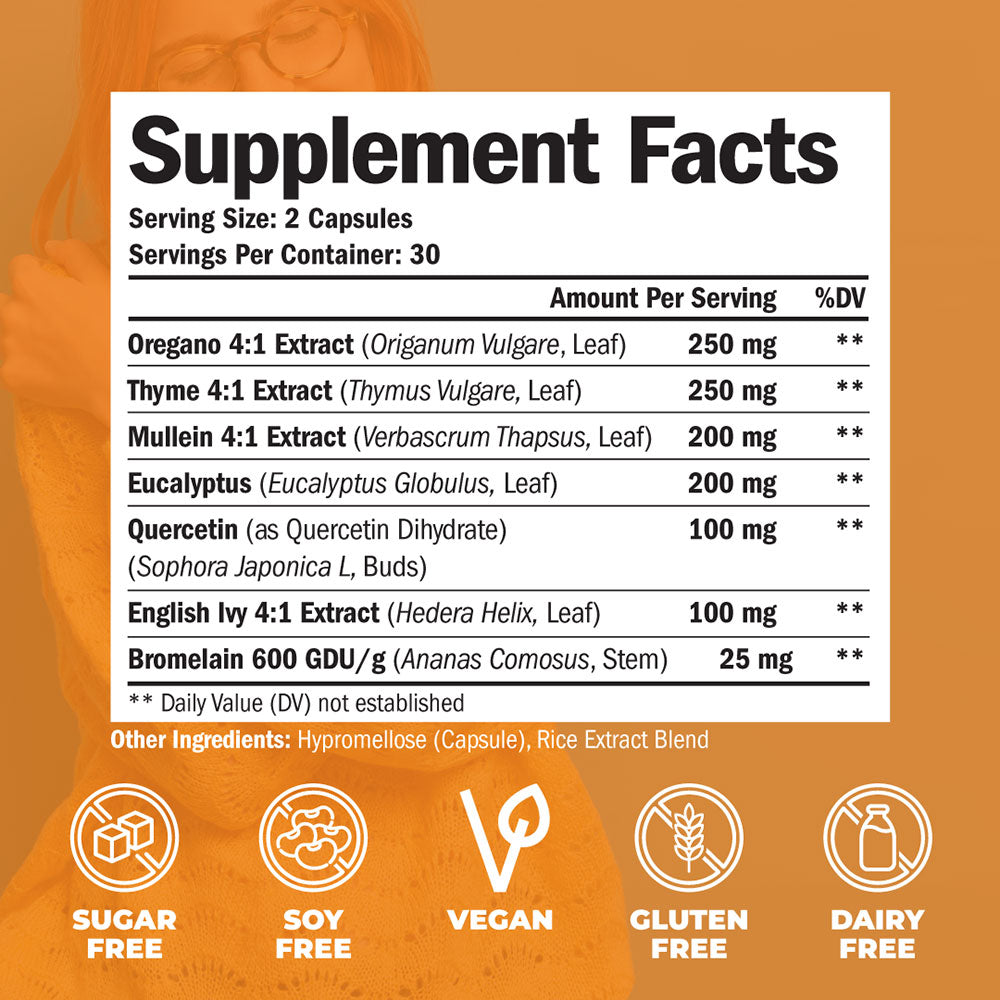 A BEACON OF BREATHABLE RELIEF
In a world where respiratory health has become paramount, having a trusted ally to support and strengthen our breathing pathways is invaluable. The Immune Respiratory Supplement stands as a testament to advanced scientific research combined with nature's finest.
BREATHE EASIER, NATURALLY
🫁 7 INGREDIENTS IN 1 IMMUNE SUPPORT*

🫁 WITH QUERCETIN, MULLEIN LEAF & BROMELAIN

🫁 UNIQUE HERB-BASED FORMULA*
IMMUNE RESPIRATORY: A VERSATILE TOOL FOR VARIED CHALLENGES
Whether you're an urban dweller facing the brunt of city pollution or living in pollen-heavy countryside, the challenges to respiratory health vary. This product, however, adapts and offers relief irrespective of the cause, making it a versatile solution in one's wellness arsenal.
THE RATIONALE: WHY THESE INGREDIENTS?
The health of our respiratory system, especially the sinuses and lungs, is often undermined. By combining these chosen botanicals and compounds, this product addresses the heart of respiratory wellness.*
TACKLING SINUS HEALTH

Sinus problems, like congested sinuses and blocked sinus, can be truly debilitating.
Quercetin and bromelain tablets work synergistically to offer effective sinus health.* English ivy (hedera helix), known for its soothing properties, aids in supporting sinus health.*

A BREATH OF FRESH AIR FOR THE LUNGS

Breathing easy isn't just a phrase – it's a necessity.
Common mullein (verbascumthapsus), often dubbed the "lung's best friend", has been traditionally used for lung cleanse, especially for smokers.* Eucalyptus globulus works wonders in refreshing the respiratory tract, making every breath feel like a gulp of crisp mountain air.*
NATURE'S ANSWER TO OPTIMAL RESPIRATORY HEALTH
Every breath you take is a testament to the resilience of your respiratory system. But factors like pollution, smoking, and allergens can compromise its health. We develop Immune Respiratory Supplement, a powerhouse fusion of herbal wonders designed to support sinus health and promote lung health.
BREATHE EASIER AND NATURALLY WITH IMMUNE RESPIRATORY
OREGANO: NATURE'S RESPIRATORY AID

Bearing the scientific name, Origanum, the oregano leaf is renowned for its powerful anti-microbial properties. It goes beyond mere seasoning in Mediterranean cuisines, providing substantive sinus relief, making it an ally for those struggling with blocked sinus.*

THYME: THE THYMUS VULGARIS RESCUER

Thyme, or scientifically termed as Thymus Vulgaris, stands as a beacon for sinus health. It's not just a staple in culinary arts; its volatile oils play a pivotal role in addressing sinus health, positioning it among the best sinus tablets alternatives.*

MULLEIN: THE VERBASCUM LUNGS' GUARDIAN

Mullein, recognized scientifically as Verbascum Thapsus or simply Common Mullein, is hailed as a lung protector. Many turn to mullein for lungs, particularly for a lung cleanse. Whether you're a smoker in need of a lung detox or someone seeking lung vitamins to clean lungs, mullein stands tall.*

EUCALYPTUS: THE EUCALYPTUS GLOBULUS BREATH REVITALIZER

From its aromatic emanations, Eucalyptus, especially the species Eucalyptus Globulus, is a game-changer for respiratory wellness. Renowned for its refreshing properties, it's the go-to for those pining for nasal relief.*

QUERCETIN: THE FLAVONOID DEFENSE

Beyond being a robust immune supporter, Quercetin helps fortify the respiratory tract.* It optimally supports in balancing inflammation and proffers relief, especially when paired with bromelain tablets for enhanced absorption.*

ENGLISH IVY: HEDERA HELIX'S RESPIRATORY EMBRACE

The verdant tendrils of the English Ivy plant, known scientifically as Hedera Helix, aren't just ornamental. Its saponin-rich constitution is a boon for soothing the respiratory tracts, making it paramount for respiratory care.*

BROMELAIN: THE PINEAPPLE POWERHOUSE

Sourced primarily from pineapples, Bromelain is revered for its inflammatory balance prowess. It seamlessly melds into our blend, complementing other ingredients, particularly Quercetin, to bolster respiratory relief.*
SUPPORTS RESPIRATORY HEALTH
Breathe easy and keep your respiratory system healthy. With key ingredients chosen to help support respiratory health. Oregano and Thyme have cleansing and inflammation-balancing properties. Mullein and Eucalyptus help balance mucus so you can keep your airways clean and clear.*
WHY OUR IMMUNE RESPIRATORY SUPPLEMENT IS A MUST-HAVE
🫁 SINUS AND LUNG SUPPORT

The curated blend of herbs and ingredients work synergistically to offer best sinus relief, leaving uncomfortable days in the past.*

🌿 POTENT HERBAL COMBINATION

With active ingredients such as oregano leaf and eucalyptus globulus, this supplement is potent in fortifying respiratory health.*

🥇 UNCOMPROMISING QUALITY

In the bustling world of dietary supplements, our dedication to premium quality and potency sets us apart.
Sugar has been shown to suppress the immune system response, so we don't include it in any of our immune formulas. Unlike many gummies and syrups, our capsules are also free from sweeteners, flavorings and other artificial ingredients.
★ SUGAR-FREE FORMULA
TOP BRAND

GMO FREE

QUALITY

GLUTEN FREE

MADE IN USA

INGREDIENTS TESTED
ℹ︎Frequently Asked Questions About Immune Respiratory
HOW DO YOU GET RID OF MUCUS IN YOUR LUNGS NATURALLY?

To help alleviate excess mucus in the lungs naturally, there are several strategies you can consider*. Staying hydrated by drinking plenty of fluids can help thin mucus and make it easier to expel*. Steam inhalation, such as taking a hot shower or using a humidifier, can also provide relief by loosening mucus*. Consuming warm fluids like herbal teas or broths may help soothe the airways*. Additionally, certain dietary supplements formulated with ingredients like eucalyptus, thyme or bromelain may offer additional support for respiratory health*. It's important to consult with a healthcare professional before starting any dietary supplement to ensure it aligns with your individual needs and overall health.
DOES EUCALYPTUS CLEAN THE LUNGS?

Eucalyptus is commonly used for respiratory support and may provide a refreshing sensation when inhaled*. Its active compound, cineole, has potential expectorant properties that can help loosen mucus and support clear airways*. However, it's important to note that while eucalyptus inhalation can offer temporary relief, it does not directly "clean" the lungs or treat underlying respiratory conditions*. It's advisable to consult with a healthcare professional for a comprehensive evaluation and personalized guidance on incorporating eucalyptus or any other natural remedies into a respiratory wellness routine.
DOES OREGANO BREAK UP MUCUS?

Oregano is an herb known for its aromatic flavor and potential health benefits. It contains compounds, such as carvacrol and thymol, which have inflammation balance properties*. While oregano may have some expectorant properties that can help thin mucus*, there is limited scientific evidence specifically supporting its effectiveness in breaking up mucus*. It's important to approach oregano as part of a balanced diet and consult with a healthcare professional for personalized guidance on managing mucus and respiratory health. They can provide appropriate recommendations based on your specific needs and overall health.
WHAT IS THE BEST VITAMIN FOR RESPIRATORY SYSTEM?

When it comes to supporting respiratory health, several natural ingredients have been traditionally used. Oregano, thyme, mullein, eucalyptus, and bromelain are known for their potential benefits. Oregano and thyme contain compounds that may have antimicrobial properties, while mullein and eucalyptus are commonly used to support respiratory comfort*. Bromelain, derived from pineapple, may help promote a healthy inflammatory response*. While these ingredients are associated with potential benefits, it's important to consult with a healthcare professional to determine the most appropriate approach for maintaining respiratory health and to ensure compatibility with your individual needs.
HOW DOES THYME CLEAR YOUR LUNGS?

Thyme is an herb known for its aromatic flavor and potential health benefits. It contains compounds, such as thymol, that are believed to have expectorant properties*. These properties may help loosen mucus and phlegm, making it easier to expel them from the respiratory system*. Additionally, thyme has antioxidant and inflammation balance properties that can support overall respiratory health*. While thyme may offer potential benefits, it's important to note that individual responses may vary. Consulting with a healthcare professional can provide personalized guidance on incorporating thyme or any other natural remedies into a respiratory wellness routine.
HOW DO YOU RELIEVE SINUS CONGESTION ASAP?

For immediate relief from sinus congestion, elevating the head, especially during sleep, can encourage drainage. Applying a warm compress to the affected sinus areas can help in reducing inflammation. Breathing in steam, either from a hot shower or a bowl of warm water, can soften and loosen mucus. Incorporate a Respiratory Supplement may help to sinus health.* It's always recommended to consult with a healthcare professional for personalized advice and to ensure the chosen method is safe and suitable for one's specific circumstances.
WHAT SUPPLEMENTS ARE GOOD FOR THE LUNGS?

Oregano and mullein are two herbs often recommended for lung health.* Oregano contains compounds like carvacrol, which may have inflammation balance and antimicrobial properties beneficial for respiratory health.* Mullein, traditionally used as a remedy for lung ailments, can act as an expectorant, helping to clear mucus from the lungs.* Incorporating these supplements can support lung function, but it's essential to consult with a healthcare professional to ensure they're suitable for individual health needs.
HOW DO I STRENGTHEN MY RESPIRATORY SYSTEM?

Strengthening the respiratory system involves a combination of practices: Regular cardiovascular exercise, like brisk walking or cycling, enhances lung capacity and efficiency. Breathing exercises, often found in yoga or meditation, can improve lung function. Maintaining a healthy diet rich in antioxidants supports lung tissue health. Avoiding smoking and limiting exposure to pollutants protects the lungs from damage. Lastly, staying updated with vaccinations can prevent respiratory infections. Always consult a healthcare professional for personalized advice.
HOW CAN I DETOX MY LUNGS FROM SMOKING?

Detoxifying lungs from smoking involves several steps. First, cease smoking entirely to prevent further damage. Engage in regular cardiovascular exercise to enhance lung capacity and promote mucus clearance. Consuming a diet rich in antioxidants, like fruits and vegetables, can help repair and protect lung tissue. Stay hydrated to thin out mucus. Deep breathing exercises can also aid in lung function. Importantly, regular check-ups with a healthcare professional can monitor lung health and address any concerns.
*These Statements have not been evaluated by the Food and Drug Administration. This product is not intended to diagnose, treat, cure or prevent any disease.
Why Vimerson 💚
JUST PREMIUM SUPPLEMENTS YOU CAN TRUST.
Made in the USA in a GMP-Certified Facility with Globally-Sourced ingredients. Non-GMO, Vegan, Gluten-free, Dairy-Free, Sugar-Free and Soy-Free. A convenient flip-top bottle for on-the-go nutrition.
All Vimerson Health products contain no hormones and no preservatives.