Regular price
Sale price
$28.97
Unit price
per
Sale
Sold out
✦ Main Benefits

Whether you're looking to support your joints through intense exercise, or simply want to relieve occasional joint discomfort, our Glucosamine, Chondroitin, Turmeric & MSM supplement can help keep you active and complement a healthy lifestyle.*

This supplement is designed to ease discomfort that may come with age, weight, or athletic deterioration of the joints. It promotes joint health and comfort, supports cartilage and joint flexibility, and helps increase joint mobility.*

Each serving provides more than your regular Glucosamine and Chondroitin formula. Ours is Glucosamine Chondroitin MSM. MSM (or "Methylsulfonylmethane") maintains healthy inflammation levels, which can support your joints and promote joint health.*

Turmeric is renowned for its joint-supporting properties, so we've added a 4:1 Turmeric extract. By using an extract, we've ensured a high curcuminoid content, which promotes joint function and enhances joint mobility.*

Glucosamine, Chondroitin, Turmeric & MSM is made in the USA in a GMP-certified facility. It is non-GMO, shellfish-free, dairy-free, gluten-free, nut-free, soy-free, and pork-free.

*These statements have not been evaluated by the Food and Drug Administration. This product is not intended to diagnose, treat, cure, or prevent any disease.
✦ Is Good For

This product is intended for adults who are serious about taking control of their health in a safe and effective way.

Individuals who are concerned about maintaining joint health and flexibility may find Glucosamine Chondroitin + Turmeric & MSM Supplement beneficial.*
For those who engage in regular physical activity or exercise, this supplement may help support joint function and mobility.*
Some individuals believe that Glucosamine Chondroitin + Turmeric & MSM Supplement can help promote healthy cartilage and connective tissues in the joints.
People looking for natural support for joint discomfort may consider incorporating this supplement into their wellness routine.*
Glucosamine Chondroitin + Turmeric & MSM Supplement may be suitable for individuals interested in overall joint support and promoting a healthy inflammatory response.*

As always, it's important for individuals to consult with their healthcare professional before starting any new dietary supplement, especially if they have any underlying health conditions or are taking medications.
✦ How to Take

As a dietary supplement, take three (3) capsules together before a meal, or as directed by your healthcare professional. The highest dose we recommend is a maximum of three (3) capsules taken together, twice per day. For those with a more sensitive constitution, we recommend taking one (1) capsule from one to three times per day before a meal.
✦ Ingredients

Per serving (3 capsules):

Glucosamine Sulfate Potassium (Shellfish-Free) 1500mg
Boswellia Extract 65% Boswellic Acid (Boswellia serrata; Bark) 200mg
Chondroitin Sulfate 150mg
Turmeric 4:1 Extract (Curcuma longa, Root) 150mg
Quercetin (Sophora japonica, Buds) 25mg
L-Methionine 25mg
Methylsulfonylmethane (MSM) 25mg
Bromelain (Ananas comosus, Stem) 25mg


Other ingredients: Gelatin Capsule, Rice Extract Blend.

Non-GMO, Gluten-free, Dairy-Free, Sugar-Free and Soy-Free. No Shellfish. No Pork. No Shark Cartilage.
✦ More Information

Each bottle contains 90 Capsules for 30-day Supply.

NO SHELLFISH, PORK OR SHARK CARTILAGE
While many brands source their Chondroitin from sharks, pigs, or shellfish, we use a form of Chondroitin Sulfate derived from bovine sources.
✦ Safety

Please note that in rare cases, taking supplements may temporarily cause upset stomach, flatulence, belching, stomach pain and / or cramps, acid reflux, heartburn, bloating, constipation, insomnia, fatigue, performance issues, burning sensation, nose bleeds, agitation, headache, shortness of breath, dizziness, nausea, vomiting, diarrhea, allergic reactions including hives, rash, itching, coughing or swelling, heart palpitations or sickness. If you experience these or any other adverse effects or allergic reactions, discontinue use of the product immediately and contact your physician. Never exceed the recommended dose. Always consult your healthcare professional before taking this or any dietary supplement, especially if you are under 18, taking medications or if you have an existing medical condition such as glaucoma. Do not take this product if you are pregnant or nursing, if you have a history of gallstones, bile duct obstruction, bleeding disorders, or if you are using anticoagulants (blood thinners). Remember that you should not take supplements as a substitute for a varied balanced diet or healthy lifestyle. Always read the label first and avoid use if you have any sensitivities or intolerances to any of the listed ingredients.

CALIFORNIA RESIDENTS
Click here for Proposition 65 warning.
VIEW FULL DETAILS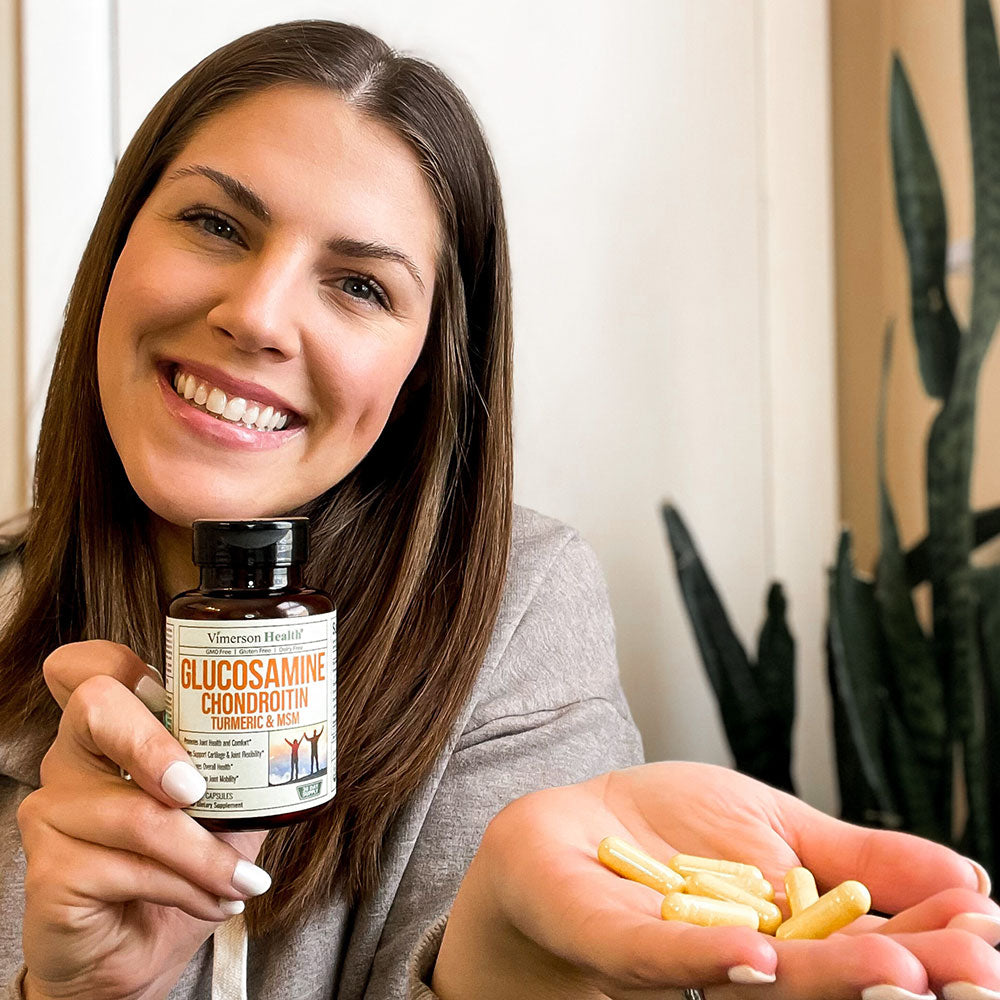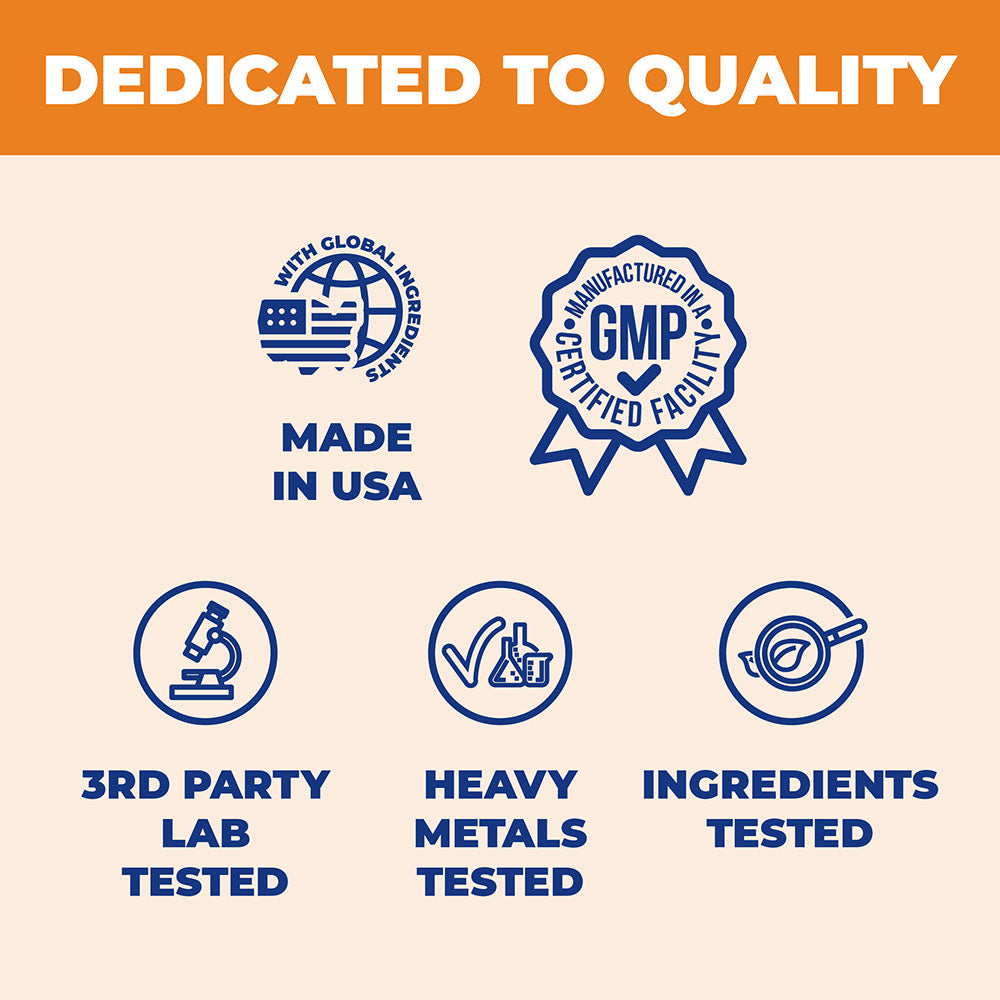 THE POWER OF GLUCOSAMINE CHONDROITIN SUPPLEMENTS
Joint health is paramount to maintaining mobility and leading an active lifestyle. As the body ages, wear and tear can impact joint performance. That's where Glucosamine Chondroitin supplements come into play, offering support to keep those joints working efficiently.
GLUCOSAMINE CHONDROITIN: ULTIMATE JOINT SUPPORT!
⛹🏻‍♂️ PROMOTES JOINT HEALTH AND COMFORT*

⛹🏻‍♂️ HELPS SUPPORT CARTILAGE & JOINT FLEXIBILITY*

⛹🏻‍♂️ ENCOURAGES OVERALL HEALTH*

⛹🏻‍♂️ HELPS MAINTAIN JOINT MOBILITY*
GLUCOSAMINE CHONDROITIN CAPSULES: YOUR BEST BET FOR JOINT WELLNESS
Glucosamine and Chondroitin are natural components found in and around our cartilage cells. These substances play a pivotal role in cartilage repair and preservation. In essence, think of them as the unsung guardians of joint flexibility.
GLUCOSAMINE CHONDROITIN: WHAT'S THE HYPE?
NATURAL COMPONENTS

Both Glucosamine and Chondroitin are natural substances found in and around the cells of cartilage. Their supplements, such as glucosamine chondroitin msm, help provide these crucial building blocks.*

JOINT HEALTH AND PROTECTION

These dietary supplements can offer potential relief from occasional joint discomfort, promoting joint mobility, flexibility and overall well-being.*

ENHANCED WITH MSM & TURMERIC

The Glucosamine Chondroitin MSM & Turmeric dietary supplement is one of the most popular choice. MSM supports immune function, while turmeric offers inflammation balance properties.*
THE FUNDAMENTALS OF JOINT HEALTH
UNDERSTANDING GLUCOSAMINE AND CHONDROITIN

Glucosamine and chondroitin are natural compounds found in our bodies, playing an integral role in maintaining the cartilage's health — the cushion between our joints. As we age, wear and tear, coupled with the body's decreased ability to produce these compounds, necessitates supplementation.*

THE ROLE OF MSM, TURMERIC AND OTHER ADDITIONS

Often, one will find supplements labeled glucosamine chondroitin msm or even those with turmeric. MSM provides sulfur, crucial for connective tissues. Turmeric, on the other hand, offers inflammatory balance benefits, addressing occasional joint discomfort at its core.*
CHONDROITIN SULFATE: THE CARTILAGE CHAMPION
Integral to the body's cartilage, chondroitin sulfate supports water retention and elasticity while inhibiting destructive enzymes. When paired with glucosamine, like in glucosamine chondroitin msm combinations, the benefits are amplified, addressing both pain and inflammation.
THE MAIN BENEFITS OF EACH COMPOUND OF THIS PREMIUM FORMULA
We have achieved the best formula on the market by combining 8 specific compounds for joint health that work as a team to give you the support you deserve!
1. GLUCOSAMINE SULFATE POTASSIUM

Renowned in joint health, glucosamine sulfate is often recognized as the best glucosamine supplement. Essential for supporting cartilage integrity, it's a top choice for those seeking relief from occasional joint discomfort, making it integral in the best tablets for bones and joints.*

2. BOSWELLIA

As a powerful inflammation balancer, Boswellia aligns with the best vitamins to support a healthy inflammatory response. It stands out in natural choices for occasional joint discomfort and stiffness. For individuals searching for enhanced joint health, Boswellia is often combined with the best vitamins for occasional joint discomfort to offer comprehensive benefits.*

3. CHONDROITIN SULFATE

Frequently featured in the best glucosamine chondroitin supplements, chondroitin sulfate fortifies cartilage health. Essential for those targeting robust bones and joints, it's a cornerstone in the top glucosamine chondroitin supplement choices for overall joint support.*

4. TURMERIC

Rich in curcumin, turmeric provides powerful inflammatory balance benefits. Often integrated with glucosamine chondroitin turmeric supplements, it's pivotal in supporting joint health. As a top ingredient in the best vitamins for occasional joint discomfort, its holistic impact on joint well-being is unparalleled.*

5. QUERCETIN

A standout antioxidant, Quercetin is essential in balancing inflammation. When one is searching for the best vitamins for occasional joint discomfort or inflammation balance, Quercetin often emerges as a key ingredient. Its role in promoting healthier joints aligns it with top vitamins beneficial for joint wellness.*

6. L-METHIONINE

While not directly classified among the best vitamins for joints, L-Methionine, an essential amino acid, holds significance in overall health. Its supportive role bolsters the efficacy of vitamins for joints, making it a noteworthy addition in comprehensive joint health regimens.*

7. METHYLSULFONYLMETHANE (MSM)

Integral in the best glucosamine chondroitin MSM supplements, MSM is prized for its inflammation balance effects. Promoting joint flexibility and relief, it's often combined with other top vitamins for joint health, solidifying its place in comprehensive joint care formulations.*

8. BROMELAIN

Extracted from pineapples, Bromelain delivers potent inflammatory balance benefits. When paired with the best vitamins for occasional joint discomfort, it amplifies the relief experienced. Frequently chosen for comprehensive joint support, it complements other leading vitamins and compounds, reinforcing its role in joint health regimens.*
SUPPLEMENTS FOR JOINTS AND BEYOND
While glucosamine chondroitin supplements stand as pillars of joint health, a comprehensive approach, including a balanced diet, targeted exercises, and weight management, will yield the best results.
Here's a pro tip: Supplements work best in tandem with a healthy lifestyle. Consider integrating exercises that promote joint health, like swimming or yoga. Eat a balanced diet rich in omega-3 fatty acids and antioxidants. And yes, ensure you're giving your body the rest it deserves.*
#1 GLUCOSAMINE ON AMAZON🥇
We're proud to highlight one of our star products that has taken Amazon by storm - our premium Glucosamine Chondroitin Capsules! Here's why this product is receiving rave reviews and consistent 5-star ratings:
COMPREHENSIVE JOINT SUPPORT FORMULA

Our capsules are more than just Glucosamine and Chondroitin. They also include MSM, Turmeric, Boswellia, Bromelain, and Quercetin. This potent blend is designed to offer multifaceted support for joint health, flexibility, and overall well-being.*

TOP-TIER QUALITY

We believe in providing only the best for our customers. Our Glucosamine Chondroitin blend is sourced from the finest ingredients, ensuring potency and purity. Every batch undergoes rigorous testing to ensure it meets our strict quality control measures.*

NATURAL INGREDIENTS

Turmeric and Boswellia are renowned for their natural inflammation balance properties, while Bromelain and Quercetin are powerful antioxidants. Together, this formula works synergistically to support healthy joint function.*

BACKED BY SCIENCE

Glucosamine and Chondroitin have been studied extensively for their benefits in supporting joint health. Our formula is based on solid research to ensure effectiveness and safety.*

CUSTOMER TRUST

Our status as a best-seller on Amazon is a testament to the trust and confidence our customers have in our products. We're committed to maintaining this trust by continually offering top-quality supplements.

CUSTOMER HAPPINESS

We believe that a superior product is only half of the equation. Our dedicated customer happiness team is always ready to assist, answer questions, and ensure your satisfaction. We pride ourselves on going the extra mile for our customers, because you deserve nothing less than the best.
MOVEMENT SHOULD BE COMFORTABLE.
TOP BRAND

GMO FREE

QUALITY

GLUTEN FREE

MADE IN USA

INGREDIENTS TESTED
ℹ︎Frequently Asked Questions About Glucosamine Chondroitin
WHAT DOES GLUCOSAMINE CHONDROITIN DO FOR YOU?

Glucosamine chondroitin, among the best glucosamine supplements, plays a pivotal role in supporting joint health.* Revered as one of the best tablets for bones and joints, this combination aids cartilage support, reducing occasional joint discomfort and stiffness.* As a top choice in the best glucosamine chondroitin supplement 2023 lineup, it synergizes with best vitamins for joint health, offering comprehensive joint relief.*
WHAT HAPPENS IF YOU TAKE GLUCOSAMINE EVERYDAY?

Taking glucosamine daily can provide support to joint health, aiding in cartilage maintenance and potentially reducing symptoms of occasional discomfort.* As with any supplement, it's important to adhere to recommended dosages. Regular consultation with a healthcare professional ensures you're using it safely and effectively, and to monitor for any potential side effects.
HOW QUICKLY DOES GLUCOSAMINE CHONDROITIN WORK?

The time it takes for Glucosamine and Chondroitin to work can vary from person to person. Some individuals may start to notice improvements in joint comfort and mobility within a few weeks of consistent use, while others may take longer to experience any noticeable effects. It's important to keep in mind that these supplements are not intended for immediate or rapid relief, and they may require continuous use over an extended period for optimal results.*
WHAT IS THE BEST VITAMIN FOR STIFF JOINTS?

Glucosamine Chondroitin is considered one of the best options for supporting joint health, including addressing stiffness. This powerful supplement combines the benefits of glucosamine and chondroitin, which are essential components for maintaining healthy joints and cartilage.*
Glucosamine is a natural compound that supports the production of cartilage and helps protect joint tissues. Chondroitin, on the other hand, plays a vital role in maintaining the elasticity and flexibility of cartilage.*
By incorporating Glucosamine Chondroitin into your daily routine, you can provide your body with the necessary building blocks to support joint function and ease stiffness. This supplement may help promote joint comfort, enhance mobility, and support overall joint health.*
DOES GLUCOSAMINE CHONDROITIN REALLY HELP ARTHRITIS?

Glucosamine chondroitin supplements are often recommended for joint health.* Research indicates these compounds may support cartilage health and improve joint function.* While many individuals report benefits, outcomes can differ. Always consult with a healthcare professional before starting any supplement to assess its appropriateness for your condition.
WHAT IS THE BEST TIME OF DAY TO TAKE GLUCOSAMINE CHONDROITIN?

The best time to take glucosamine chondroitin is before meals. This can enhance absorption and ensure optimal effectiveness. Always be consistent with the timing and follow any additional guidelines or recommendations provided by your healthcare provider.
IS GLUCOSAMINE AN ANTI INFLAMMATORY?

Glucosamine is primarily known for its role in joint health, aiding in cartilage maintenance.* While it's not classified as a traditional anti-inflammatory, some studies suggest it may have properties that help balance inflammation.* As with all supplements, it's crucial to consult with a healthcare provider before starting a regimen.
WHAT IS THE BEST SUPPLEMENT FOR INFLAMED JOINTS?

For healthy joints, many individuals find relief with Supplements with Boswellia, a herbal extract with inflammation-balancing properties.* While it's considered effective, it's essential to consult a healthcare provider to ensure it's suitable for your specific needs and doesn't interact with other medications or conditions.
CAN GLUCOSAMINE REPAIR KNEE CARTILAGE?

Glucosamine is commonly taken to support joint health and cartilage function.* While it may supports strong cartilage, there's no conclusive evidence showing it can restore cartilage in specific areas.* As always, it's essential to consult a healthcare provider before starting any supplement.
*These Statements have not been evaluated by the Food and Drug Administration. This product is not intended to diagnose, treat, cure or prevent any disease.
Why Vimerson 💚
JUST PREMIUM SUPPLEMENTS YOU CAN TRUST.
Made in the USA in a GMP-Certified Facility with Globally-Sourced ingredients. Non-GMO, Gluten-free, Dairy-Free, Sugar-Free and Soy-Free. A convenient flip-top bottle for on-the-go nutrition.
All Vimerson Health products contain no hormones and no preservatives.