Regular price
Sale price
$21.47
Unit price
per
Sale
Sold out
✦ Main Benefits

Tackle discomfort, maintain healthy energy levels, and promote your digestive health with Turmeric Moringa. By combining Turmeric and Moringa Extract, taken straight from the "Miracle Tree," this supplement will help you tackle each day head on.*

Is discomfort getting the better of you? Perhaps you can't move with ease like you used to, are struggling with routine chores, or find yourself facing frustrating physical limitations. Turmeric balances inflammation and can provide relief when you need it most.*

Don't accept low energy levels. Each capsule contains 250 mg of Moringa 4:1 extract, which provides essential vitamins, minerals, and polyphenol compounds to help maintain healthy energy levels throughout the day, giving you the get-up-and-go you need to thrive.*

A digestive support powerhouse. Turmeric Powder and Turmeric Extract work together in each serving to promote your digestive health. We've added BioPerine - a standardized, trademarked Black Pepper extract - to help you absorb more of the Turmeric curcuminoids in this formula.*

Our Turmeric Moringa capsules are made in the USA from global ingredients in a GMP-Certified facility. It is non-GMO, vegan, gluten-free, nut-free, and soy-free. Unlike Moringa tea, our easy-to-take capsules help you avoid the bitter, unpleasant taste.

*These Statements have not been evaluated by the Food and Drug Administration. This product is not intended to diagnose, treat, cure or prevent any disease.
✦ Is Good For

Individuals who are interested in supporting joint health and maintaining joint flexibility may find Turmeric & Moringa Supplement beneficial.*
For those looking for natural support in promoting healthy digestion and gastrointestinal well-being, this supplement may be considered.*
Some people believe that Turmeric & Moringa Supplement can help support a balanced inflammatory response, which is important for joint and overall health.*
Individuals who experience occasional digestive discomfort or want to support their digestive system may consider incorporating this supplement into their wellness routine.*
Turmeric & Moringa Supplement may be suitable for individuals looking for a natural way to support energy levels and overall vitality.*

As always, it's important for individuals to consult with their healthcare professional before starting any new dietary supplement, especially if they have any underlying health conditions or are taking medications.
✦ How to Take

As a dietary supplement, take two (2) capsules together, once per day, with a meal and a full glass of water, or as directed by your healthcare professional. For those with a more sensitive constitution, we recommend taking one (1) capsule per day with a meal and a full glass of water.
✦ Ingredients

Per serving (2 capsules):

Turmeric Powder (Curcuma longa, Root) 1000mg
Moringa 4:1 Extract (Moringa oleifera, Leaf) 250mg
Turmeric Extract (95% Curcuminoids) (Curcuma longa, Root) 100mg
Black Pepper Extract (BioPerine®) (Piper nigrum, Fruit) 10mg


Other Ingredients: Hypromellose (Capsule), L-leucine, Silica, and Rice Flour.

Non-GMO, Free from Gluten, Dairy, Sugar, Soy.
✦ More Information

Each bottle contains 60 Capsules for 30-day Supply.

Today, Turmeric is one of the most extensively researched natural medicines of the modern age, with over 3000 published studies investigating its wide range of potential health benefits. Not only is Turmeric Root Extract a natural ingredient to help support the immune system, but also a plant-based antioxidant that helps support cardiovascular, brain and digestive health.* It also promotes vibrant skin, hair & eyes.*
✦ Safety

Do not exceed the recommended dose. Always consult your healthcare professional before taking this or any dietary supplement, especially if you are under 18. Do not take this product if you are pregnant or nursing, if you have a history of gallstones, bile duct obstruction, or if you are using anticoagulants (blood thinners). You should also consult a professional if you are taking medications or if you have an existing medical condition. Discontinue use and consult your doctor if adverse reaction occurs. Remember that you should not take supplements as a substitute for a varied balanced diet or healthy lifestyle.

CALIFORNIA RESIDENTS
Click here for Proposition 65 warning.
VIEW FULL DETAILS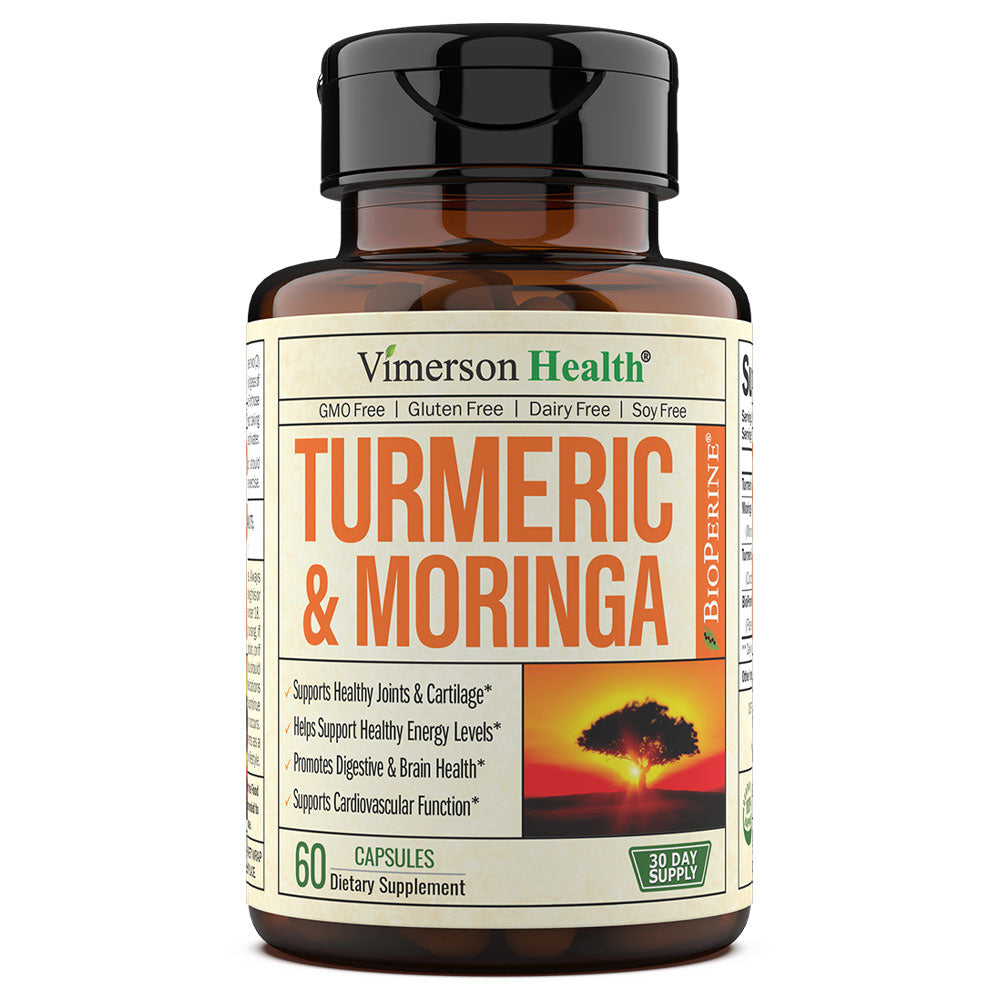 A POWERHOUSE FOR JOINTS, DIGESTION, AND ENERGY
Harnessing the potential of natural ingredients, the combination of turmeric and moringa, bolstered by the absorption-enhancing abilities of BioPerine, presents a groundbreaking supplement that promises support for joints, improved digestion, and an energy boost.
EXPERIENCE THE BENEFITS OF THE MIRACLULOUS TREE: MORINGA
🌳 SUPPORTS HEALTHY JOINTS & CARTILAGE*

🌳 HELPS SUPPORT HEALTHY ENERGY LEVELS*

🌳 PROMOTES DIGESTIVE & BRAIN HEALTH*

🌳 SUPPORTS CARDIOVASCULAR FUNCTION*
MORINGA: THE GREEN SUPERFOOD
Often referred to as the "Drumstick Tree" or "Miracle Tree," Moringa is recognized for its potent nutritional profile. It's no wonder that moringa food supplements, from moringa leaf capsules to moringa powder capsules, have gained immense popularity.
The moringa dietary supplement is often considered a green superfood, offering a rich source of vitamins, minerals, and antioxidants. These moringa vitamins are often recommended for those who seek to support their energy levels and improve overall health. The best moringa leaf supplement often comes from moringa oleifera leaf, ensuring purity and potency.*
THE PINNACLE OF HOLISTIC SUPPLEMENTS: MORINGA, TURMERIC AND BIOPERINE UNITED
TURMERIC: NATURE'S GOLDEN MIRACLE

Curcumin, the vibrant compound found in turmeric, is known for its robust inflammation balance and antioxidant properties. This, combined with moringa's dietary supplement virtues, creates a supplement that supports joint health, aids digestion, and delivers that much-needed energy support.* When you think of turmeric and moringa benefits, imagine balanced inflammation, better digestion, and surging vitality.*

THE MULTIFACETED MORINGA DIETARY SUPPLEMENT

Diving deep into the benefits of moringa, you'll find a treasure trove of nutrients that classify it as a moringa green superfood. Known for its abundant vitamins, minerals, and amino acids, moringa capsules uses span from bolstering immunity to aiding digestion and even assisting in weight management, potentially serving as moringa powder for weight loss.*

BIOPERINE: AMPLIFYING THE POWER OF TURMERIC MORINGA

Our formula stands out, not just because of the potent moringa and turmeric combination benefits, but also due to the inclusion of Bioperine, an extract from black pepper that significantly enhances absorption. This ensures that the dynamic blend of moringa turmeric and black pepper offers maximized benefits, making every capsule worth its weight in health gold.*
MORINGA AND TURMERIC: BEYOND THE BASICS
This combo goes beyond basic health benefits. With regular intake, you can explore moringa and turmeric benefits that encompass enhanced energy, better digestion, and fortified joint health.* The moringa turmeric capsules particularly are a testament to the blend's effectiveness and ease of consumption.
THE GROWING POPULARITY OF TURMERIC AND MORINGA CAPSULES
As awareness spreads, turmeric and moringa capsules have seen a surge in sales. Their combined efficacy, backed by ancient traditions and emerging scientific data, makes them a preferred choice for holistic health enthusiasts.
UNDERSTANDING THE EFFICACY OF THIS HOLISTIC FORMULA
1. JOINT RELIEF

Turmeric, particularly its active compound curcumin, is highly regarded for its potent inflammation balance effects.* This powerful inflammatory balance nature can significantly relief symptoms of occasional joint discomfort.* The combination of turmeric and moringa enhances this effect, making it a top choice for joint occasional discomfort relief.*

2. DIGESTIVE AID

Turmeric stimulates bile production, which helps in better digestion of fats.* Regular consumption can improve digestion by preventing issues such as bloating and gas. When paired with moringa leaves, which are known for their gut-friendly fibers, the efficacy in promoting digestive health is supported.*

3. ENERGY AND VITALITY

Often hailed as the moringa green superfood, moringa is dense in essential nutrients. It provides significant amounts of vitamins, proteins, and other essential nutrients, ensuring sustained energy levels and reduced fatigue. This nutrient-packed profile makes moringa supplements an ideal choice for vitality.*

4. WEIGHT MANAGEMENT

The fiber content in moringa helps promote feelings of fullness, potentially aiding in appetite control and weight management.* While moringa powder for weight loss is not a magic solution, its nutrient profile supports overall health during weight loss journeys.*

5. MENOPAUSE AID

The nutrient-dense profile of turmeric and moringa for menopause can potentially help in balancing hormonal fluctuations and manage associated symptoms such as hot flashes or mood swings.*

6. ENHANCED ABSORPTION

BioPerine, a black pepper extract, plays a critical role in the efficacy of this supplement blend. It works by enhancing the bioavailability of other compounds, ensuring maximum absorption. This means that the body can absorb and utilize the beneficial compounds from turmeric and moringa much more efficiently. With moringa turmeric and black pepper, the trio works synergistically to offer optimal benefits.
A BLEND LIKE NO OTHER: MORINGA, TURMERIC, AND BIOPERINE
The inclusion of Bioperine sets our supplement apart. By ensuring optimal absorption of curcumin and moringa leaves, the body receives a maximum dose of benefits. Whether you're seeking relief from joint and digestive discomfort, or simply desire an energy support, our supplement is your all-in-one solution.*
ABOUT THE COLOUR OF TURMERIC
The color of Turmeric can vary with the seasons due to differences in growing conditions, such as sunlight exposure and temperature fluctuations. These environmental factors can influence the pigmentation of Turmeric, resulting in variations in its color throughout the year.
TOP BRAND

GMO FREE

QUALITY

GLUTEN FREE

MADE IN USA

INGREDIENTS TESTED
ℹ︎Frequently Asked Questions About Turmeric Moringa
WHAT IS MORINGA AND TURMERIC GOOD FOR?

Moringa and Turmeric are two natural ingredients that have gained attention for their potential health benefits. Moringa, also known as the "Miracle Tree," is rich in essential nutrients, vitamins, and minerals. It has been traditionally used to helps maintain balanced energy levels, promote healthy digestion, and boost overall well-being.*
Turmeric, on the other hand, contains an active compound called curcumin, which has been studied for its inflammation balance and antioxidant properties. Turmeric is commonly used to support joint health, promote a healthy immune system, and aid in overall wellness.*
Both Moringa and Turmeric offer unique nutritional profiles and can be valuable additions to a balanced diet and healthy lifestyle. However, it is important to remember that individual responses may vary, and it's advisable to consult with a healthcare professional before adding any new supplements to your routine. They can provide personalized guidance based on your specific needs and health considerations.*
IS IT SAFE TO TAKE MORINGA AND TURMERIC TOGETHER?

Taking Moringa and Turmeric together is generally considered safe for most individuals. Both Moringa and Turmeric are natural ingredients that have been consumed for centuries and are well-tolerated by many people.

However, it's always recommended to consult with a healthcare professional before starting any new dietary supplements, especially if you have any underlying medical conditions, are taking medications, or are pregnant or breastfeeding. They can provide personalized advice based on your specific health circumstances and help ensure the supplements are compatible with your overall wellness plan.
CAN I TAKE MORINGA EVERYDAY?

Yes, Moringa can be taken daily as part of a balanced diet and a healthy lifestyle. Moringa is a nutrient-rich plant known for its various potential health benefits. It is a source of vitamins, minerals, antioxidants, and other bioactive compounds that can support overall well-being. However, it's always advisable to consult with a healthcare professional before starting any new supplement, especially if you have any underlying health conditions or are taking medications. They can provide personalized guidance based on your individual needs and ensure that daily Moringa consumption aligns with your specific health goals.*
CAN MORINGA REDUCE BELLY FAT?

While Moringa has several potential health benefits, it's important to note that no single supplement can directly target or reduce fat in specific areas of the body, including the belly. Weight loss and reduction of belly fat are achieved through a combination of factors, including a balanced diet, regular exercise, and overall healthy lifestyle habits. Moringa may contribute to overall well-being due to its nutrient content and potential antioxidant properties, but it is not specifically known for reducing belly fat. It's always recommended to focus on a comprehensive approach to weight management rather than relying solely on a single supplement. Consulting with a healthcare professional or a registered dietitian can provide personalized guidance for achieving your specific health and fitness goals.*
SHOULD I TAKE MORINGA IN THE MORNING OR AT NIGHT?

The timing of taking Moringa can vary depending on individual preferences and needs. Some people find it beneficial to take Moringa in the morning to provide a boost of energy and support their daily activities. Others may prefer taking it in the evening as part of their nighttime routine. Ultimately, it's important to listen to your body and determine what works best for you. If you have any specific concerns or questions about incorporating Moringa into your routine, it's always a good idea to consult with a healthcare professional or a registered dietitian for personalized advice.
HOW LONG DOES IT TAKE FOR MORINGA TO START WORKING?

The effects of moringa supplements can vary based on individual factors, including metabolism, dosage, and the presence of other nutrients. Generally, when consumed regularly, most users might observe benefits like increased energy or improved digestion within a few days to a couple of weeks.* However, for full nutritional benefits, consistent intake over a longer period is essential.* Always consult with a healthcare provider before starting any moringa supplement to ensure appropriate usage.
IS MORINGA THE BEST SUPERFOOD?

Moringa is often hailed as a superfood due to its rich nutritional profile, including vitamins, minerals, and antioxidants. While it offers numerous health benefits, it's essential to remember that no single food can be considered the "best" for everyone. A balanced diet with diverse nutrient sources is always recommended. It's essential to consult a healthcare provider before integrating moringa supplements or any other superfoods into your routine.
WHY IS MORINGA SO POWERFUL?

Moringa is regarded as powerful due to its remarkable nutritional content. It is a source of essential vitamins, minerals, antioxidants, and amino acids, making it a comprehensive moringa superfood. Additionally, its inflammation balance, antioxidant, and potential medicinal properties further enhance its value.* The moringa leaf supplement is particularly noted for its dense concentration of nutrients, contributing to its reputation as a potent health booster.*
WHAT VITAMINS CAN MORINGA REPLACE?

Moringa, often dubbed as the "drumstick tree," can serve as a significant source of multiple vitamins, especially vitamins A, C, and E. Thus, incorporating moringa supplements into your diet can potentially reduce the need for separate vitamin A, C, and E supplements. However, while moringa is a nutrient-rich moringa superfood, it's essential to consult with a healthcare provider before replacing other vitamins or supplements with it.
*These Statements have not been evaluated by the Food and Drug Administration. This product is not intended to diagnose, treat, cure or prevent any disease.
Why Vimerson 💚
JUST PREMIUM SUPPLEMENTS YOU CAN TRUST.
Made in the USA in a GMP-Certified Facility with Globally-Sourced ingredients. Non-GMO, Vegetarian, Gluten-free, Dairy-Free, Sugar-Free and Soy-Free. A convenient flip-top bottle for on-the-go nutrition.
All Vimerson Health products contain no hormones and no preservatives.