UNDERSTANDING WOMEN'S HEALTH
A journey through the intricate landscape of female well-being. Delve into the unique aspects of women's health, from reproductive concerns to overall vitality. Valuable insights into the diverse dimensions of women's well-being, empowering women to take charge of their health and thrive at every stage of life.
PHYSICAL HEALTH AND FITNESS IN WOMEN
Exercise has multifaceted benefits for women. Cardiovascular exercises enhance heart health, while strength training builds lean muscle mass, boosts metabolism, and helps manage weight.
WOMEN'S HEALTH: EMPOWERING WELLNESS AT EVERY STAGE
Taking care of women's health is important as it supports overall well-being, promotes healthy energy levels, and enables women to lead fulfilling and productive lives. By prioritizing women's health, individuals can maintain optimal physical and mental performance, support longevity, and ensure a higher quality of life.
STRESS MANAGEMENT

Managing stress through relaxation techniques, mindfulness, and seeking support when needed contributes to overall well-being.

EMOTIONAL RESILIENCE

Building emotional resilience supports coping with life's challenges. Nurturing strong social connections and practicing self-compassion are valuable strategies.

SLEEP QUALITY

Prioritizing sleep hygiene and establishing a soothing bedtime routine enhances sleep quality, which is essential for mental and physical rejuvenation.
UNVEILING BEAUTY THROUGH HOLISTIC WELLNESS
Women's health and beauty are intertwined, reflecting the delicate balance between self-care, nourishment, and self-confidence. By adopting a holistic approach that encompasses physical, mental, and emotional well-being, women can radiate beauty that originates from inner vitality and resonates outwardly.
WOMEN'S HORMONAL BALANCE AND MENOPAUSE
▸ HORMONAL FLUCTUATIONS

Recognize and manage hormonal changes that occur during perimenopause and menopause. A balanced diet, exercise, and stress reduction can alleviate symptoms.
▸ BONE HEALTH

Maintain bone health by ensuring adequate calcium and vitamin D intake. Weight-bearing exercises also contribute to strong bones and prevent osteoporosis.
▸ HEART HEALTH

Prioritize heart health through regular cardiovascular exercise, a balanced diet, and stress management. Awareness of heart disease risk factors is crucial.
HORMONES AND MOOD

Hormonal changes can influence mood and emotions. Practicing stress management techniques and maintaining a healthy lifestyle can support emotional balance.

HORMONES AND SKIN HEALTH

Hormonal shifts may affect skin health. Establishing a skincare routine and staying hydrated contribute to a radiant complexion.

HORMONES AND WEIGHT MANAGEMENT

Hormonal changes can influence metabolism and weight. Embracing regular physical activity and mindful eating support weight management.
GOING DEEPER INTO LIFESTYLE FOR OPTIMAL WOMEN'S HEALTH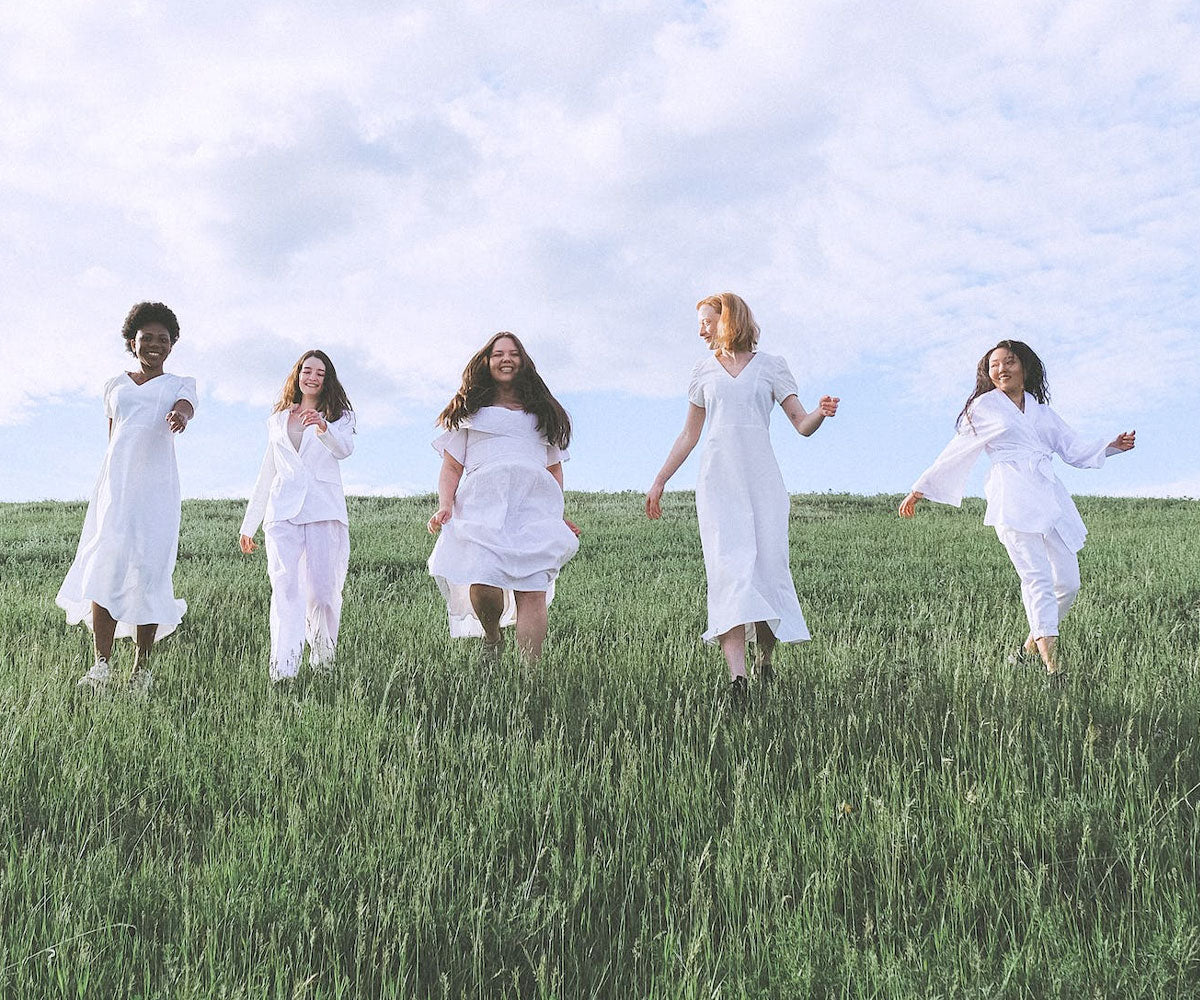 ✦ WOMEN'S HORMONAL BALANCE AND MENOPAUSE

Hormonal balance is integral to women's health, with menopause being a significant life stage that requires attention and care.

Understand the symptoms of menopause, such as hot flashes, mood changes, and bone health concerns.
Consult with healthcare professionals for personalized management options, including hormone therapy if necessary.
Maintain a healthy lifestyle with regular exercise, balanced nutrition, and stress management to support hormonal equilibrium.
✦ BONE HEALTH IN WOMEN

Women are more prone to osteoporosis, emphasizing the importance of strong bones throughout life.

Consume a calcium-rich diet from sources like dairy products, leafy greens, and fortified foods.
Ensure adequate vitamin D intake through sunlight exposure or supplements to enhance calcium absorption.
Engage in weight-bearing exercises like walking, dancing, and weight lifting to strengthen bones.
Avoid smoking and excessive alcohol consumption, as they can negatively impact bone health.
✦ WOMEN'S EMOTIONAL AND MENTAL WELL-BEING

Emotional and mental well-being are vital for women's overall health and quality of life.

Prioritize self-care and engage in stress-reducing activities like meditation, hobbies, or social interactions.
Seek professional help when needed for conditions like anxiety, depression, or mood disorders.
Build a support network of friends, family, or support groups to foster emotional resilience.
✦ NUTRITION AND DIET FOR WOMEN

A balanced diet is essential for women's health, addressing unique nutritional needs across life stages.

Consume a variety of nutrient-dense foods, including fruits, vegetables, whole grains, lean proteins, and healthy fats.
Include iron-rich foods to prevent anemia, especially during menstruation and pregnancy.
Prioritize folic acid intake before and during pregnancy to reduce the risk of birth defects.
Pay attention to calcium and vitamin D intake for bone health and overall well-being.
✦ WOMEN AND BEAUTY

Beauty encompasses both physical and emotional aspects of well-being, requiring a holistic approach.

Practice skincare routines tailored to skin type, including cleansing, moisturizing, and sun protection.
Embrace body positivity and self-acceptance, promoting a healthy body image.
Focus on inner well-being through stress management, healthy habits, and self-confidence.
✦ FITNESS AND EXERCISE FOR WOMEN

Physical activity contributes to women's health by promoting fitness, preventing chronic diseases, and enhancing mood.

Engage in a mix of aerobic exercises, strength training, and flexibility exercises for a well-rounded fitness routine.
Aim for at least 150 minutes of moderate-intensity aerobic activity per week, adjusted based on individual goals and needs.
Incorporate pelvic floor exercises to support bladder control and core strength.
✦ SUPPLEMENTS FOR WOMEN

Certain supplements can address specific women's health needs.

Consider calcium supplements to support bone health.*
Vitamin D supplements may be beneficial for bone health, immune function, and overall well-being.*
Folic acid supplements are crucial before and during pregnancy.*
Consult with healthcare providers to determine personalized supplement needs based on individual health status.
✦ WOMEN'S HEART HEALTH

Heart health is paramount for women, necessitating awareness and preventive measures.

Adopt a heart-healthy diet rich in fruits, vegetables, whole grains, lean proteins, and healthy fats.
Engage in regular physical activity to promote cardiovascular health.
Know the signs of heart attack and stroke and seek immediate medical attention when necessary.
Monitor blood pressure and cholesterol levels regularly and follow healthcare providers' recommendations.
TOP 3 BENEFITS OF TAKING A SUPPLEMENT FOR WOMEN'S HEALTH
SHOP ALL
HORMONAL HARMONY

Tailored to women's specific needs, these supplements can assist in maintaining hormonal balance. By promoting stable hormone levels, they contribute to improved mood, energy, and overall well-being, helping women manage their daily routines with confidence.

BEST SUPPLEMENT FOR HORMONAL BALANCE

HEALTHY BONES AND HEART

Formulated with essential nutrients like calcium and vitamin D, these supplements support bone health and cardiovascular wellness. Enjoy the benefits of healthy bones and heart health, enabling women to lead active and robust lives.

BEST SUPPLEMENT FOR BONES

NURTURED SKIN, HAIR & NAILS

These supplements contain vital vitamins and minerals that promote skin, hair, and nail health. Experience the rewards of a glowing complexion, vibrant hair, and resilient nails, elevating women's natural beauty and self-assurance.

BEST SUPPLEMENTS FOR SKIN, HAIR & NAILS
ALL VIMERSON SUPPLEMENTS FOR WOMEN'S HEALTH
FOLATE

Folate, also known as vitamin B9, is a vital nutrient for women's health. It supports healthy development during pregnancy and is essential for proper body function and overall well-being. Adequate folate intake may contribute to maintaining optimal health and supporting cardiovascular wellness.

VITAMIN E

Vitamin E is an antioxidant that contributes to women's health in several ways. It helps protect body from oxidative stress, supports a healthy immune system, and promotes skin health, making it beneficial for overall well-being.*

BIOTIN

Biotin, also known as vitamin B7, is a water-soluble vitamin that is essential for the metabolism of fats, carbohydrates, and proteins. It supports healthy hair, skin, and nails, contributing to overall beauty and well-being in women.*
WOMEN'S MULTIVITAMIN BEST SELLER🥇
WOMEN'S MULTIVITAMIN & MULTIMINERAL SUPPLEMENT
Regular price
Sale price
$21.97
Unit price
per
Sale
Sold out
VIEW FULL DETAILS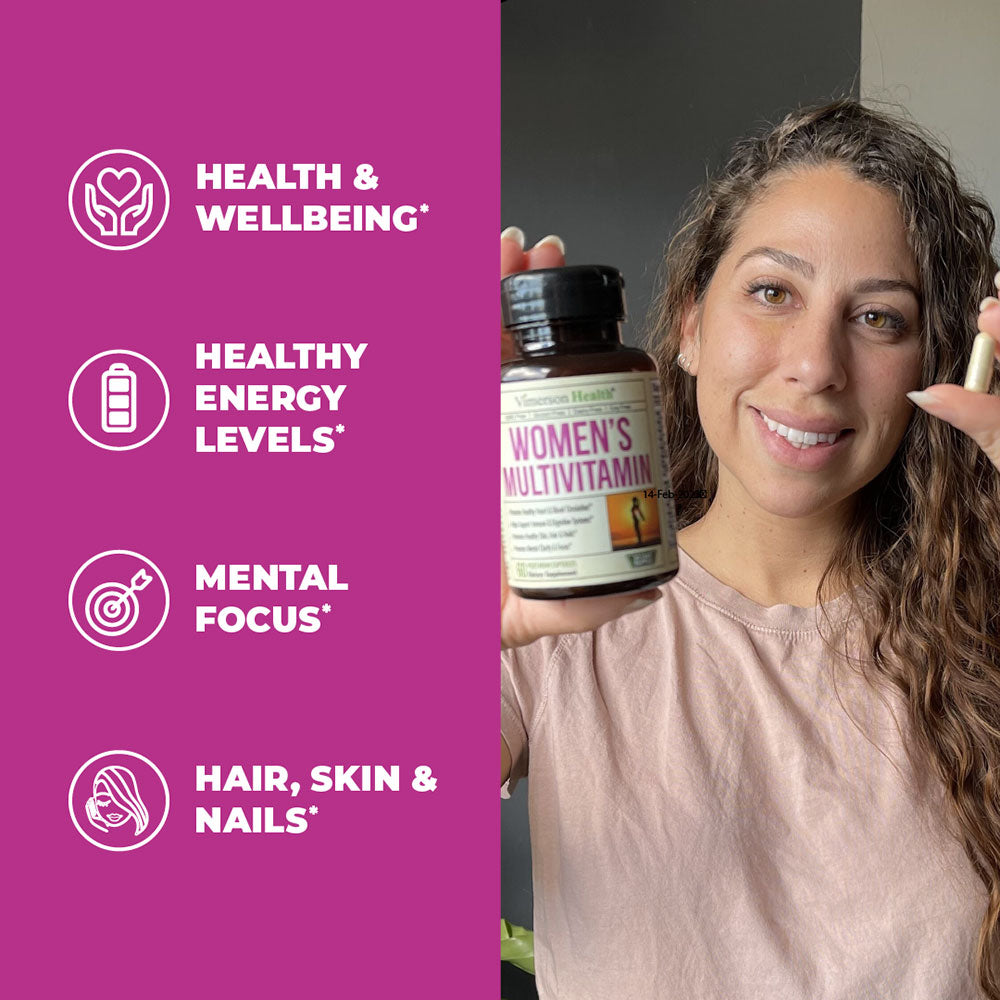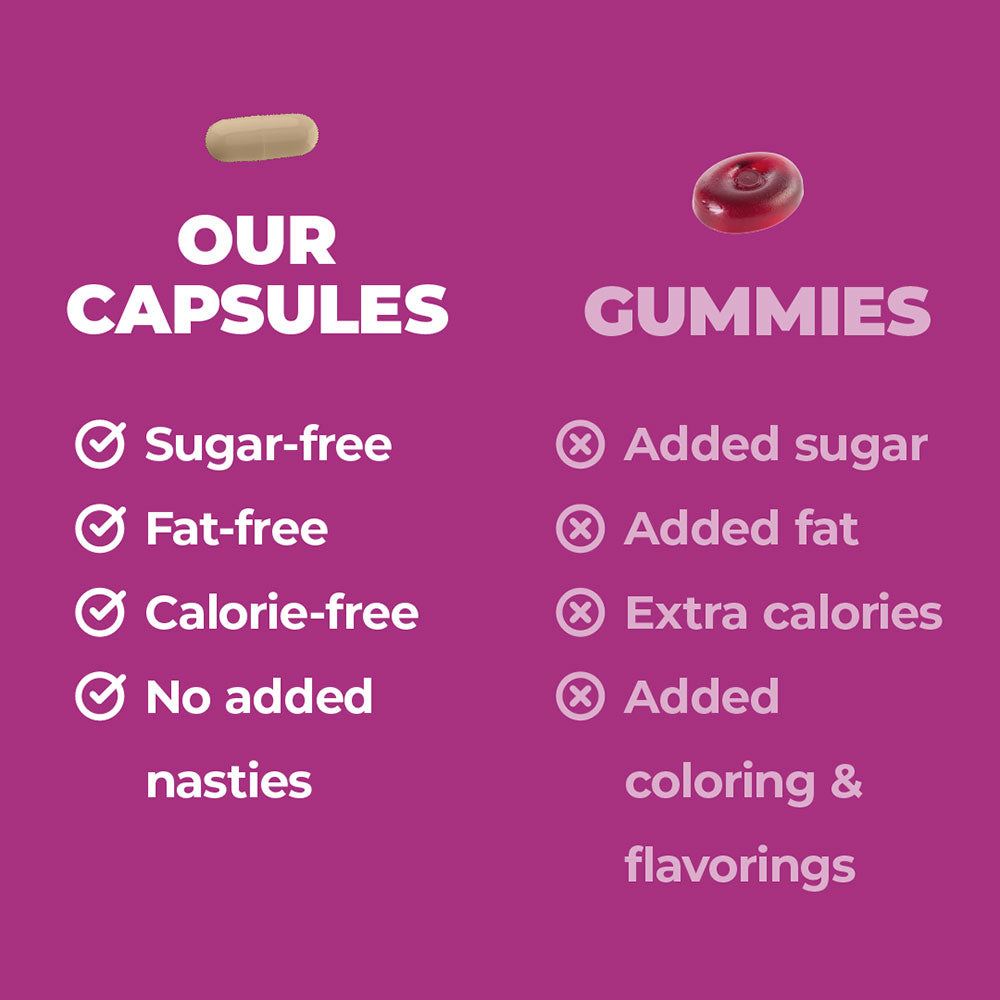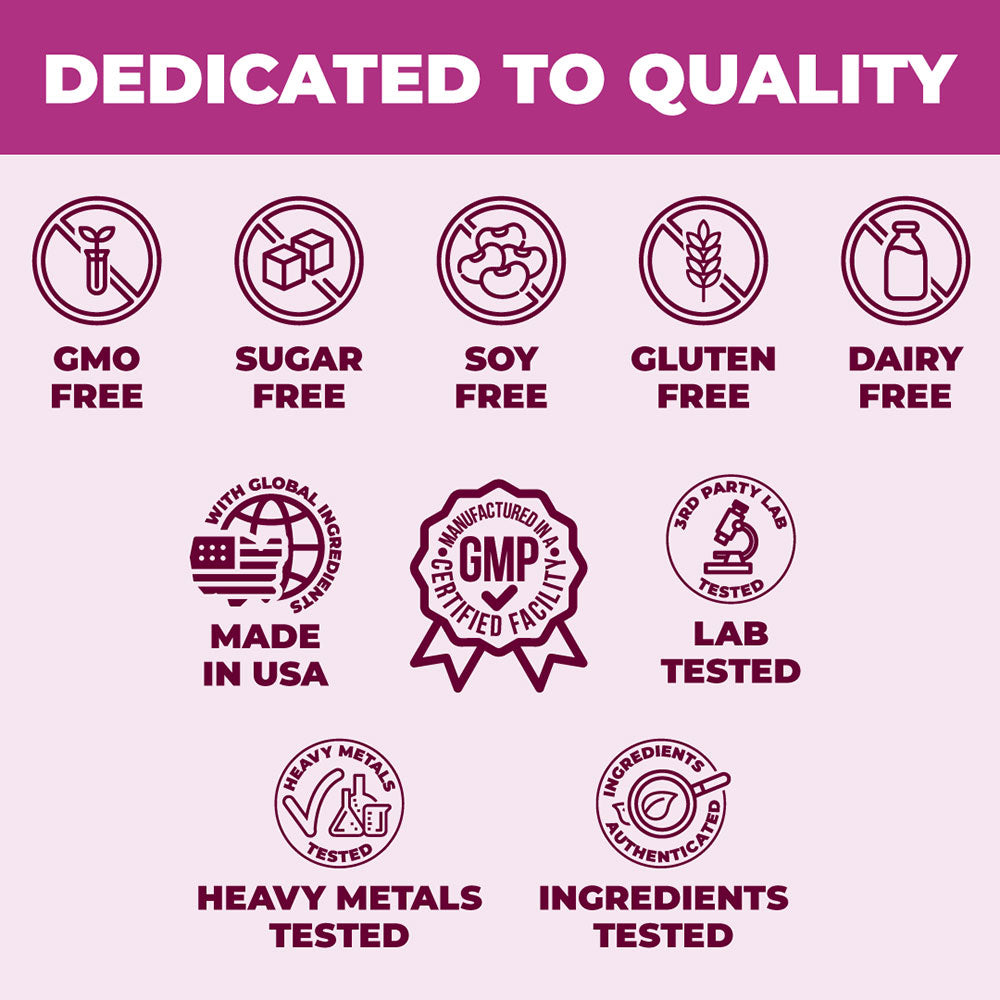 CONCLUSION: EMBRACING WOMEN'S WELLNESS JOURNEY
Women's health encompasses a wide range of aspects, from reproductive well-being to mental and emotional balance and heart health. By prioritizing self-care, making informed lifestyle choices, and seeking support when needed, women can embark on a holistic wellness journey that empowers them to thrive in every facet of their lives.
ℹ Frequently Asked Questions About Women's Health
What are the best supplements for women's body?

Key supplements for women's health include calcium, vitamin D, magnesium, and folic acid. These nutrients support bone health, energy levels, heart health, and reproductive wellness. Always consider individual needs and consult a provider before adding supplements to your routine.
Is it OK to take women's vitamins?

Yes, taking women's vitamins can be beneficial to support specific nutritional needs. Look for a balanced formula with essential vitamins and minerals like calcium, vitamin D, and folic acid. However, consulting a healthcare provider before starting any new supplement is recommended for personalized guidance.
Who should take women's multivitamin?

Women of various ages and life stages can benefit from women's multivitamins. This includes young adults, pregnant or breastfeeding women, and those experiencing menopause. Women's multivitamins can help support overall health, address specific nutritional needs, and bridge potential nutrient gaps.* Consulting a healthcare provider for personalized recommendations is advised.
What does magnesium do for females?

Magnesium plays a crucial role in supporting various aspects of female health.* It aids in muscle relaxation, helps manage stress, promotes healthy bones, and supports energy production.* Additionally, magnesium can contribute to hormonal balance and alleviate symptoms associated with menopause.* Always consult a healthcare provider for personalized guidance.
What is the best supplement to take everyday?

A well-rounded daily supplement for women may include essentials like vitamin D, calcium, B vitamins, and probiotics. These can support bone health, energy levels, immune function, and gut health.* Consult with a healthcare provider to tailor supplements to your individual needs and ensure they complement your balanced diet and lifestyle.
What are the three most important supplements?

Vitamin D is essential for bone and immune health. Calcium supports bone health. Folate is vital for reproductive health.* These three supplements can be beneficial for women, but consult a healthcare provider before adding new supplements to your routine.
Are women's multivitamins worth it?

Women's multivitamins can be beneficial if they fill nutrient gaps in your diet. However, it's important to choose a quality product, follow recommended dosages, and maintain a balanced diet. Consult your healthcare provider to determine if a multivitamin is suitable for your individual health needs.
What age should you start taking women's vitamins?

Considering individual nutritional needs, women can consider starting multivitamins in their late teens or early twenties. Consultation with a healthcare provider can guide the right time and choice of supplements based on your health goals and lifestyle.
What is the best vitamin for women's skin?

Vitamin C is known for promoting healthy skin among women. It supports collagen production, aiding in skin elasticity and brightness.* A balanced diet rich in fruits, vegetables, and hydration also contributes to skin health. Always consider individual needs and consult with a healthcare provider before supplementing.
What can we do to improve women's health?

Enhancing women's health involves balanced nutrition, regular exercise, sufficient sleep, stress reduction, and avoiding harmful habits. Regular check-ups and screenings are vital. Empower women with accurate health information, encourage self-care, and foster strong support networks. Education, awareness, and empowerment play crucial roles in improving women's well-being.
* These statements have not been evaluated by the Food and Drug Administration. This product is not intended to diagnose, treat, cure, or prevent any disease.