WHAT IS BIOPERINE?
Bioperine, derived from the pungent black pepper fruit, is a remarkable natural compound that has garnered considerable attention in the health and wellness industry. Its potent bioenhancing properties have led to its integration into various dietary supplements, amplifying their effectiveness. We will delve deep into the world of Bioperine, exploring its functions, benefits, and recommended usage.
BIOPERINE: USES AND BENEFITS
1. ENHANCES NUTRIENT ABSORPTION 📈

Bioperine is often used as a bioavailability enhancer. It can increase the absorption of certain nutrients, such as vitamins and minerals. By improving nutrient absorption, it helps the body better utilize these essential compounds.

2. IMPROVES SUPPLEMENT EFFECTIVENESS 🔝

When combined with certain supplements, Bioperine can increase their efficacy by improving their absorption and utilization in the body. This is especially beneficial for herbal extracts and plant-based supplements.

3. SUPPORTS DIGESTIVE HEALTH 🥗

Bioperine has been shown to stimulate the digestive enzymes of the pancreas, which can aid in the digestion of food and improve overall digestive health.*

4. INFLAMMATION BALANCE PROPERTIES 💪🏻

Some studies suggest that Bioperine may have inflammation balance effects, potentially balancing inflammation and related discomforts.*

5. ANTIOXIDANT BENEFITS 🧬

As an antioxidant, Bioperine may help neutralize harmful free radicals in the body, which can contribute to oxidative stress and damage.*

6. WEIGHT MANAGEMENT 🏃🏽

Bioperine is believed to have thermogenic properties, meaning it may help increase metabolism and support weight management efforts.*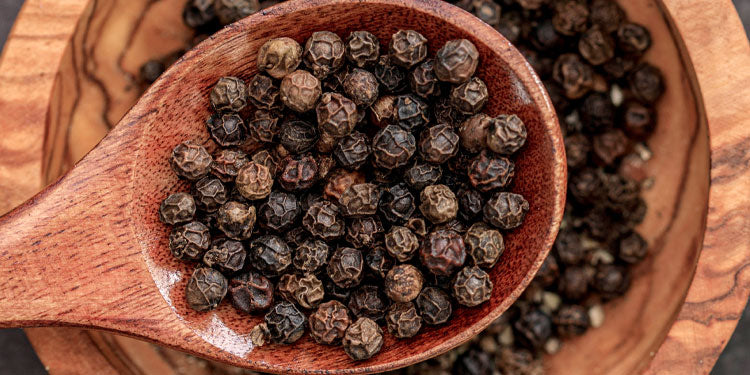 BLACK PEPPER: THE KING OF SPICES
Incorporating Black Pepper, which naturally contains piperine, into your meals can provide some benefits similar to those of BioPerine. While the concentration of piperine in black pepper is lower than in BioPerine extract, it can still contribute to improved nutrient absorption and add flavor to your dishes.*
BIOPERINE OR BLACK PEPPER?
BioPerine is a patented extract derived from black pepper fruits. It is used in supplements to enhance nutrient absorption. Unlike regular black pepper, BioPerine has a standardized concentration of at least 95% piperine. It undergoes strict quality control for safety. Regular black pepper is a culinary spice used for flavoring and it does not provide the same concentrated levels of piperine found in BioPerine.*
EXPLORING DIFFERENT VARIETIES OF BLACK PEPPER
BLACK PEPPERCORNS

The most common type, black peppercorns, are the dried, unripe fruits of the pepper plant. They possess a sharp, hot flavor, and their earthy aroma enhances a variety of dishes.

GREEN PEPPERCORNS

Green peppercorns are harvested before they fully ripen, giving them a milder flavor and a fresher, fruitier taste. They are often used in Thai and other Southeast Asian cuisines.

WHITE PEPPERCORNS

White peppercorns are ripened fruits with the outer skin removed. They have a more subtle taste compared to black peppercorns, making them ideal for dishes where specks of black are undesirable.

RED PEPPERCORNS

Red peppercorns are fully ripe fruits and have a sweet, fruity flavor. They are rare and often considered a delicacy.
7 MAIN BENEFITS OF BIOPERINE
✦ ENHANCED NUTRIENT ABSORPTION*

Bioperine's remarkable ability to enhance nutrient absorption ensures that our bodies make the most out of essential vitamins and minerals, optimizing overall health.*
✦ INCREASED BIOAVAILABILITY OF CURCUMIN*

By pairing Bioperine with curcumin, the active compound in turmeric, we unlock the potential of this potent inflammation balance agent, fostering a healthier and more resilient body.*
✦ ANTIOXIDANT PROPERTIES*

Bioperine boasts its own set of antioxidant powers, safeguarding our cells from oxidative stress and free radicals, crucial for combating the effects of aging and supporting our immune system.*
✦ INFLAMMATION BALANCE EFFECTS*

Inflammation is at the core of numerous health issues. Bioperine's inflammation balance properties contribute to stimulate inflammatory response and support the body's natural healing processes.*
✦ WEIGHT MANAGEMENT SUPPORT*

While not a direct weight-loss solution, Bioperine can support weight management by improving the absorption of nutrients that play a role in metabolism and energy regulation.*
✦ DIGESTIVE HEALTH*

Bioperine contributes to a well-functioning digestive system, alleviating occasional discomfort and promoting better nutrient breakdown and absorption.*
✦ MOOD ENHANCEMENT*

The connection between body and mind is strong, and Bioperine may positively influence mood and emotional well-being, promoting a sense of balance and well-being.*
FORMATS WE CAN FIND BLACK PEPPER
WHOLE BLACK PEPPERCORNS

These are the dried, unground fruits of the Piper nigrum plant. They are small, round, and have a dark brown to black color. Whole peppercorns retain their flavor and aroma for a longer time than ground pepper.

GROUND BLACK PEPPER

Ground black pepper is made by grinding the dried peppercorns into a fine powder. It is the most common form of black pepper used in cooking and seasoning due to its convenience and ease of use.

BLACK PEPPER ESSENTIAL OIL

Black pepper essential oil is extracted from the dried and crushed peppercorns. It is highly concentrated and potent, containing the characteristic spicy aroma of black pepper. It is used in aromatherapy and skincare products.

CRUSHED BLACK PEPPER

Crushed black pepper consists of coarsely broken peppercorns, providing a milder flavor and texture compared to ground pepper. It is often used in marinades, rubs, and toppings.

PICKLED BLACK PEPPERCORNS

Pickled black peppercorns are whole peppercorns preserved in a brine or vinegar solution. This pickling process imparts a tangy flavor to the peppercorns, making them a popular condiment in some cuisines.

BLACK PEPPER SEASONING BLENDS

These are mixtures of black pepper with other herbs, spices, and seasonings. They are designed to add complexity and unique flavors to various dishes, such as steak seasoning or lemon pepper blends.

BLACK PEPPER SUPPLEMENTS

Black pepper extract is available in supplement form. It contains the active compound piperine, which has been studied for its potential health benefits, including improved nutrient absorption.

BLACK PEPPER CREAMS AND BALMS

Some topical products, like pain relief creams or muscle balms, may include black pepper essential oil for its warming and soothing properties.

BLACK PEPPER IN CUISINE

Black pepper is a common spice used in various cuisines worldwide. It can be found in sauces, soups, stews, meat dishes, and even desserts to add a hint of spiciness and depth of flavor.
BEST SUPPLEMENTS WITH BIOPERINE
We believe in the power of Turmeric and we combine it with BioPerine to boost it even more. We are constantly creating effective formulas that combine this ingredient to improve people's health.*
View Turmeric Curcumin + Bioperine
VIMERSON HEALTH SUPPLEMENTS WITH BIOPERINE
Discover the power of Supplements with BioPerine designed to enhance your overall well-being and maximize the benefits of your nutritional regimen. Our carefully curated selection features a range of high-quality products that harness the synergistic effects of BioPerine, a patented black pepper extract known for its remarkable bioavailability-enhancing properties.*
OVER 1.2 MILLION BOTTLES SOLD! 🥇
TURMERIC CURCUMIN SUPPLEMENT - IMMUNE & JOINT HEALTH
Regular price
Sale price
$23.77
Unit price
per
Sale
Sold out
VIEW FULL DETAILS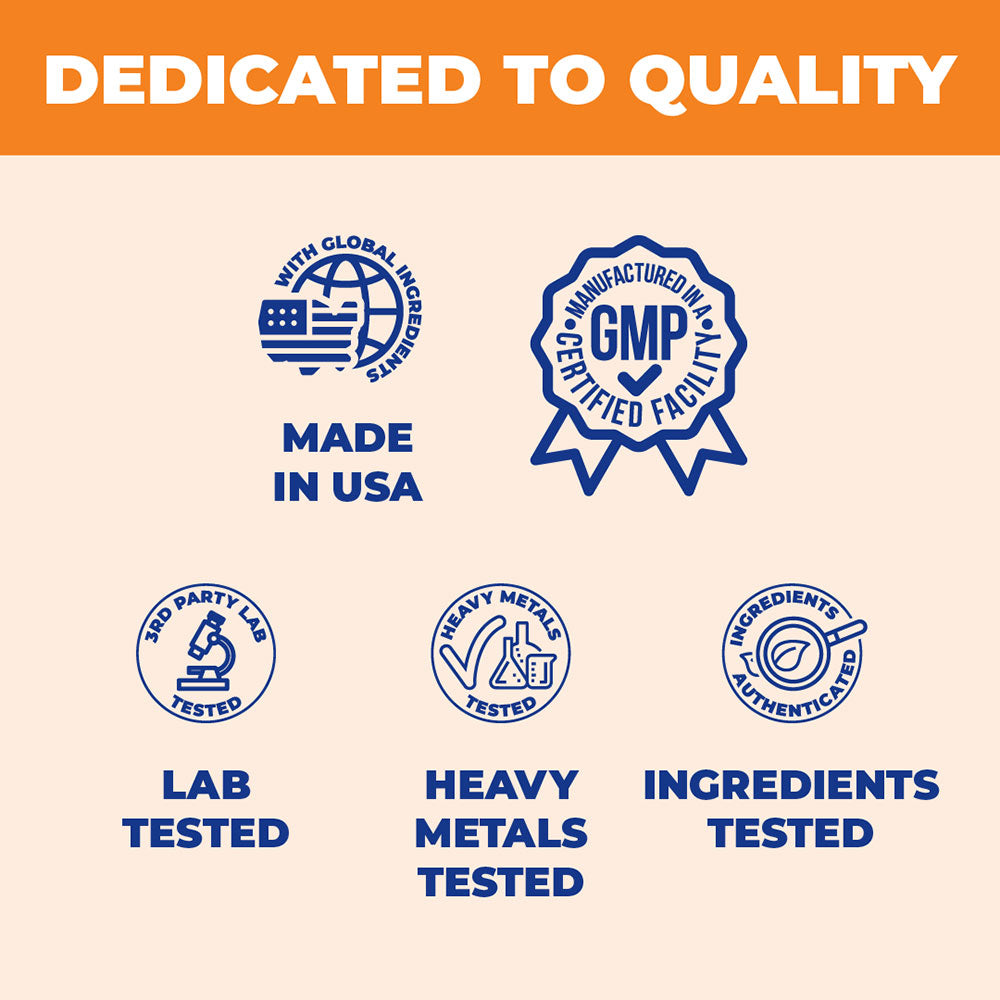 WHY ALL OUR SUPPLEMENTS CONTAIN BIOPERINE?
We know that BioPerine (also known as Black Pepper) may increase nutrient absorption, among other benefits, which is why we combine it with all of our Turmeric formulas.*
ALL VIMERSON SUPPLEMENTS WITH BIOPERINE
GLOBBALY SOURCED INGREDIENTS
We take pride in utilizing premium BioPerine carefully selected, a high-quality ingredient renowned for its exceptional properties. Elevate your wellness journey with the assurance that our products are enriched with top-notch BioPerine for optimal results.
* These statements have not been evaluated by the Food and Drug Administration. This product is not intended to diagnose, treat, cure, or prevent any disease.