Regular price
Sale price
$21.97
Unit price
per
Sale
Sold out
✦ Main Benefits

Can't think straight? Turmeric Ginkgo Biloba combines three key ingredients to promote mental clarity, focus and concentration, helping you to get back on top of your daily routine.*

Clear your cluttered mind. We all get distracted sometimes. Forgetting where we've put our keys, walking into a room and forgetting why, or losing track of a task we were working on. Ginkgo Biloba can help by providing enhanced clarity and aiding your memory.*

Get the job done. Settle down and stick to the task at hand thanks to Ginkgo Biloba's unique ability to boost your concentration. Whether that's a work project, planning a trip, helping with your kid's homework, or anything else you've been putting off.*

Unite your mind and body. Sometimes, we can't focus because we're distracted by bodily discomfort. Turmeric helps to relieve occasional discomfort, putting you at ease and helping you focus.*

We create quality supplements that do what they say on the label. Turmeric Ginkgo Biloba is made in the USA from global ingredients in a GMP-Certified facility. It is non-GMO, vegan, gluten-free, nut-free, and soy-free.

*These Statements have not been evaluated by the Food and Drug Administration. This product is not intended to diagnose, treat, cure or prevent any disease.
✦ Is Good For

Individuals who are interested in supporting cognitive function and mental clarity may find Turmeric Ginkgo Biloba Supplement beneficial.*
For those looking to enhance focus and concentration, this supplement may be considered as part of a comprehensive approach to brain health.*
Some people believe that Turmeric Ginkgo Biloba Supplement can help support healthy memory and recall, which may be particularly beneficial for individuals experiencing age-related cognitive decline.*
Individuals who engage in tasks that require mental agility, such as studying or working in mentally demanding professions, may consider incorporating this supplement into their wellness routine.*
Turmeric Ginkgo Biloba Supplement may be suitable for individuals looking for natural support in maintaining overall brain health and cognitive function.*

As always, it's important for individuals to consult with their healthcare professional before starting any new dietary supplement, especially if they have any underlying health conditions or are taking medications.
✦ How to Take

As a dietary supplement, take two (2) capsules together, once per day, with a meal and a full glass of water, or as directed by your healthcare professional. For those with a more sensitive constitution, we recommend taking one (1) capsule daily with a meal and a full glass of water.
✦ Ingredients

Per serving (2 capsules):

Organic Turmeric (Curcuma longa, Root) 900mg
Ginkgo Biloba Leaf 120mg
Turmeric Root Extract (Curcuma longa) (Standardized 95% Curcuminoids) 100mg
BioPerine (95% Piperine) (Black Pepper Extract; Piper nigrum; Fruit) 10mg


Other Ingredients: Hypromellose (Capsule), Rice Extract Blend, Rice Hulls.

GMO Free, Gluten Free, Dairy Free, Vegan, Soy Free, Zero Eggs, Zero Tree Nuts or Peanuts.
✦ More Information

Each bottle contains 60 Capsules for 30-day Supply.

Today, Turmeric is one of the most extensively researched natural medicines of the modern age, with over 3000 published studies investigating its wide range of potential health benefits. Not only is Turmeric Root Extract a natural ingredient to help support the immune system, but also a plant-based antioxidant that helps support cardiovascular, brain and digestive health.* It also promotes vibrant skin, hair & eyes.*
✦ Safety

Do not exceed the recommended dose. Always consult your healthcare provider before taking any dietary supplement, especially if you are under 18. Do not take this product if you are pregnant or breastfeeding, if you have a history of gallstones, bile duct obstruction, bleeding disorders, or if you are using anticoagulants (blood thinners). You should also consult your healthcare provider if you are taking medications or if you have an existing medical condition. Discontinue use and consult your doctor if you experience any adverse reactions. Remember that you should not take supplements as a substitute for a varied balanced diet or healthy lifestyle.
This product has a shelf life of 2 years from the production date (embossed in the bottom of the bottle).
Keep out of reach of children. Do not use if safety wrap is damaged or missing. Store in a cool, dry place.

CALIFORNIA RESIDENTS
Click here for Proposition 65 warning.
VIEW FULL DETAILS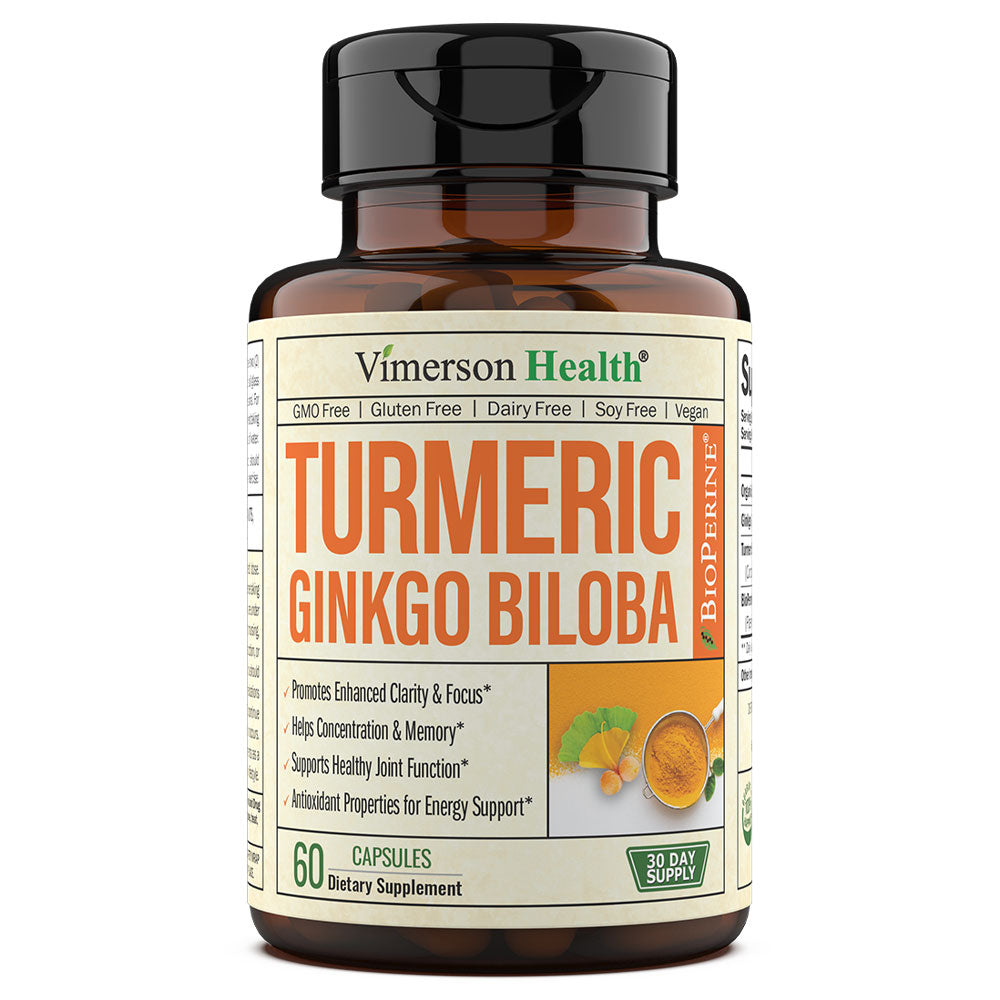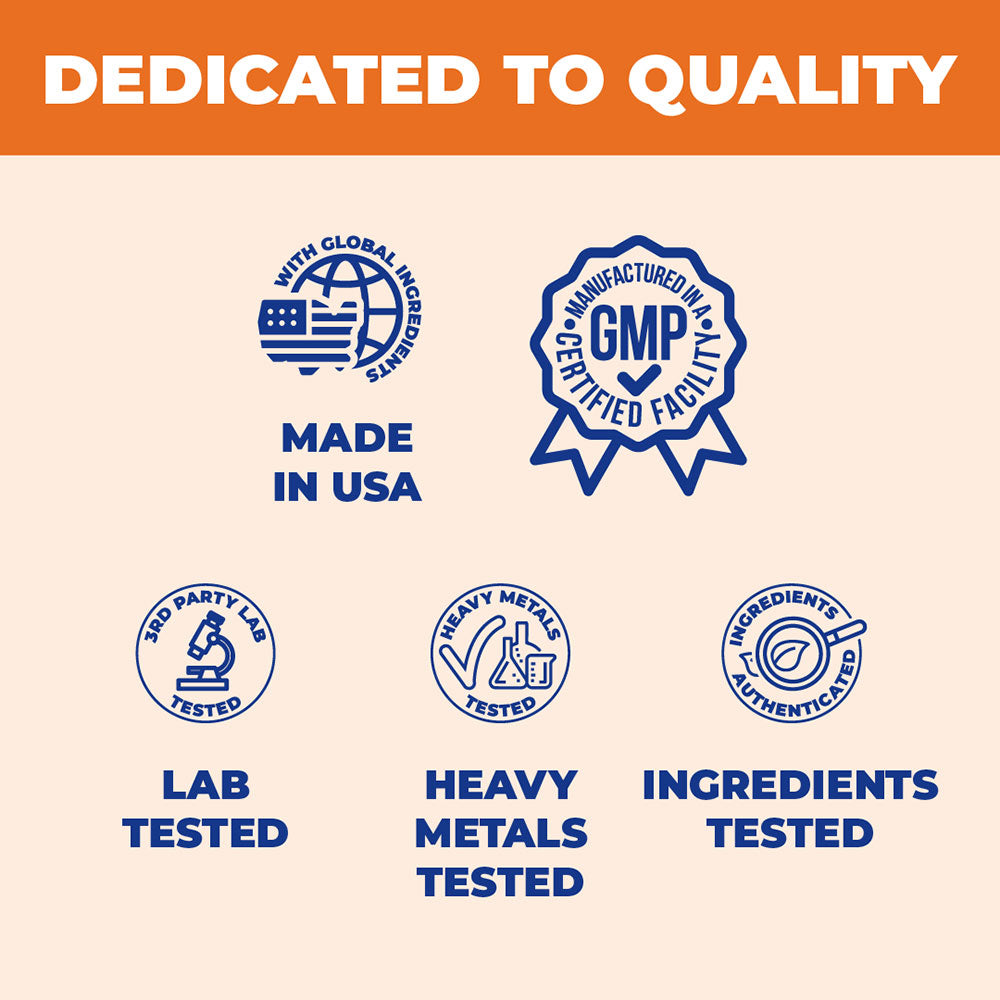 TURMERIC GINKGO WITH BIOPERINE: A HOLISTIC APPROACH TO BRAIN HEALTH
The pursuit of optimal brain health leads many to explore natural remedies. Among the frontrunners in the realm of herbal supplements are Turmeric and Ginkgo Biloba. When augmented with Bioperine, the combination is truly remarkable.
TURMERIC GINKGO: CLEAN INGREDIENTS FOR A CLEAR MIND
🧠 PROMOTES ENHANCED CLARITY & FOCUS*

🧠 HELPS CONCENTRATION & MEMORY*

🧠 SUPPORTS HEALTHY JOINT FUNCTION*

🧠 ANTIOXIDANT PROPERTIES FOR ENERGY SUPPORT*
THE ULTIMATE SUPPLEMENT FOR CLARITY, FOCUS & MEMORY
In the realm of natural supplements, few stand as renowned as turmeric and ginkgo biloba. Separately, they've been celebrated for their myriad health benefits. However, when combined with Bioperine, their potency reaches a whole new dimension, primarily in enhancing cognitive abilities.* Find the incredible synergy between turmeric, ginkgo biloba and bioperine, emphasizing clarity, focus, and memory enhancement.*
UNDERSTANDING THE KEY PLAYERS: TURMERIC, GINKGO BILOBA AND BIOPERINE
TURMERIC CURCUMIN

Turmeric isn't merely a kitchen staple. It's a potent inflammation balancer and antioxidant.* While its potential to benefit the brain is significant, turmeric's incorporation with ginkgo biloba makes it a force to be reckoned with in cognitive health.*
Turmeric is a nutritional powerhouse, packed with curcuminoids that help to relieve occasional joint discomfort.* If you find you're not able to move as easily as you used to, the 900mg of Organic Turmeric and 100mg of Turmeric Root Extract in each serving can help to provide relief, so you can thrive.*

GINKGO BILOBA

The best ginkgo biloba supplements have been used for centuries in traditional medicines, mainly for its properties that enhance memory and fight fatigue.* The plant's extracts, especially from the ginkgo biloba leaf, have shown potential in supporting brain health, improving memory, and increasing concentration.* Numerous studies have linked ginkgo biloba and memory improvement, making it a popular nootropic.
Ginkgo Biloba leaf has been used for centuries to promote mental clarity, enhance memory, boost concentration and support healthy brain function.

BIOPERINE

Bioperine is extracted from black pepper and significantly boosts the absorption of both turmeric and ginkgo biloba in the body. This improved bioavailability ensures that you get the most out of every ginkgo biloba 120 mg tablet or turmeric dose you take.
BioPerine is a standardized Black Pepper Extract that will help you get the most from each serving of Turmeric Ginkgo Biloba. A little goes a long way - just 10mg per serving increases your body's absorption of curcuminoids from Turmeric twenty-fold.*
GINKGO BILOBA: WHAT IS IT GOOD FOR?
Apart from its impressive cognitive benefits, ginkgo biloba is revered for its ability to enhance circulation, fight brain fog, and even assist in fat loss.* Whether you're considering ginkgo biloba for men specifically or for anyone keen on mental sharpness, the list of advantages is impressive.*
TURMERIC'S GOLDEN TOUCH
But ginkgo isn't the only star here. The inclusion of turmeric, known for its myriad health benefits, adds another layer of potency. Ginkgo turmeric combination ensures that while ginkgo bolsters your cognitive faculties, turmeric's inflammation balance properties support overall well-being, making it a comprehensive solution for holistic health.*
HOW GINKGO BILOBA ELEVATES BRAIN HEALTH
NOOTROPIC NATURE

As a recognized ginkgo biloba nootropic, it supports cognitive functions, from focus to memory.*

ENERGY ELEVATION

Feelings of mental fatigue can diminish with ginkgo biloba energy supporting attributes.*

FOR EVERYONE

From ginkgo biloba for men to supplements tailored for seniors, its brain-supporting properties cater to all demographics.*
EMBRACE THE POWER OF GINKGO BILOBA
Dive into the world of ginkgo biloba, a plant renowned for its potent ability to support the brain's intricate mechanisms. With our best rated ginkgo biloba supplement, you're choosing more than just a dietary aid; you're selecting a path towards enhanced clarity, unparalleled focus, and memory sharpness.*
Ginkgo biloba has been treasured for its positive impact on cognitive functions, especially in promoting clear thinking and aiding memory retention.* Whether you're a student bracing for examinations, a professional juggling various responsibilities, or an elder aiming to preserve cognitive vitality, the ginkgo biloba memory and concentration benefits offer tangible solutions.*
6 MAIN BENEFITS OF TURMERIC GINKGO SUPPLEMENT
1. MEMORY ENHANCEMENT AND RECALL

As we age, cognitive decline becomes a growing concern. With the ginkgo biloba memory and concentration boosting qualities combined with turmeric's cognitive support, this supplement is poised as a potent aid for memory retention.*

2. FOCUS AND MENTAL CLARITY

In today's world of distractions, maintaining focus can be challenging. Ginkgo biloba and the brain have a well-researched relationship. This herb enhances cerebral circulation, which, in turn, contributes to better mental clarity and sharper focus.*

3. PROTECTING YOUR BRAIN

Turmeric's inflammation balance properties and the antioxidants from ginkgo biloba ensure that your brain stays protected from harmful free radicals. A healthy brain is the cornerstone of a vibrant life, and this combo provides the necessary shield.*

4. SUPPORTING CIRCULATION WITH GINKGO BILOBA

One of the more celebrated benefits of ginkgo biloba for circulation is its vasodilating properties. By promoting blood flow to all parts of the body, especially the brain, it ensures optimal nutrient delivery and waste removal.*

5. THE ENERGY SUPPORT YOU DIDN'T EXPECT

Apart from cognitive benefits, these supplements play a role in vitality. Ginkgo biloba energy supporting properties, combined with the overall wellness support from turmeric, can give you that much-needed zest in your step.*

6. INFLAMMATION BALANCE PROPERTIES

Turmeric stands out as a key agent in balancing inflammation. Curcumin, its major component, aids in balancing the body's inflammatory reactions. When synergized with ginkgo biloba, the combined effects support a harmonious inflammatory response, fostering overall wellness.*
GINKGO BILOBA: THE MEMORY MAESTRO
ANCIENT TREE, MODERN MIRACLES

Often referred to as a "living fossil," the Ginkgo Biloba tree has been around for over 270 million years. And there's a reason for its longevity. The ginkgo biloba leaf is packed with potent compounds that can help improve brain function. No wonder it's often referred to as the brain ginkgo biloba.

WHY THE HYPE ABOUT GINKGO?

From ginkgo biloba for circulation to supporting memory, this supplement wears many hats. Studies suggest that it can improve brain function and reduce age-related decline. So, is ginkgo biloba good for memory? A resounding yes! From increasing focus, enhancing memory, to even aiding in fighting brain fog, Ginkgo is the trusted companion for your brain's wellness journey.
A NOOTROPIC POWERHOUSE
With the rising popularity of nootropics, or brain-enhancing supplements, ginkgo biloba nootropic properties combined with turmeric's cognitive benefits make this blend a leading choice for those wanting to boost their mental prowess.
ABOUT THE COLOR OF TURMERIC
The color of Turmeric can vary with the seasons due to differences in growing conditions, such as sunlight exposure and temperature fluctuations. These environmental factors can influence the pigmentation of Turmeric, resulting in variations in its color throughout the year.
TOP BRAND

GMO FREE

QUALITY

GLUTEN FREE

MADE IN USA

INGREDIENTS TESTED
ℹ︎Frequently Asked Questions About Turmeric Ginkgo Biloba
CAN YOU TAKE TURMERIC AND GINKGO TOGETHER?

Yes, it is generally safe to take turmeric and ginkgo together. Turmeric, derived from the root of the Curcuma longa plant, and ginkgo, derived from the leaves of the Ginkgo biloba tree, are both natural dietary supplements that have been used for centuries for their potential health benefits.*
Turmeric contains a compound called curcumin, which has antioxidant and inflammation balance properties. It is often used for its potential benefits in promoting a healthy response to inflammation, supporting joint health, and aiding digestion.*
Ginkgo is known for its potential benefits on cognitive function and circulation. It is often used to support healthy memory, concentration, and overall brain health.*
Both turmeric and ginkgo have been studied for their individual benefits, and they have different mechanisms of action. Taking them together may provide complementary effects, potentially enhancing their overall benefits.*
WHAT IS GINKGO BILOBA GOOD FOR?

Ginkgo biloba is a natural dietary supplement derived from the leaves of the Ginkgo biloba tree. It has been used for centuries in traditional medicine and is known for its potential health benefits.*
Ginkgo biloba is believed to support cognitive function, particularly healthy memory and concentration. It is often used by individuals looking to enhance mental performance or support brain health.*
Additionally, ginkgo biloba is thought to have properties that may promote healthy circulation. It is sometimes used to support cardiovascular health.*
Ginkgo biloba also possesses antioxidant properties, which can help protect cells from damage caused by harmful free radicals.*
While ginkgo biloba has a long history of use and has been studied for its potential benefits, it's important to note that individual results may vary. It's always recommended to consult with a healthcare professional before starting any new supplement regimen, especially if you have any underlying health conditions or are taking medications.
IS GINKGO BILOBA BETTER IN MORNING OR NIGHT?

When to take a Turmeric Ginkgo supplement can vary depending on individual preferences and needs. As a general guideline, it is often recommended to take dietary supplements with meals to aid in absorption and minimize potential digestive discomfort.*
Some individuals may find it beneficial to take their Turmeric Ginkgo supplement in the morning to support mental clarity and energy throughout the day. Others may prefer taking it in the evening to help promote relaxation and support restful sleep.*
Finding the optimal time to take your Turmeric Ginkgo supplement is a personal decision. It's important to establish a consistent routine that works best for you and aligns with your lifestyle. Remember to always read the product labels and consult with a healthcare professional for personalized recommendations.
WHAT ARE THE BENEFITS OF GINKGO IN THE MORNING?

Ginkgo has been traditionally used to support various aspects of cognitive health and mental performance.* Taking Ginkgo in the morning may offer several potential benefits:

Mental clarity: Ginkgo is believed to promote mental alertness, concentration, and focus. Taking it in the morning may help enhance cognitive function, memory, and overall mental performance throughout the day.*
Energy and mood support: Ginkgo is thought to have stimulating properties that can help balance energy levels and uplift mood. Taking it in the morning may assist with low energy and help you start your day on a positive note.*
Brain health and circulation: Ginkgo is known for its potential to help maintain cardiovascular function and a healthy circulatory system. Therefore, Ginkgo may support cognitive function and overall brain health.*
Antioxidant activity: Ginkgo possesses antioxidant properties that help protect against oxidative stress and free radicals. By taking Ginkgo in the morning, you can potentially benefit from its antioxidant effects throughout the day.*

It's important to note that individual responses to Ginkgo may vary, and it's always advisable to consult with a healthcare professional before starting any new supplement regimen. They can provide personalized guidance based on your specific health needs and considerations.
DOES GINKGO IMPROVE MEMORY?

Ginkgo has been traditionally used to support cognitive function, including memory. While some studies suggest that Ginkgo may have a positive impact on memory and cognitive performance, the evidence is not definitive. The effects of Ginkgo on memory can vary among individuals, and it may not produce significant improvements in everyone.*
Ginkgo is believed to assist blood flow and circulation, including to the brain, which may have a potential influence on memory and cognitive processes. Additionally, Ginkgo's antioxidant properties may help protect brain cells from oxidative damage.*
However, it's important to note that factors such as age, health condition, and individual response can play a role in the effectiveness of Ginkgo for memory improvement. It's always advisable to consult with a healthcare professional before starting any new supplement regimen or relying solely on dietary supplements for memory enhancement.
IS IT SAFE TO TAKE GINKGO EVERYDAY?

Turmeric Ginkgo supplements are generally considered safe for most individuals when taken as directed. However, it's important to consult with a healthcare professional before starting any new supplement, especially if you have any underlying health conditions or are taking medications.
As with any supplement, it's important to follow the recommended dosage instructions and not exceed the suggested daily intake.
DOES GINKGO BILOBA CLEAR BRAIN FOG?

Ginkgo biloba is often taken to potentially enhance cognitive functions, including improving memory and concentration.* Some individuals use it to help alleviate symptoms like brain fog.* While there is some evidence supporting its positive effects on brain health, it's essential to consult with a healthcare provider before adding ginkgo biloba to any regimen, and not all users experience the same results.
HOW QUICKLY DOES GINKGO WORK?

The onset of Ginkgo biloba's effects can vary based on the individual and the intended purpose of use. Generally, consistent use over 4-6 weeks is often recommended to notice potential cognitive benefits.* However, for circulatory purposes, some people might observe effects within a few hours of consumption.* As always, consulting with a healthcare provider before starting ginkgo biloba supplements ensures a safe and effective regimen.
DOES GINKGO HELP WITH FATIGUE?

Ginkgo biloba has been studied for various potential health benefits, including its role in increasing blood flow to the brain and cognitive function.* Some individuals have reported reduced fatigue after using Ginkgo, possibly due to its circulatory benefits.* While there's some evidence suggesting Ginkgo might help with energy levels, it's crucial to consult a healthcare provider before using ginkgo biloba supplements to address fatigue or any other health concern.*
CAN I TAKE GINKGO BILOBA WITH OTHER VITAMINS?

Ginkgo biloba is generally considered safe to take with other vitamins. While combining with basic vitamins might not pose an issue, always consult with a healthcare provider to ensure safe and beneficial use, especially if considering ginkgo biloba supplements with other complex formulations or medications.
*These Statements have not been evaluated by the Food and Drug Administration. This product is not intended to diagnose, treat, cure or prevent any disease.
Why Vimerson 💚
JUST PREMIUM SUPPLEMENTS YOU CAN TRUST.
Made in the USA in a GMP-Certified Facility with Globally-Sourced ingredients. Non-GMO, Vegan, Gluten-free, Dairy-Free, Sugar-Free and Soy-Free. A convenient flip-top bottle for on-the-go nutrition.
All Vimerson Health products contain no hormones and no preservatives.