Regular price
Sale price
$24.97
Unit price
per
Sale
Sold out
✦ Main Benefits

Are you having discomfort in your joints? This product may help support better joint function and comfort, with this perfectly combined supplement; Our blend supports joint flexibility and mobility, promotes body comfort and resistance, supports healthy joints and cartilage, and promotes an immune system support.*

Our supplement contains Glucosamine Sulfate, Hyaluronic Acid, MSM, Bioperine (Black Pepper Extract), and Boswellia, which may help provide occasional joint discomfort relief and support.*

Balancing inflammation in the joints can help reduce occasional discomfort, and can help support mobility and flexibility.*

BioPerine, hyaluronic acid & boswellia: Derived from Black Pepper, Bioperine may help increase and enhance nutrient absorption and bioavailability, especially when taken with other supplements; Hyaluronic Acid may help lubricate joints, while Boswellia Extract is used to help reduce occasional discomfort and support mobility.*

Ease lower back, knee, neck & hand discomfort; Our Joint supplement capsules works to effectively balance inflammation to reduce occasional discomfort, associated with strenuous exercise.*

*These statements have not been evaluated by the Food and Drug Administration. This product is not intended to diagnose, treat, cure, or prevent any disease.
✦ Is Good For

Individuals who experience joint discomfort or are looking to support joint health may find a Glucosamine + Hyaluronic Acid Supplement beneficial.* This combination is designed to provide support for joint function, flexibility, and mobility.*
Glucosamine is a natural compound that plays a key role in maintaining healthy cartilage and joint tissues.* It may help support the structure and function of joints.*
Hyaluronic acid is a substance naturally found in the body and has been associated with joint lubrication and cushioning.* Supplementing with hyaluronic acid may contribute to joint health and comfort.*
The combination of glucosamine and hyaluronic acid in this supplement aims to provide comprehensive support for joint health, promoting flexibility and ease of movement.*

Individuals with specific concerns regarding joint health should consult with their healthcare professional for personalized advice and appropriate management strategies.
✦ Ingredients

Per serving (2 capsules):

Glucosamine Sulfate 2NaCI 1000mg
Methylsulfonylmethane (MSM) 300mg
Boswellia Extract (65% Boswellic Acid) (Boswellia serrata, Gum) 150mg
Hyaluronic Acid 10mg
BioPerine Black Pepper Extract (Piper nigrum, Fruit) 10mg


Other Ingredients: Gelatin (Capsule), Silicon Dioxide, Microcrystalline Cellulose.

Non-GMO. Free from Gluten, Dairy, Sugar, and Soy.
✦ How to Take

As a dietary supplement, take two (2) capsules together once a day, before your main meal and with a full glass of water, or as directed by your health care professional. For those with a more sensitive constitution, we recommend taking one (1) capsule twice per day before a meal with a full glass of water.
✦ More Information

Each bottle contains 60 Capsules for 30-day Supply.
✦ Safety

Do not exceed the recommended dose. Always consult your healthcare professional before taking this or any dietary supplement, especially if you are under 18, pregnant and/or a nursing mother. Please consult with your healthcare professional before taking this product if you are suffering from glaucoma. Also if you are taking medications or if you have an existing medical condition. Discontinue use and consult your doctor if adverse reaction occurs. Remember that you should not take supplements as a substitute for a varied balanced diet or healthy lifestyle.

CALIFORNIA RESIDENTS
Click here for Proposition 65 warning.
VIEW FULL DETAILS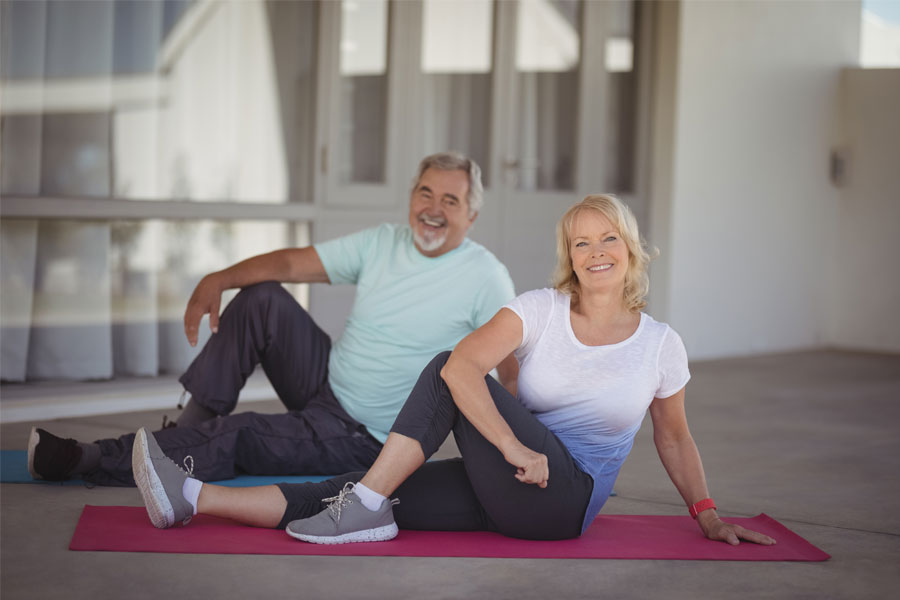 GLUCOSAMINE + HYALURONIC: AN UNBEATABLE DUO FOR THE AGES
In our quest for holistic well-being, we seek ingredients that not only foster physical health but also rejuvenate us. The blend of glucosamine and hyaluronic acid in supplements presents an avenue to harness such comprehensive benefits.
KEEP THINGS MOVING WITH GLUCOSAMINE HYALURONIC!
🏃🏼‍♂️ SUPPORTS JOINT FLEXIBILITY & MOBILITY*

🏃🏼‍♂️ PROMOTES BODY COMFORT & RESISTANCE*

🏃🏼‍♂️ SUPPORTS HEALTHY JOINTS & CARTILAGE*

🏃🏼‍♂️ PROMOTES IMMUNE FUNCTION*
THE MAGIC OF GLUCOSAMINE AND HYALURONIC ACID: THE PILLARS OF JOINT HEALTH
Glucosamine, a natural compound found within our bodies, plays an essential role in maintaining the health and resilience of our joints. It acts as a building block for cartilage and other joint tissues.* Pair this with hyaluronic acid, a natural lubricant and cushioning agent for our joints, and you have a match made in heaven. Together, they provide a holistic approach to joint care, ensuring flexibility, balanced inflammation, and relief for occasional discomfort.
GLUCOSAMINE AND HYALURONIC: EFFICACY BEYOND THE SURFACE
GLUCOSAMINE: NATURE'S JOINT GUARDIAN

Glucosamine, a natural compound found within our body, plays an indispensable role in maintaining joint health.* Whether you're a runner, a dancer, or an active enthusiast, glucosamine becomes a cornerstone for those aiming to keep their joints in top condition.*

HYALURONIC ACID: THE SKIN'S BEST FRIEND

A buzzword in the skincare world, hyaluronic acid is celebrated for its moisture-binding properties. Not just limited to the skin, hyaluronic acid for joints emerges as a crucial element, acting as a cushioning and lubricating agent.*
NOT JUST GLUCOSAMINE + HYALURONIC: THE ADDED BOOST FROM OTHER INGREDIENTS
While the pairing of glucosamine and hyaluronic acid stands strong, incorporating ingredients like boswellia, known for its inflammatory balance properties, and bioperine, ensuring enhanced absorption, elevates the formula's efficacy. Other combinations, such as glucosamine hyaluronic acid chondroitin msm, have also been praised for offering broader joint benefits, ensuring a comprehensive approach to joint health.*
WHO SHOULD CONSIDER TAKING GLUCOSAMINE HYALURONIC ACID SUPPLEMENT
1. ACTIVE INDIVIDUALS & ATHLETES

Whether you're a weekend warrior or a dedicated athlete, consistent physical activity puts strain on the joints. Our supplement can help support joint resilience and recovery, ensuring you can keep moving with ease and comfort.*

2. AGING ADULTS

As we age, the natural production of components like hyaluronic acid and glucosamine can decline. Taking this supplement can assist in replenishing these vital compounds, supporting optimal joint function and mobility as the years go by.*

3. INDIVIDUALS WITH A HISTORY OF JOINT CONCERNS

If joint discomfort or issues run in your family, or if you've personally experienced them before, this supplement can be a proactive step in maintaining joint health and potentially avoiding future complications.*

4. PEOPLE SEEKING SKIN BENEFITS

Beyond joint health, hyaluronic acid is renowned for its skin hydration properties. Those looking to achieve a youthful glow and improve skin texture might find value in our supplement.*

5. INDIVIDUALS WITH STRENUOUS JOBS

If your occupation requires repetitive motions or puts consistent strain on your joints - such as construction, manual labor, or even prolonged periods of standing or sitting – this supplement can be an asset in maintaining joint comfort and flexibility.*

6. ANYONE SEEKING COMPREHENSIVE HEALTH BENEFITS

The unique blend of ingredients in our supplement not only targets joint health but also offers inflammation balance benefits, supports skin hydration, and promotes overall wellness.*
KEEP INFLAMMATION IN CHECK WITH GLUCOSAMINE HYALURONIC ACID
Carefully selected blend of inflammation-balancing ingredients. Glucosamine, Hyaluronic & MSM Supplement Capsules with Boswellia, which helps balance inflammation and support your body's natural healing processes.*
TAKE CONTROL OF YOUR JOINT HEALTH
Our glucosamine joint support supplement promotes joint health and helps ease discomfort. Our formula can help ease lower back, knee, neck, and hand discomfort associated with physical activity.*
BEYOND SKIN: HYALURONIC AS THE JOINT SAVIOR
While many know hyaluronic acid for skin benefits, its role in joint health is profound. It acts as a lubricant, ensuring smooth joint movement, and aids in shock absorption. As we age, the natural production of hyaluronic acid in our bodies diminishes, leading to joint discomfort. Supplements that provide an external source of hyaluronic acid can be game-changers, especially when combined with glucosamine.*
THE POWER BEHIND OUR TOP-RATED GLUCOSAMINE + HYALURONIC ACID SUPPLEMENT
HYALURONIC ACID (HA)

Often termed as "nature's moisturizer", Hyaluronic Acid is a naturally occurring substance in our body, primarily found in the skin and joint tissues. It helps in retaining moisture, acting both as a lubricant and shock absorber in the joints. For the skin, it aids in keeping it hydrated and youthful. Recent studies have also linked it to promoting optimal joint function and aiding in the relief of occasional joint discomfort.*
Why we chose it: Recognizing the profound benefits of hyaluronic acid for joints and skin, we integrated it as a core ingredient, ensuring you get both joint care and skincare benefits from a single capsule.*

GLUCOSAMINE

An essential compound naturally found in cartilage, glucosamine plays a crucial role in building and maintaining joint tissues.* Regular intake supports the health of the cartilage, helps in mitigating joint wear and tear, and can even promote joint recovery.*
Why we chose it: With age, the natural levels of glucosamine can decrease. By incorporating it into our formula, we aim to replenish this vital compound, supporting joint resilience and flexibility.*

MSM

A sulfur compound derived from natural sources, MSM has been a go-to remedy for years for its multifaceted benefits.* MSM is known for its potent inflammatory-balancing properties. It helps balance joint inflammation, enhances joint flexibility, and can assist in discomfort management.*
Why we chose it: Combining MSM with glucosamine and hyaluronic acid creates a triple-action formula, addressing joint discomfort from multiple angles.*

BOSWELLIA

Extracted from the resin of the Boswellia tree, this herbal wonder has been used in traditional medicine for centuries. Boswellia is recognized for its powerful inflammatory-balancing properties and its ability to reduce oxidative stress in joints.* It complements the action of MSM, providing a comprehensive balance to joint inflammation.*
Why we chose it: Integrating Boswellia was a strategic decision to bolster our inflammatory-balancing formula prowess, ensuring optimal joint health.

BIOPERINE

A patented form of black pepper extract, Bioperine is more than just a common kitchen spice. Bioperine significantly enhances the absorption of other nutrients, ensuring maximum bioavailability and efficacy of the supplement.
Why we chose it: Knowing the tremendous benefits of our ingredients, we wanted to ensure that they are efficiently absorbed and utilized by the body. Bioperine ensures that every capsule's potential is fully unlocked.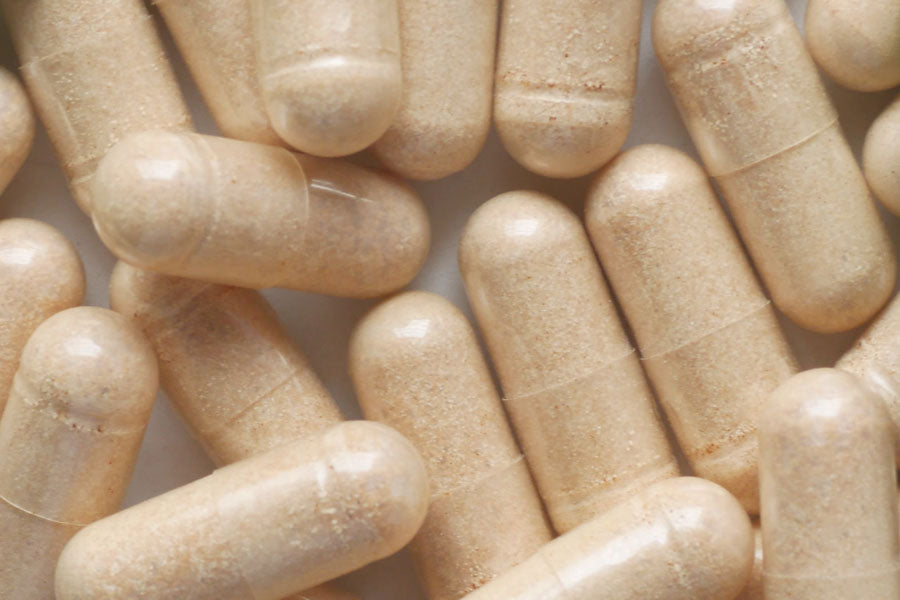 GLUCOSAMINE HYALURONIC CAPSULES: THE POWER OF ORAL INTAKE
While topical solutions offer localized benefits, oral hyaluronic acid for skin and joints ensures that the entire body reaps its advantages, thus making oral hyaluronic acid supplements a popular choice among health enthusiasts.
TOP BRAND

GMO FREE

QUALITY

GLUTEN FREE

MADE IN USA

INGREDIENTS TESTED
ℹ︎Frequently Asked Questions About Glucosamine Hyaluronic Acid
WHAT DOES GLUCOSAMINE WITH HYALURONIC ACID DO?

Glucosamine with hyaluronic acid is a combination commonly used in supplements for joint health.* Glucosamine is a naturally occurring compound that supports the maintenance of joint tissues*, while hyaluronic acid is a substance naturally found in the body that helps lubricate and cushion joints.* Together, they aim to promote joint comfort, flexibility, and mobility.*
It's important to consult with a healthcare professional for personalized advice on using Glucosamine with Hyaluronic Acid, particularly if you have any pre-existing medical conditions or are taking other medications.
CAN I TAKE HYALURONIC ACID SUPPLEMENTS DAILY?

Hyaluronic acid supplements are generally safe for daily use. Hyaluronic acid is a naturally occurring substance in the body that helps retain moisture and promote healthy skin and joint function.* Daily supplementation may support these benefits.* It's important to follow the recommended dosage instructions provided on the supplement packaging.
IS HYALURONIC ACID SAFE FOR JOINTS?

Hyaluronic acid is generally considered safe for joint health when used as directed.* It is a naturally occurring substance in the body that helps lubricate and cushion joints.* Supplementing with Hyaluronic Acid can support joint mobility, comfort, and overall joint health.*
IS GLUCOSAMINE GOOD FOR ANTI AGING?

Glucosamine is primarily known for its benefits in joint health and is not typically considered a direct anti-aging supplement.* However, maintaining joint health can contribute to overall well-being and mobility as we age.* While some studies suggest that glucosamine may have potential inflammation balance effects, its direct impact on skin aging or other aspects of aging is not well-established.* For comprehensive anti-aging strategies, it's important to follow a healthy lifestyle, which includes a balanced diet, regular exercise, stress management, and proper skincare habits.
WHAT IS THE BEST VITAMIN FOR JOINTS?

While several vitamins and nutrients play a role in joint health, glucosamine and MSM are often recognized for their potential benefits.* Glucosamine is involved in the formation and support of joint cartilage, while MSM is a source of sulfur, which is important for the maintenance of connective tissues.* These compounds are commonly found in joint support supplements and may contribute to joint comfort and mobility.* However, individual responses can vary, and it's important to consult with a healthcare professional for personalized advice on the best approach to support your joint health.
DOES HYALURONIC ACID REALLY WORK FOR JOINTS?

Hyaluronic acid supplements are marketed for joint health, aiming to enhance lubrication and cushioning.* Some studies suggest potential benefits for joint discomfort and mobility, while others show mixed results.* The effectiveness can vary among individuals. It's important to consult with a healthcare provider before starting any supplement regimen.
WHAT IS THE DIFFERENCE BETWEEN GLUCOSAMINE AND HYALURONIC ACID?

Glucosamine is a natural compound found in cartilage and is commonly used as a supplement to support joint health.* Hyaluronic acid, on the other hand, is a substance present in the synovial fluid, aiding in joint lubrication and cushioning.* While both support joint function, they serve different roles in joint physiology and maintenance.
WHAT IS BEST COMBINED WITH HYALURONIC ACID?

For joint health, hyaluronic acid is best combined with glucosamine. While hyaluronic acid provides lubrication and cushioning, glucosamine supports the maintenance and integrity of cartilage.* Together, they synergistically enhance joint function and may offer improved mobility and comfort.*
WHAT IS THE BEST TIME OF DAY TO TAKE HYALURONIC ACID?

The optimal time to take hyaluronic acid is before the main meal. Taking it on an empty stomach may enhance absorption and optimize its benefits for joint health and skin hydration.* Always consult with a healthcare provider for personalized recommendations.
*These Statements have not been evaluated by the Food and Drug Administration. This product is not intended to diagnose, treat, cure or prevent any disease.
Why Vimerson 💚
JUST PREMIUM SUPPLEMENTS YOU CAN TRUST.
Made in the USA in a GMP-Certified Facility with Globally-Sourced ingredients. Non-GMO, Gluten-free, Dairy-Free, Sugar-Free and Soy-Free. A convenient flip-top bottle for on-the-go nutrition.
All Vimerson Health products contain no hormones and no preservatives.