Regular price
Sale price
$21.97
Unit price
per
Sale
Sold out
✦ Main Benefits

Maintaining a healthy and balanced diet can be difficult, especially when you lead a busy lifestyle. We've created our Men's Multivitamin to complement your meals, filling in occasional gaps or shortfalls.*

Our Men's Multivitamin promotes general health and wellbeing. It's important to give your body all the help it needs amidst the stress and responsibilities of day to day life and this formula can help you achieve this!*

Multivitamins that pack a punch. Our team of nutritional scientists has specially chosen 20 vitamins, minerals and acids and combined them in these male multivitamins to help you achieve optimum health.*

This supplement promotes the things that are most important for your performance - stamina, energy and focus. Each serving helps you wake up and hit the ground running, making the most of whatever life throws at you.*
Our Men's Multivitamins are made in the USA in a GMP-Certified facility. They are non-GMO, vegetarian, gluten-free, dairy-free and soy-free. They also come in a flip-top cap, making them easily accessible.*

* These statements have not been evaluated by the Food and Drug Administration. This product is not intended to diagnose, treat, cure, or prevent any disease.
✦ Is Good For

Men of various age groups who are looking to support their overall nutritional needs may find Men's Multivitamin & Multimineral Supplement beneficial.*
For those with specific dietary restrictions or limitations, this supplement can help bridge potential nutrient gaps.*
Men who have unique nutritional needs due to factors such as age, lifestyle, or exercise routine may consider incorporating this supplement into their wellness routine.*
Men who are interested in supporting their immune system function, maintaining energy levels, and promoting overall well-being may find this supplement helpful.*
Men's Multivitamin & Multimineral Supplement may be suitable for individuals who are looking for a convenient way to ensure they are meeting their daily nutritional requirements.*

It's important for individuals to consult with their healthcare professional before starting any new dietary supplement, especially if they have any underlying health conditions or are taking medications.
✦ How to Take

As a dietary supplement, take two (2) capsules in the morning with a meal, or as directed by your healthcare professional. For those with a more sensitive constitution, we recommend taking one (1) capsule per day in the morning with a meal.
✦ Ingredients

Per serving (2 capsules):

Vitamin A (as Beta-Carotene) 600mcg
Vitamin C (Ascorbic Acid) 150mg
Vitamin D (as Cholecalciferol) 10mcg
Vitamin E (as d-Alpha Tocopheryl Succinate) 13,5mg
Vitamin B1 (as Thiamin Mononitrate) 7mg
Vitamin B2 (Riboflavin) 7,5mg
Vitamin B6 (as Pyridoxine HCI) 7,5mg
Vitamin B12 (as Cyanocobalamin) 27mcg
Biotin 300mcg
Folate (400mcg Folic Acid) 680 mcg
Pantothenic Acid (as Calcium Pantothenate) 10mg
Niacin 30mg
Calcium (as Calcium Carbonate) 50mg
Magnesium (as Magnesium Oxide) 50mg
Zinc (as Zinc Oxide) 15mg
Selenium (as Selenium Amino Acid Chelate) 30mcg
Copper (as Copper Gluconate) 2mg
Manganese (as Manganese Amino Acid Chelate) 2mg
Chromium (as Chromium Picolinate) 120mcg
Molybdenum (as Molybdenum Amino Acid Chelate) 75mcg
Male Support Blend (Lutein, Lycopene, Stinging Nettle extract, Saw Palmetto) 170mg
Immune Blend (Echinacea, Beta Glucan, Spirulina, Garlic) 110mg
Antioxidant Fruit and Energy Blend (Green Tea extract, Hawthorn Berries, Cinnamon Bark extract, Bilberry Fruit extract, Grape Seed extract, Black Currant Fruit extract, Pomegranate Fruit extract) 187mg

Other Ingredients: Hypromellose Capsule, Rice Flour, L-Leucine, Silica.

Non-GMO, Vegetarian, Gluten-free, Dairy-Free, Sugar-Free and Soy-Free.
✦ More Information

Each bottle contains 60 Capsules for 30-day Supply.
✦ Safety

Do not exceed the recommended dose. Always consult your healthcare professional before taking this or any dietary supplement, especially if you are under 18, pregnant and/or a nursing mother. You should also consult a professional if you are taking medications or if you have an existing medical condition. Discontinue use and consult your doctor if adverse reaction occurs. Remember that you should not take supplements as a substitute for a varied balanced diet or healthy lifestyle.

CALIFORNIA RESIDENTS
Click here for Proposition 65 warning.
VIEW FULL DETAILS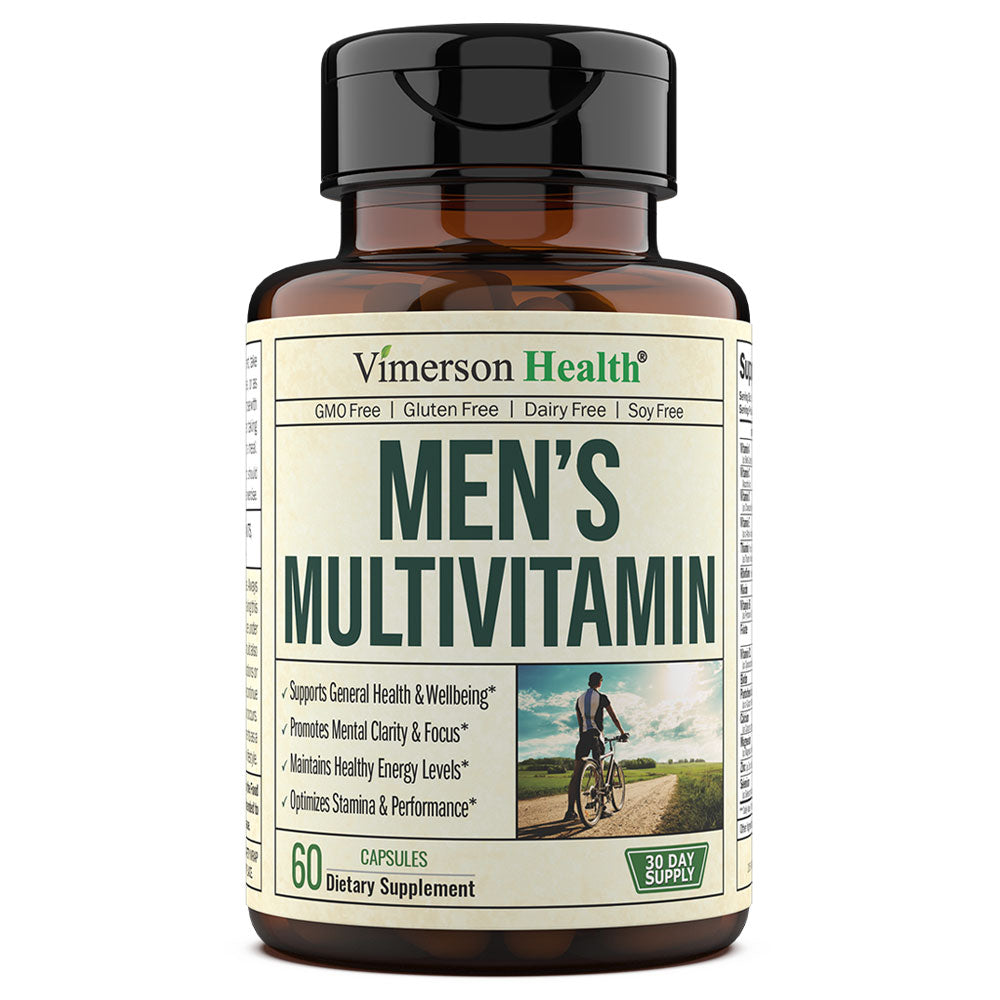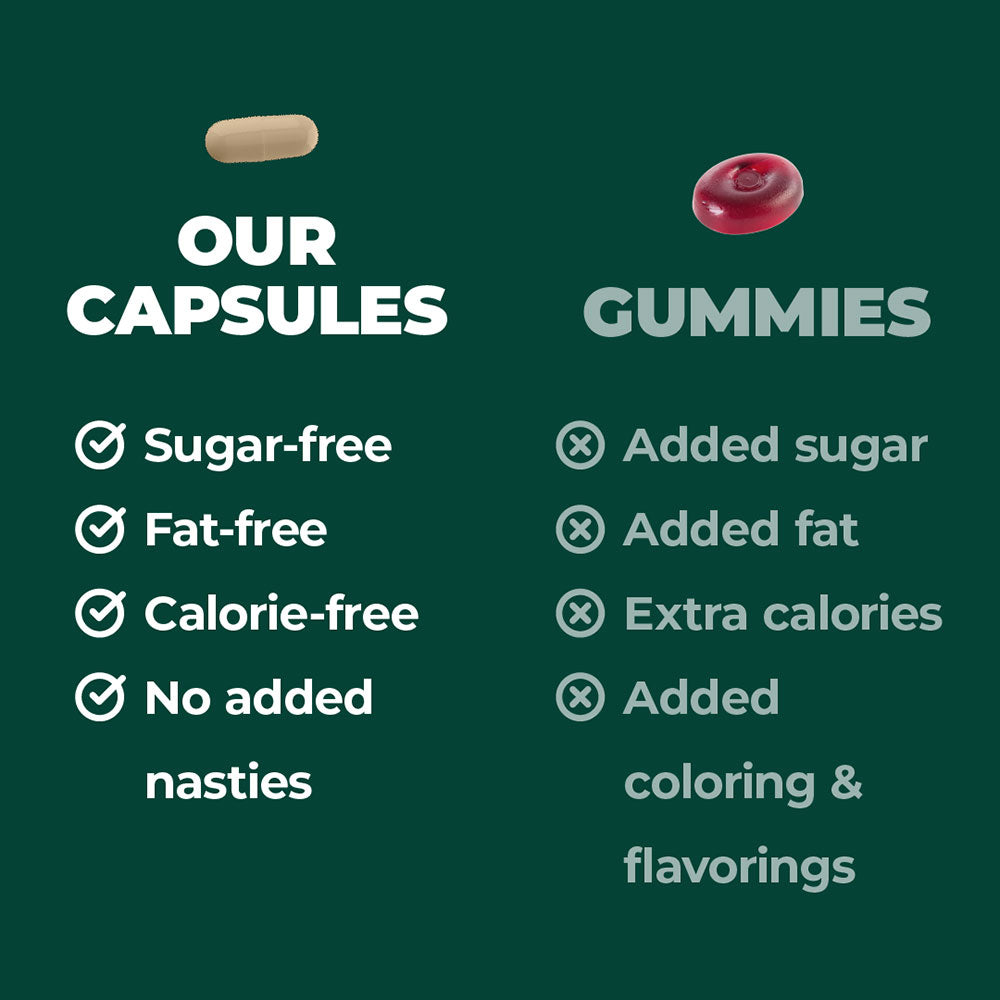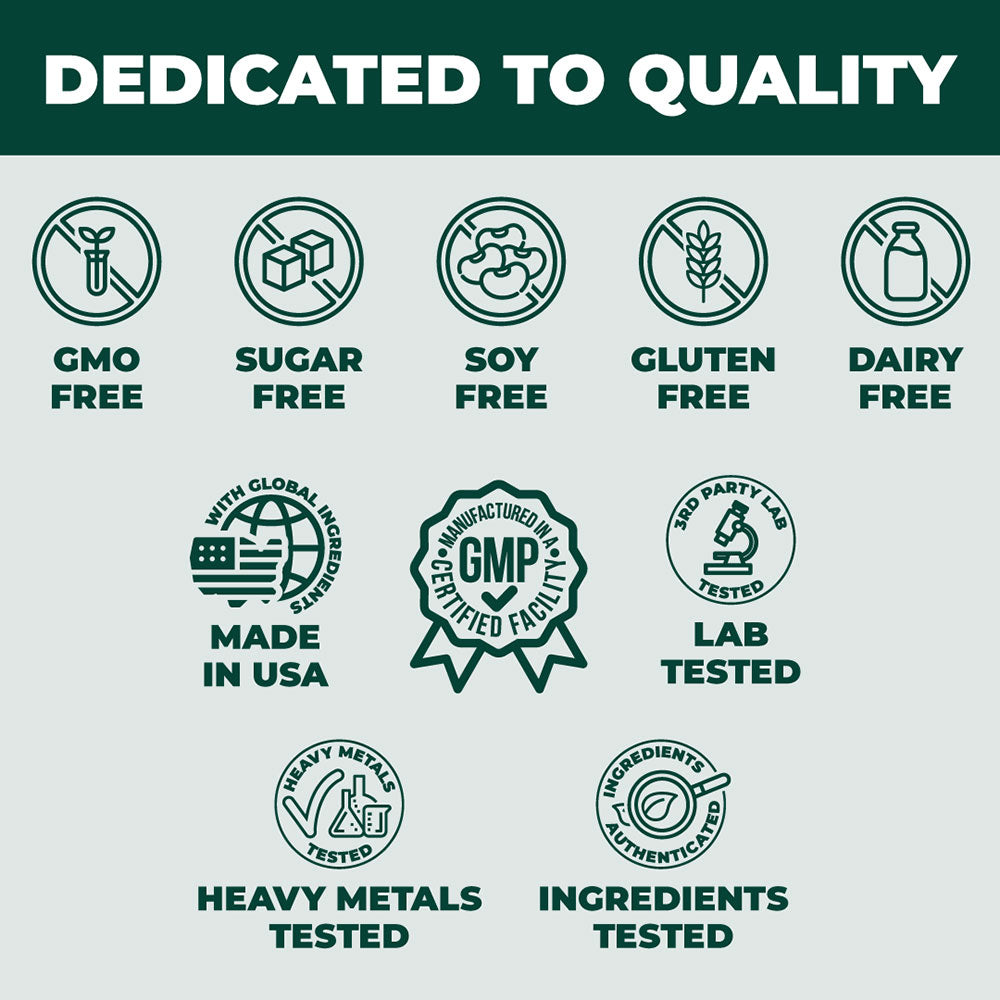 LEVEL UP YOUR NUTRIENTS
Maintaining a healthy diet around a busy schedule can be difficult. We've combined 20 vitamins, minerals and acids, as well as three proprietary blends of herbs, so you can tackle each day head on.*
THE PINNACLE OF MEN'S NUTRITION
🏃🏼‍♂️ SUPPORTS GENERAL HEALTH & WELLBEING*

🏃🏼‍♂️ PROMOTES MENTAL CLARITY & FOCUS*

🏃🏼‍♂️ MAINTAINS HEALTHY ENERGY LEVELS*

🏃🏼‍♂️ OPTIMIZES STAMINA & PERFORMANCE*
UNDERSTANDING THE IMPORTANCE OF MULTIVITAMINS FOR MEN
Men's health requires a specialized approach. As men navigate different stages of life, their nutritional needs evolve. From the energy-driven days of youth to the wisdom-filled years of maturity, the right multivitamin for men bridges the gap, ensuring that the body remains fortified.*
WHY MEN NEED THEIR SPECIAL MULTIVITAMIN
Men, just like machines, need fine-tuning. Regular maintenance ensures they run smoothly, and for men, this comes in the form of vitamins for men.
MUSCLE AND STAMINA

Building muscle and keeping stamina levels high is a goal for many. Our supplement contains a blend of essential vitamins for men that aid muscle function and boost energy levels.*

HEART & PROSTATE HEALTH

As men age, concerns grow. Our multivitamin targets common health areas for men, offering vital nutrients to support both heart and prostate health.*
ENERGY & VITALITY WITH MEN'S MULTIVITAMIN!
Feeling drained? This energy supplement for men come to the rescue. Our Men's Multivitamin is tailored with special energy vitamins for men. From B-vitamins to specific herbs, this formula ensure you remain active and vibrant throughout the day.*
KEY BENEFITS & FEATURES OF MEN'S MULTIVITAMIN
EVERYDAY VITALITY

Considered as one of the best daily vitamins for men, our multivitamin ensures that you stay energized and ready for whatever the day throws your way.*

HAIR AND SKIN HEALTH

Ingredients like biotin for men and essential vitamins support vibrant skin and promote hair growth, making it an effective men hair growth supplement.*

AGE-SPECIFIC FORMULATIONS

Whether you're searching for the best vitamins for men over 30 or best vitamins for men over 50, our multivitamin adapts to suit your needs.

MEN'S HEALTH FOCUS

From prostate to heart health, our men's health vitamins target areas of concern specifically for the male population.*
HARNESS THE BENEFITS OF THE BEST VITAMINS FOR MEN'S
Regularly taking a men's daily multivitamin ensures you're not missing out on any essential nutrients. With added minerals, it's like giving your body a comprehensive health insurance policy. They aren't just good vitamins for men; they're the best.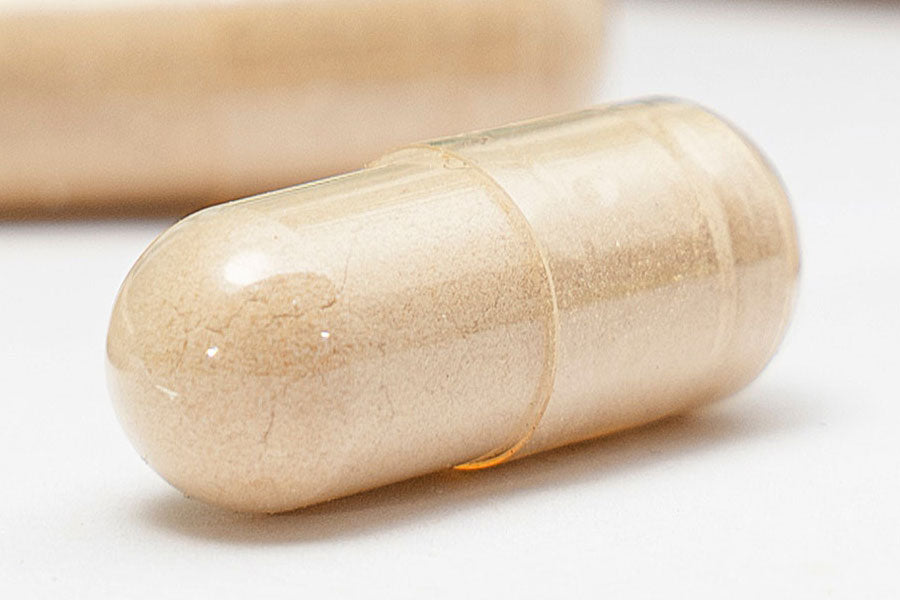 MORE THAN JUST VITAMINS FOR MEN
A good men's multivitamin supplement also includes essential minerals. Calcium for bone health, Zinc for immunity, and Magnesium for muscle function are just a few to mention. It's a holistic approach to men's health.
COMMITMENT TO MEN'S HEALTH
For the modern man, balancing work, family, and personal time can be challenging. This often leads to neglecting essential nutritional requirements. Our Men's Multivitamin & Multimineral Supplement bridges this gap, offering a streamlined solution for those who want the best male vitamins without the hassle.
When questions arise like, "Which are the most important vitamins for men?" or "What is a good multivitamin for men?" our product stands tall, answering all queries with unmatched efficacy.
In the bustling realm of men's health supplements, finding the right multivitamin can feel overwhelming. But with our product, the search for the best men's supplements or top multivitamins for men ends.
✦ NO GUMMIES = SUGAR FREE!
It's no secret that sugar is bad for your health. So why would you want it in your vitamins? Unlike gummies and syrups, our Men's Multivitamin is completely sugar free. You won't find sweeteners, flavorings or artificial ingredients in our capsules either.
TOP BRAND

GMO FREE

QUALITY

GLUTEN FREE

MADE IN USA

INGREDIENTS TESTED
ℹ︎Frequently Asked Questions About Multivitamin For Men
IS IT GOOD TO TAKE A MEN'S MULTIVITAMIN?

Incorporating a Men's Multivitamin into your daily regimen can be a valuable step towards supporting your overall health. Men's Multivitamins are specifically designed to provide essential nutrients that men may need in optimal amounts, helping to bridge potential nutrient gaps and promote vitality. By choosing a high-quality Men's Multivitamin, you can ensure that you're nourishing your body with the key vitamins and minerals it needs to thrive, maintaining balanced energy levels, immune function, and overall well-being. Prioritize your health with a comprehensive Men's Multivitamin tailored to meet the unique nutritional needs of men.*
WHEN SHOULD MEN TAKE MULTIVITAMIN TABLETS?

Men can benefit from taking a Men's Multivitamin supplement as part of their daily routine. It is generally recommended to take Multivitamin capsules with a meal to enhance absorption and ensure optimal utilization of essential nutrients. By incorporating a high-quality Men's Multivitamin into their regimen, men can support their overall health, address potential nutrient deficiencies, and promote vitality throughout the day. Prioritizing a balanced nutrition with a Men's Multivitamin can help men maintain their well-being and support their specific nutritional needs.*
WHAT SHOULD I LOOK FOR IN A MEN'S MULTIVITAMIN?

When choosing a Men's Multivitamin, it is important to look for a product that meets your specific nutritional needs. Opt for a Men's Multivitamin that provides a comprehensive blend of essential vitamins and minerals tailored for men's health. Additionally, consider factors such as quality, potency, and the inclusion of key nutrients that support energy, immune function, and overall well-being. It is advisable to consult with a healthcare professional for personalized guidance on selecting a Men's Multivitamin that aligns with your individual health goals and dietary requirements.*
WHAT'S THE DIFFERENCE BETWEEN MEN'S MULTIVITAMIN AND REGULAR?

Men's Multivitamins are specifically formulated to meet the unique nutritional needs of men. They often contain higher levels of certain vitamins and minerals that are important for men's health, such as vitamins A, C, E, and minerals like zinc and selenium. These formulations may also include specific nutrients that support prostate health*, for example. While regular multivitamins can provide a broad spectrum of essential nutrients, Men's Multivitamins are designed to address the specific nutritional requirements of men, supporting their overall well-being and vitality. It is advisable to consult with a healthcare professional to determine which type of multivitamin is best suited for your individual health needs.*
IS IT OK TO TAKE MULTIVITAMINS EVERYDAY?

Taking multivitamins everyday can be a safe and beneficial practice for many individuals. Multivitamins are designed to provide a comprehensive blend of essential vitamins and minerals that may support overall health and well-being.*

While a balanced diet should ideally provide all the necessary nutrients, factors such as busy lifestyles, dietary restrictions, or nutrient gaps in certain populations may make daily multivitamin supplementation a sensible choice.*

In summary, taking multivitamins everyday can be a convenient way to support your nutritional needs, but it's essential to consider individual factors and seek professional advice to ensure they align with your specific health goals and requirements.
SHOULD MEN TAKE MULTIVITAMIN IN MORNING OR NIGHT?

When it comes to taking a multivitamin, it is generally recommended to do so with a meal. Taking a multivitamin with a meal can have several advantages.

Firstly, consuming a multivitamin with food can help enhance the absorption of certain nutrients. Some vitamins, such as fat-soluble vitamins like A, D, E, and K, are better absorbed when consumed alongside dietary fats. By taking your multivitamin with a meal that contains healthy fats, you can optimize the absorption of these nutrients.*

Secondly, taking a multivitamin with a meal can help minimize the potential for stomach discomfort or digestive upset. Some individuals may experience mild gastrointestinal symptoms when taking supplements on an empty stomach. Having a meal prior to taking your multivitamin can provide a protective buffer and reduce the likelihood of such side effects.*
WHAT VITAMINS SHOULD MOST MEN TAKE?

For most men, key vitamins to consider include:

Vitamin D: Supports bone health and immune function.*
B Vitamins: Aid in energy metabolism and red blood cell formation.*
Vitamin C: Essential for immune support and antioxidant protection.*
Selenium: An essential trace element that supports thyroid function and offers antioxidant protection.*
Zinc: Important for immune function, testosterone levels, and overall men's health.*
Magnesium: Helps muscle function and relaxation.*
WHAT AGE SHOULD MEN TAKE MULTIVITAMINS?

Men can consider taking multivitamins at any age, but it often becomes more pertinent as they reach their 30s and beyond, when natural nutrient absorption can decrease and dietary gaps might emerge. It's especially valuable for those with specific dietary restrictions or health conditions. However, the best approach is to get nutrients from whole foods when possible.
DO MEN'S MULTIVITAMINS BOOST TESTOSTERONE?

Men's multivitamins are formulated to provide essential vitamins and minerals for overall health, but they are not specifically designed to boost testosterone levels.* While some vitamins and minerals, like zinc and vitamin D, might support healthy testosterone levels, a multivitamin alone is unlikely to cause a significant increase.*
DO MEN OVER 40 NEED A MULTIVITAMIN?

Men over 40 may benefit from a multivitamin to address potential dietary gaps and support overall health.* As we age, nutrient absorption can decrease, and certain health conditions or medications might affect vitamin and mineral needs. A multivitamin can act as an insurance policy against these deficiencies. However, it's essential to prioritize a balanced diet and consult with a healthcare professional to determine specific supplementation needs.
*These Statements have not been evaluated by the Food and Drug Administration. This product is not intended to diagnose, treat, cure or prevent any disease.
Why Vimerson 💚
JUST PREMIUM SUPPLEMENTS YOU CAN TRUST.
Made in the USA in a GMP-Certified Facility with Globally-Sourced ingredients. Non-GMO, Gluten-free, Dairy-Free, Sugar-Free and Soy-Free. A convenient flip-top bottle for on-the-go nutrition.
All Vimerson Health products contain no hormones and no preservatives.