WHAT IS MSM (METHYLSULFONYLMETHANE)?
Methylsulfonylmethane, commonly known as MSM, is a sulfur-containing compound found naturally in plants, animals, and humans. It has garnered attention for its role in supporting healthy connective tissues and its inflammation balance properties.* MSM is increasingly being used in dietary supplements due to its potential health benefits.*
THE ESSENCE OF MSM: NATURE'S GIFT TO WELLNESS
At the heart of MSM lies its profound capacity to support our bodies in various ways. From alleviating occasional joint discomfort to promoting radiant skin, this natural compound plays a crucial role in our holistic well-being.* Let's delve into the essence of MSM and understand what makes it a cherished supplement among those seeking a balanced, healthy life.*
DIFFERENT FORMS OF MSM SUPPLEMENTS
1. MSM CAPSULES AND TABLETS:

MSM is available as capsules and tablets for convenient daily use. Capsules offer pre-measured doses, making them easy to incorporate into your routine, while tablets are solid and often have a smooth coating for easy swallowing.*

2. MSM POWDER AND CRYSTALS:

MSM powder and crystals provide dosage flexibility. Powder easily dissolves in beverages like water or smoothies, offering quick absorption, while crystals can be mixed into drinks or sprinkled onto foods for customized intake.

3. MSM TOPICAL PRODUCTS:

MSM is also used in topical products like lotions and creams. These are applied directly to the skin for targeted relief, with lotions often used for joint discomfort and creams for skincare, potentially promoting smoother, healthier skin.*
THE JOINT HEALTH REVOLUTION: MSM'S ROLE IN MOBILITY
One of MSM's standout qualities is its ability to support joint health.* Whether you're an athlete striving for peak performance or an individual seeking mobility and comfort, MSM can be your ally.* We'll explore its role in maintaining flexible joints, balancing inflammation, and promoting an active lifestyle.*
EXPLORING THE MULTIFACETED BENEFITS OF MSM
1. MSM FOR JOINT HEALTH

MSM for joints is highly praised.* As a key ingredient in glucosamine chondroitin MSM supplements, it supports joint flexibility and helps reduce occasional discomfort.* This sulfur-containing compound is crucial for maintaining healthy connective tissue and cartilage.*

2. INFLAMMATION BALANCE EFFECTS

MSM's inflammation balance properties are a cornerstone of its health benefits.* It helps in balancing inflammation-related discomfort, making it a popular choice in MSM supplements for those seeking natural ways to manage inflammation.*

3. MSM FOR SKIN HEALTH

MSM benefits for skin include promoting collagen and keratin production, essential for healthy, elastic skin.* MSM can be found in various forms, such as MSM lotion and MSM powder, enhancing skin health and appearance.

4. MSM FOR HAIR AND NAIL GROWTH

The high sulfur content in MSM, often found in methylsulfonylmethane capsules, is essential for robust hair and nail growth.* It's frequently recommended as part of a regimen for healthier, stronger hair and nails.*

5. MSM FOR MUSCLE RECOVERY

For those engaged in physical activities, MSM for muscle recovery is beneficial.* It helps in reducing muscle soreness and accelerates recovery, a key advantage highlighted in MSM methylsulfonylmethane supplement descriptions.*

6. IMMUNE SYSTEM SUPPORT

The advantages of MSM include bolstering the immune system. It enhances the body's resilience against common ailments, making it a valued component in immune-supporting supplements.*
THE SOURCE OF SULFUR
Sulfur, an essential mineral, is a crucial component of MSM. It plays a vital role in various bodily functions, including the production of amino acids, enzymes, and antioxidants.* MSM provides a bioavailable source of sulfur, making it an attractive option for those looking to supplement their diet with this essential mineral.*
SYNERGY OF MSM WITH GLUCOSAMINE AND OTHER COMPOUNDS
GLUCOSAMINE, CHONDROITIN, MSM TRIO

The combination of glucosamine, chondroitin, and MSM has gained popularity as a supplement to support joint health.* These three components work synergistically to promote joint comfort and flexibility, making them a valuable addition to the wellness routine of many individuals.*

HYALURONIC ACID WITH MSM

Incorporating hyaluronic acid with MSM can further enhance joint and skin health.* Hyaluronic acid is known for its role in promoting skin hydration and joint lubrication, making it a valuable complement to the benefits of MSM.*
UNDERSTANDING JOINT HEALTH SUPPLEMENTS
Joint health supplements have gained popularity for their potential to alleviate discomfort and promote overall joint wellness.* This blend includes glucosamine, chondroitin, turmeric, MSM, and more to provide a holistic approach to joint support.*
MSM IN FOOD: NATURAL SOURCES
1. FRUITS AND VEGETABLES

Some fruits and vegetables contain naturally occurring MSM. Foods such as tomatoes, corn, apples, and grapes have trace amounts of MSM. While these levels may not be as concentrated as in supplements, regularly consuming a variety of fruits and vegetables contributes to your overall sulfur intake, which can indirectly benefit joint health.*

2. MEATS AND SEAFOOD

MSM is found in small quantities in certain types of meat and seafood. For example, fish like mackerel, anchovies, and wild salmon contain MSM. Additionally, poultry, lean beef, and chicken provide a source of dietary sulfur. Including these protein-rich foods in your diet can help you maintain healthy sulfur levels.*

3. DAIRY PRODUCTS

While dairy products aren't particularly high in MSM, they do contain small amounts of sulfur. Milk, cheese, and yogurt can contribute to your overall sulfur intake. Opt for low-fat or dairy alternatives if you're concerned about saturated fat content.

4. NUTS AND SEEDS

Some nuts and seeds, such as almonds and sunflower seeds, contain sulfur compounds. These can be enjoyed as snacks or added to salads and dishes to enhance flavor and provide a minor contribution of dietary sulfur.*

5. WHOLE GRAINS

Whole grains like brown rice, whole wheat, and oats contain sulfur as well. Incorporating these grains into your diet not only provides essential nutrients but also ensures a diverse sulfur intake.*
HARNESSING THE POWER OF MSM: YOUR PATH TO WELLNESS
In conclusion, MSM (METHYLSULFONYLMETHANE) is a versatile dietary supplement with the potential to support various aspects of health and well-being.* Whether you're seeking improved joint health, skin and hair support, or the benefits of its natural inflammation balance and antioxidant properties, MSM offers a holistic approach to wellness.* When considering dietary supplements, choose a reputable brand that provides you with the best possible support on your journey to a healthier and more vibrant life.* With MSM, you're tapping into the potential of a naturally occurring compound that has been cherished for its diverse health benefits.*
GLUCOSAMINE CHONDROITIN SUPPLEMENT - JOINT HEALTH
Regular price
Sale price
$28.97
Unit price
per
Sale
Sold out
VIEW FULL DETAILS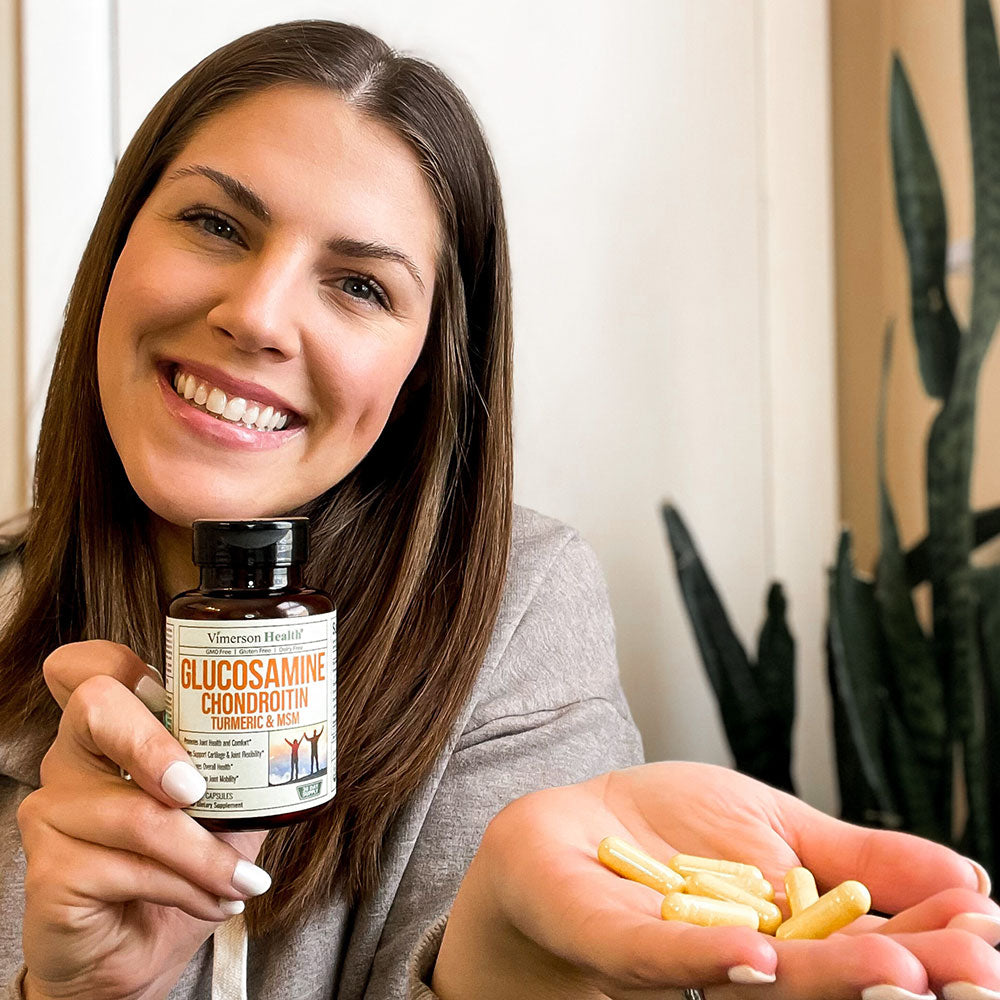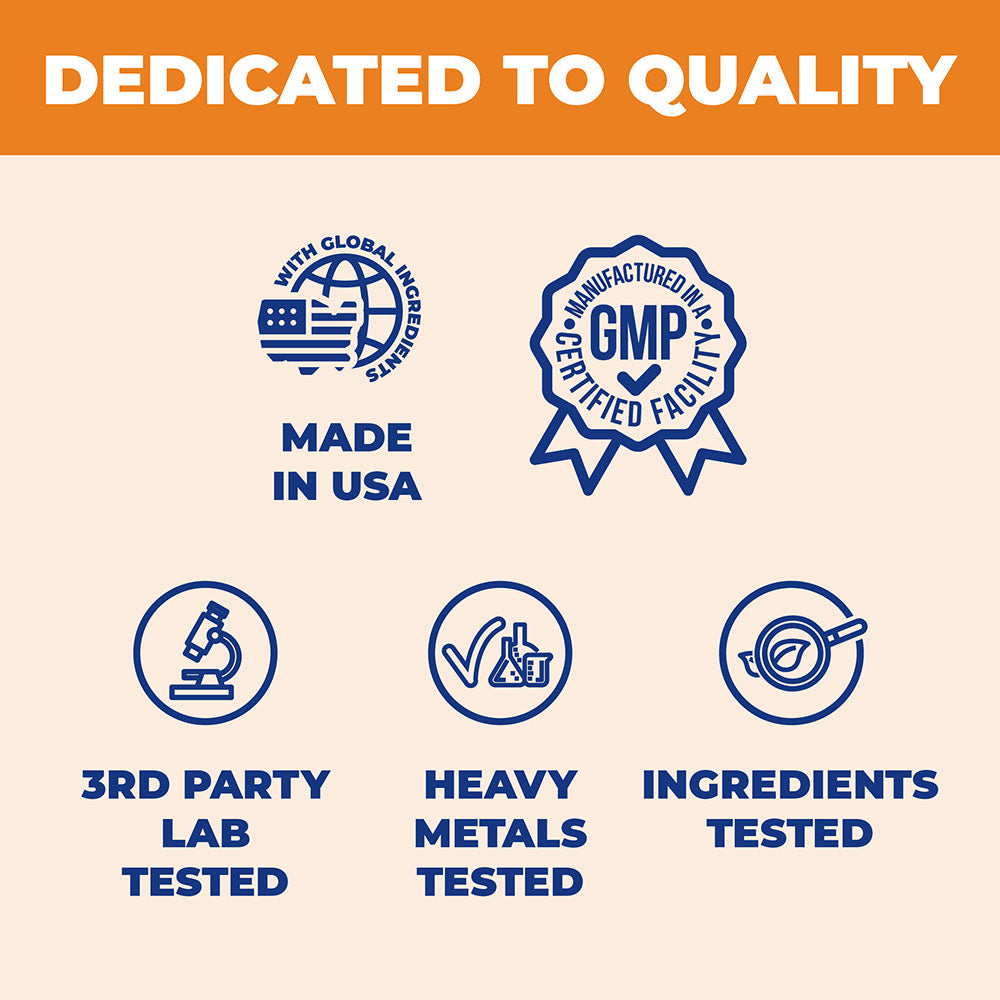 ALL VIMERSON SUPPLEMENTS WITH MSM
ℹ︎ FREQUENTLY ASKED QUESTIONS ABOUT MSM
WHAT DOES MSM DO FOR YOUR BODY?

MSM (methylsulfonylmethane) is a sulfur-containing compound found in various foods and used as a supplement. It is particularly known for its joint health benefits, as it may help maintain healthy connective tissues like cartilage.* MSM also exhibits inflammation balance properties, which can be beneficial in balancing inflammation and occasional discomfort in joints.* Additionally, MSM is often touted for its potential benefits in enhancing skin health and supporting hair growth.*
DOES MSM INCREASE COLLAGEN?

MSM (methylsulfonylmethane) is known to support the production of collagen, a key protein in the skin, joints, and connective tissues.* Its sulfur content is crucial for collagen synthesis, enhancing skin elasticity and overall joint health.* Regular intake of MSM can contribute to maintaining healthy collagen levels, which is beneficial for skin health and may assist in maintaining the strength and flexibility of joints and connective tissues.*
WHAT DOES MSM STAND FOR?

MSM stands for Methylsulfonylmethane, a sulfur-containing compound found naturally in plants, animals, and humans. It's often used in supplements due to its potential benefits for joint health, inflammation balance, and skin health.* MSM is also believed to support collagen production, which is essential for healthy skin, hair, and connective tissues.* It's available in various forms, including tablets, capsules, powders, and even topical applications like lotions.*
HOW LONG DOES IT TAKE TO SEE BENEFITS OF MSM?

The timeline for experiencing the benefits of MSM (Methylsulfonylmethane) varies depending on the individual and the specific health concern being addressed. Generally, some people may begin to notice improvements within a few weeks of regular supplementation, particularly in areas like joint health and skin condition.* However, for others, it may take a couple of months to fully appreciate the benefits of taking MSM.* Consistency and appropriate dosage are key factors in seeing results.*
WHAT IS MSM SUPPLEMENT GOOD FOR?

MSM (Methylsulfonylmethane) supplements are renowned for their role in supporting joint health, balancing inflammation, and aiding in muscle recovery.* They are often used in combination with glucosamine and chondroitin for joint support.* MSM is also believed to benefit the skin and hair, potentially aiding in collagen production and promoting overall skin health.* Additionally, its antioxidant properties can contribute to reducing oxidative stress in the body.*
CAN YOU TAKE MSM LONG TERM?

Taking MSM (Methylsulfonylmethane) long-term is generally considered safe for most individuals.* Its benefits, such as supporting joint health and balancing inflammation, make it a popular supplement.* However, it's important to adhere to recommended dosages and be aware of individual sensitivities.* Long-term use should be approached with a balance of understanding potential MSM benefits and monitoring for any adverse reactions over time.*
WHAT DOES MSM DO TO SKIN?

MSM (Methylsulfonylmethane) is beneficial for skin health due to its sulfur content, which is crucial for collagen production.* Regular use can help enhance skin elasticity and hydration.* It may also contribute to reducing the appearance of fine lines and wrinkles.* Furthermore, its inflammation balance properties can be advantageous for certain skin conditions.* The MSM benefits for skin are primarily linked to its role in supporting collagen and keratin structures.*
IS MSM POWDER OR PILLS BETTER?

Choosing between MSM powder and pills depends on individual preference and ease of use. MSM powder may offer more flexibility in dosing and is easier to incorporate into drinks or food. However, pills provide convenience and portability, making them a good choice for those with a busy lifestyle. Both forms are effective, so the best option largely depends on your personal preference for administration.
IS IT OK TO TAKE MSM EVERYDAY?

Taking MSM (methylsulfonylmethane) daily is generally considered safe for most individuals.* It's known for its potential benefits in supporting joint health, balancing inflammation, and enhancing skin health.* However, it's important to adhere to recommended dosages and be aware of personal health conditions.* If you're considering MSM supplements, especially if you have existing health concerns or are taking other medications, it's prudent to discuss this with a healthcare professional.*
IS MSM AN ANTI-INFLAMMATORY?

MSM (methylsulfonylmethane) is recognized for its potential inflammation balance properties.* It's often used to support joint health and may help balance inflammation, contributing to improved comfort and mobility.* However, individual responses can vary, and it's essential to consider overall health and any specific needs when evaluating MSM's role in inflammation balancing.*
* These statements have not been evaluated by the Food and Drug Administration. This product is not intended to diagnose, treat, cure, or prevent any disease.