Regular price
Sale price
$26.97
Unit price
per
Sale
Sold out
✦ Main Benefits

SUPPORTS AN ACTIVE LIFESTYLE. All-in-one Glucosamine Chondroitin Joint Health Supplement. Glucosamine, MSM, Boswellia Extract, and Bromelain work together to Promote Joint Flexibility & Mobility. Relieve Joint Discomfort so you can move with ease.*

SUPPORTS STRONG BONES. With Vitamin D3. Obtained through sunshine, but often depleted due to overcast climates or being indoors. Helps the body absorb Calcium and Phosphorus, essential nutrients for Bone Health.*

HEALTHY HAIR, SKIN, NAILS. Glucosamine Sulfate and MSM helps with Collagen and Keratin formation. Bromelain helps Balance Inflammation. Enjoy looking and feeling your best while also supporting your Joint Health.*

MULTIPLE INGREDIENTS FOR MAX BENEFITS. Support your Joints, Bones, Hair, Skin, and Nails. Chondroitin & Glucosamine Nutritional Supplements provide an extensive range of health benefits in convenient, easy-to-take capsules.*

PREMIUM INFLAMMATION BALANCE SUPPLEMENTS YOU CAN TRUST. Vimerson Health Joint Supplements for Men & Women. Made in the USA in a GMP-Certified Facility. Globally-Sourced ingredients. Non-GMO. Free from Gluten, Dairy, Sugar, Soy.

*These statements have not been evaluated by the Food and Drug Administration. This product is not intended to diagnose, treat, cure, or prevent any disease.
✦ Is Good For

Individuals experiencing occasional joint discomfort or looking to support joint health may find a Glucosamine + Vitamin D3 Supplement beneficial, as it is designed to provide advanced support for joint function, flexibility, and mobility.*
The combination of glucosamine, chondroitin, boswellia, bromelain and vitamin D3 in this supplement can also contribute to healthy hair, skin, and nails.*
Glucosamine is a natural compound that plays a key role in maintaining healthy cartilage and joint tissues, while vitamin D3 supports overall bone health and may have positive effects on hair, skin, and nails as well.*
By combining these ingredients, this supplement aims to promote joint health and provide additional benefits for hair, skin, and nails.*

It is important to note that dietary supplements should not be considered as a sole solution or replacement for proper medical care. Individuals with specific concerns regarding joint health, hair, skin, or nails should consult with their healthcare professional for personalized advice and appropriate management strategies.
✦ How to Take

As a dietary supplement, take two (2) tablets together with a meal, or as directed by your healthcare professional. For those with a more sensitive constitution, we recommend taking one (1) tablet per day with a meal. Do not exceed recommended dose.
✦ Ingredients

Per serving (2 tablets):

Vitamin D3 (as Cholecalciferol) 50mcg
Sodium (as Sodium Chloride) 10mg
Glucosamine HCL 1500mg
Methylsulfonylmethane (MSM) 300mg
Boswellia 4:1 Extract (Gum) (Boswellia serrata) 300mg
Chondroitin Sulfate 300mg
Bromelain (70 GDU/g) 300mg


Other Ingredients: Dicalcium Phosphate, Microcrystalline Cellulose, Stearic Acid, Croscarmellose Sodium, Magnesium Stearate, Silicon Dioxide, Hypromellose, Polyethylene Glycol.

Non-GMO. Free from Gluten, Dairy, Sugar, Soy.
✦ More Information

Each bottle contains 120 tables for 60-day Supply.

GLUCOSAMINE
Glucosamine is the building blocks of cartilage and joint tissue. Composed of chains of sugars and proteins bound together, it acts as one of the body's natural shock-absorbers and joint lubricants. This allows us to move around with ease and fluidity in our joints, bones and muscles. Occurring naturally in the body, glucosamine has immune-stimulating properties and may help preserve healthy cartilage, ligaments, and tendons.* It may also help improve digestion and gut health, in addition to general joint health.*

VITAMIN D3
Commonly called the "sunshine vitamin" as it is produced in your skin as a response to sunlight. Vitamin D3 is actually a fat-soluble hormone, produced by the kidneys. It's most vital function is regulating the absorption of Calcium and Phosphorus into the bloodstream, facilitating normal immune system function in the body. Vitamin D3 plays an important role in muscle function and the maintenance of a healthy immune system, brain, and nervous system as well as healthy bone development.*

BOSWELLIA
Boswellia is also known as Indian Frankincense. This tree resin is another ancient remedy hailing from Asia and Arabia. The tree sap has been found to contain boswellic acids which hold an array of health benefits for the body's proper functioning. Boasting strong joint healing properties, it is commonly used in Ayurveda medicine and frequently used to support joint health and mobility. It has also been shown to help preserve healthy cartilage in joints.*

MSM
MSM (MethylSulfonylMethane) is a naturally occurring substance in foods. It is found in raw fruit, vegetables, nuts, and seeds. MSM contains sulfur, which is celebrated as one of the basic elements of life. Sulfur is active in maintaining the correct balance of acid /and alkaline in the body. It is vital to the creation and regeneration of the body's tissues and is found in every cell. Sulphur is involved in amino acid production, connective tissue, skin, hair, nails, enzymes, hormones, and immunoglobulins.*

*These statements have not been evaluated by the Food and Drug Administration. This product is not intended to diagnose, treat, cure, or prevent any disease.
✦ Safety

People with a known allergy to shellfish should not use this product. Do not exceed the recommended dose. Always consult your healthcare professional before taking this or any dietary supplements, especially if you are under 18, pregnant and/or a nursing mother. Please consult your healthcare professional before taking this product if you are suffering from glaucoma. Also if you are taking medications or if you have an existing medical condition. Discontinue use and consult your doctor if adverse reaction occurs. Remember that you should not take supplements as a substitute for a varied balanced diet or healthy lifestyle.

CALIFORNIA RESIDENTS
Click here for Proposition 65 warning.
VIEW FULL DETAILS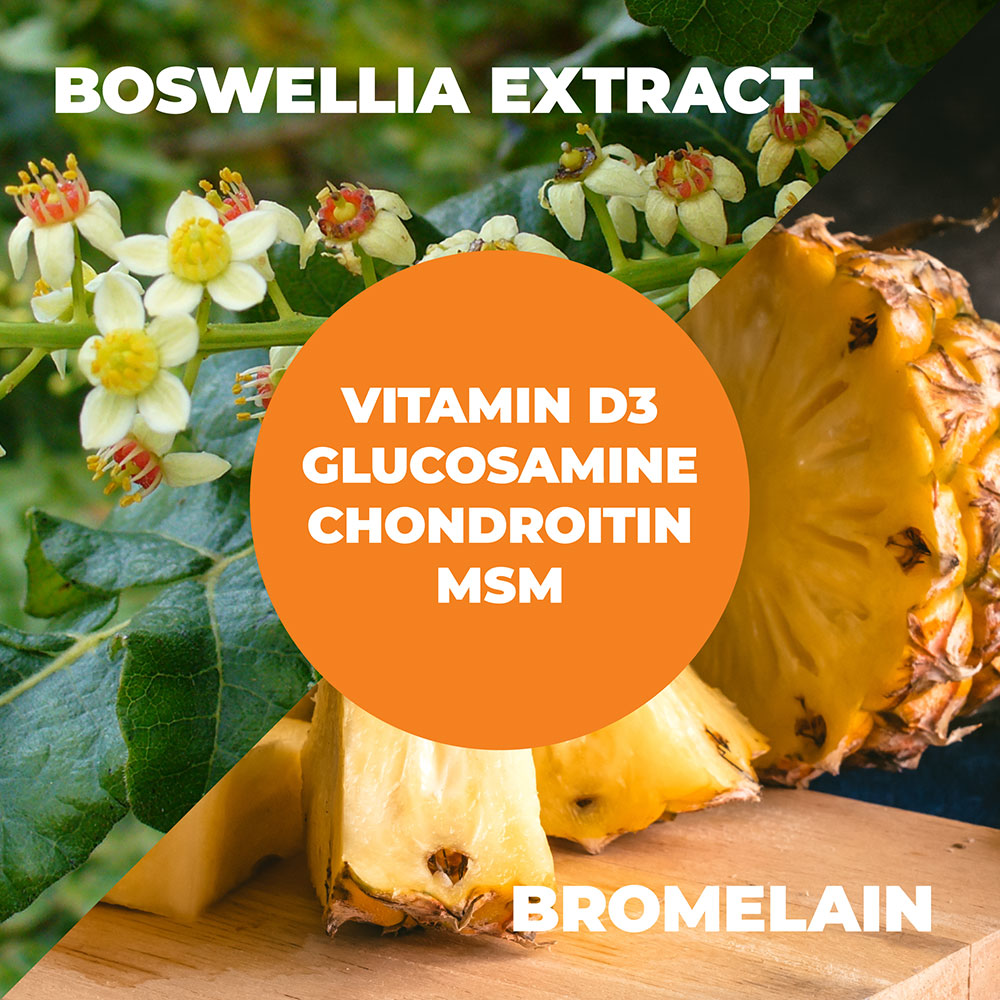 THE GOLD STANDARD IN JOINT HEALTH & BONE SUPPORT
Your quest for the best vitamin D3 supplement coupled with powerful joint support ends here! Dive deep into the unique blend of our meticulously formulated supplement that targets not only joint health but also reinforces bone strength.
A COMPREHENSIVE SUPPLEMENT FOR BONE AND JOINT HEALTH!
🌿 HELPS MAINTAIN JOINT HEALTH & FLEXIBILITY*

🌿 SUPPORTS HEALTHY JOINTS & CARTILAGE*

🌿 HELPS MAINTAIN STRONG & HEALTHY BONES*

🌿 PROMOTES HEALTHY HAIR, SKIN & NAILS*
VITAMIN D3: THE SUNSHINE VITAMIN
Vitamin D3, also known as cholecalciferol, is vital for calcium absorption, playing a pivotal role in bone health. While sunlight is the best way to get vitamin D, not everyone gets enough exposure, making supplementation essential. Our supplement offers a generous 50 mcg vitamin d, ensuring you get your daily vitamin D intake.
TIPS FOR MAXIMIZING THE BENEFITS OF THIS SUPPLEMENT BLEND
CONSISTENT USAGE

Like any supplement, consistency is key. Daily intake can yield the best results.

BALANCED DIET

Ensure you're supplementing your body with a diet rich in other essential nutrients and minerals.

REGULAR EXERCISE

Strengthen your joints and bones with weight-bearing exercises, promoting better efficacy of the supplement.

ADEQUATE SUN EXPOSURE

Boost the effects of vitamin D3 by ensuring you're getting some natural sunlight. Just don't forget your sunscreen!
BEYOND BONE HEALTH WITH VITAMIN D3
Vitamin D3 isn't just about strong bones.* It plays a pivotal role in immune function, mood regulation, and even weight management, hinting at the connection between vitamin d weight loss.* Plus, with vitamin d hair loss being a concern, D3 proves essential in maintaining hair health.*
UNDERSTANDING THE VITAL SEXTET: A DEEP DIVE INTO EACH COMPONENT
1. GLUCOSAMINE: THE JOINT CUSTODIAN

At the heart of bone and joint health is Glucosamine. This naturally occurring compound is renowned for its fundamental role in promoting joint flexibility and fostering the health of cartilage. It assists in rebuilding bone, offering hope to those striving for optimum joint health.*

2. VITAMIN D3: THE SUNSHINE MOLECULE

Vitamin D3, also known as cholecalciferol, is essential for bone health. Acting as a prohormone, it facilitates calcium absorption, ensuring bones remain robust. Our modern indoor lifestyles can lead to deficiencies, emphasizing the importance of D3 supplementation.*

3. CHONDROITIN: THE CARTILAGE CHAMPION

Chondroitin works in harmony with Glucosamine, ensuring our cartilage remains hydrated and functionally optimized. It promotes water retention and elasticity within the joints, providing a cushion against the stresses of physical activity.*

4. MSM: NATURE'S ORGANIC SULFUR SOURCE

MSM or Methylsulfonylmethane, is a sulfur-rich compound crucial for maintaining the connective tissue's elasticity and flexibility. Alongside its joint benefits, MSM plays a pivotal role in supporting healthy skin, hair, and nails, proving its multifaceted advantages.*

5. BOSWELLIA: THE ANCIENT INFLAMMATION BALANCE

Hailing from the frankincense family, Boswellia has been cherished for centuries for its potent inflammatory balance properties. It's known to inhibit enzymes responsible for inflammation, thereby playing a crucial role in joint health and overall inflammation balance.*

6. BROMELAIN: NATURE'S ENZYMATIC GEM

Derived from the pineapple plant, Bromelain is a unique enzyme known for its inflammation balance and digestive benefits. Apart from aiding digestion, it supports joint health by reducing swelling and improving joint mobility.*
BEST GLUCOSAMINE VITAMIN D3 SUPPLEMENT: COMMITMENT TO QUALITY
From ensuring the best sources of vitamin D to integrating high-grade glucosamine, our commitment to quality is unwavering. Each batch undergoes rigorous testing to ensure potency, purity, and efficacy. Your health deserves nothing less than the best, and we strive to offer just that.
In a market inundated with choices, our Glucosamine + Vitamin D3 with Chondroitin and MSM Supplement stands tall, a testament to quality, research, and dedication to holistic wellness. Join the movement towards comprehensive health today!
UNPARALLELED BONE STRENGTH WITH VITAMIN D3
When discussing the best vitamin d3 supplement, the synergy of Vitamin D3 with Glucosamine and Chondroitin cannot be overlooked. This amalgamation ensures that the bones are not only strong but also flexible, effectively combatting the natural wear and tear of age.
HARMONIZED JOINT CARE

Glucosamine & Chondroitin, when combined with MSM, offers a comprehensive solution for joint health.* Whether it's age-related degeneration or an active lifestyle taking its toll, this blend is the answer.

THE RADIANCE OF VITAMIN D3

Beyond bones and joints, Vitamin D3 has myriad benefits. From preventing vitamin d hair loss to potentially aiding in vitamin d weight loss, the potency of D3 is undeniable.*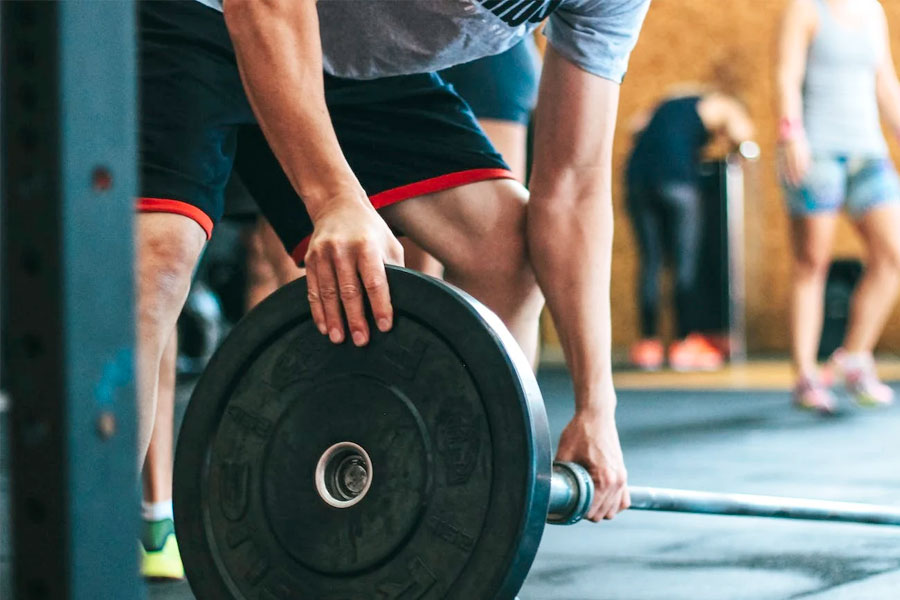 THE ULTIMATE HEALTH BOOST
Combining glucosamine with vitamin D3, and adding chondroitin and MSM, isn't just a trend; it's a comprehensive approach to health. These supplements, especially when sourced correctly, can play a pivotal role in maintaining robust bones, flexible joints, and overall well-being.
TOP BRAND

GMO FREE

QUALITY

GLUTEN FREE

MADE IN USA

INGREDIENTS TESTED
ℹ︎Frequently Asked Questions About Glucosamine Vitamin D3
CAN I TAKE GLUCOSAMINE AND VITAMIN D3 TOGETHER?

Yes, it is generally safe to take Glucosamine and Vitamin D3 together. Glucosamine is commonly used to support joint health, while Vitamin D3 plays a role in bone health and overall well-being.* These supplements work through different mechanisms and are often taken together for their complementary benefits.* However, it's always recommended to consult with a healthcare professional or pharmacist before starting any new supplements to ensure they are appropriate for your individual needs and to determine the proper dosage.
IS VITAMIN D3 GOOD FOR JOINTS?

While Vitamin D3 is primarily known for its role in bone health, it may also have indirect benefits for joint health.* Adequate Vitamin D levels are important for overall musculoskeletal health, as it helps with calcium absorption and maintaining bone density.* Strong bones can provide support and stability to the joints.* However, it's important to note that Vitamin D3 alone may not directly target joint-related issues.* A comprehensive approach that includes a balanced diet, regular exercise, maintaining a healthy weight, and consulting with a healthcare professional for personalized advice is recommended for optimal joint health.
IS IT BETTER TO TAKE GLUCOSAMINE IN THE MORNING OR EVENING?

The timing of Glucosamine intake can vary depending on individual preferences. It is generally recommended to take Glucosamine with a meal to enhance absorption and minimize potential digestive discomfort.* Whether it's taken in the morning or evening depends on personal convenience and consistency. Some individuals find it beneficial to take it in the morning to establish a routine, while others prefer taking it in the evening. Ultimately, the most important aspect is to take Glucosamine regularly with a meal to maximize its potential benefits. Consulting with a healthcare professional can provide further personalized guidance based on your specific needs.
WHAT ARE THE SYMPTOMS OF LOW VITAMIN D DEFICIENCY?

Low Vitamin D levels can result in various symptoms. Common signs of Vitamin D deficiency include fatigue, muscle weakness, bone discomfort or tenderness, unstable mood, hair loss, and impaired wound healing*. However, these symptoms are not exclusive to Vitamin D deficiency and can be indicative of other health conditions as well. If you suspect a deficiency, it's important to consult with a healthcare professional who can evaluate your symptoms, conduct appropriate tests, and provide personalized guidance on addressing any potential deficiencies and optimizing your Vitamin D levels.
ARE GLUCOSAMINE AND MSM GOOD FOR YOUR SKIN?

Glucosamine and MSM are primarily known for their potential benefits in joint health.* Both compounds also play essential roles in the body's collagen and keratin formation processes.* Collagen and keratin are important structural components of the skin, hair, and nails.* While more research is needed to determine the specific impact of Glucosamine and MSM on skin health, their involvement in collagen and keratin production suggests potential support for skin integrity.* For comprehensive skin health, maintaining a balanced diet, practicing good skincare habits, and consulting with a healthcare professional are recommended.
IS CHOLECALCIFEROL THE SAME AS VITAMIN D?

Cholecalciferol, also known as Vitamin D3, is a form of Vitamin D. It is considered the most biologically active and readily absorbed form of Vitamin D. Cholecalciferol has numerous benefits, including supporting bone health by aiding in calcium absorption, promoting immune function, and contributing to overall well-being.* Adequate Vitamin D levels are essential for maintaining strong bones, supporting muscle function, and regulating calcium and phosphorus levels in the body.* While the benefits of Cholecalciferol are well-documented, it's important to consult with a healthcare professional for personalized advice on Vitamin D supplementation based on your specific needs.
IS IT OK TO TAKE GLUCOSAMINE EVERYDAY?

Taking glucosamine daily is a proactive step towards optimal joint health.* This powerhouse supplement has been celebrated for supporting mobility and promoting joint comfort.* Dive into a more active lifestyle and keep up with your daily adventures. With consistent use, glucosamine can be the missing link to your wellness routine.
IS VITAMIN D3 GOOD FOR ARTHRITIS?

Vitamin D3 is often hailed as a joint hero, aiding in maintaining optimal joint health.* A regular dose can boost mobility and ensure your joints feel at their best.* Embrace the power of D3 and give your joints the care they deserve.*
WHAT IS THE BEST VITAMIN FOR STIFF JOINTS?

Commonly known as the "sunshine vitamin," D3 has been linked to improved joint flexibility and reduced stiffness.* By optimizing Vitamin D3 levels, you can harness its benefits and promote more fluid, unrestricted movements.* Enhance your mobility strategy by incorporating this essential vitamin and see noticeable results in joint comfort.
*These Statements have not been evaluated by the Food and Drug Administration. This product is not intended to diagnose, treat, cure or prevent any disease.
Why Vimerson 💚
JUST PREMIUM SUPPLEMENTS YOU CAN TRUST.
Made in the USA in a GMP-Certified Facility with Globally-Sourced ingredients. Non-GMO, Gluten-free, Dairy-Free, Sugar-Free and Soy-Free. A convenient flip-top bottle for on-the-go nutrition.
All Vimerson Health products contain no hormones and no preservatives.