Regular price
Sale price
$22.67
Unit price
per
Sale
Sold out
✦ Main Benefits

Your liver works hard to protect you. Return the favor with our balanced combination of liver-supporting ingredients. Each nutrient has been specially chosen by our team of nutrition experts and has a long history of safe, traditional and effective use.*

Milk Thistle is renowned for its liver-promoting properties. Packed with plant-based antioxidants, this nutritional powerhouse can encourage healthy oxidative activity. We consider it a must-have, so have added 200mg to each serving.*

Artichoke belongs to the Milk Thistle family. We've reunited these liver-supporting companions to help you get the most from this supplement. Artichoke Extract can promote liver function and contributes to overall liver health.*

Our Liver Health formula contains a total of ten liver-supporting ingredients, as well as our unique proprietary blend of herbs, and is specially formulated to safely support your liver and its natural detoxification process.*

Liver Health is made in the USA in a GMP-certified facility. It is non-GMO, gluten-free, dairy-free, nut-free and soy-free. The supplements come in a bottle with a flip-top cap to make them easier for you to take.

*These statements have not been evaluated by the Food and Drug Administration. This product is not intended to diagnose, treat, cure, or prevent any disease.
✦ Is Good For

Individuals who are looking to support their liver health and promote its natural detoxification processes may find a Liver Health Supplement beneficial.*
For those interested in maintaining optimal liver function and supporting liver tissue repair, this supplement may be considered.*
Some people believe that Liver Health Supplements can help support the body's natural ability to remove toxins and promote a healthy liver.*
Individuals who have a history of alcohol consumption, poor dietary choices, or exposure to environmental toxins may consider incorporating this supplement into their wellness routine.*
Liver Health Supplements are often sought after as a supportive measure for overall well-being and to promote a healthy liver.*

It's important to note that dietary supplements are not intended to replace a balanced diet or serve as a substitute for medical advice. Individuals should consult with their healthcare professional before starting any new dietary supplement, especially if they have any underlying health conditions or are taking medications.
✦ How to Take

As a dietary supplement, take two (2) capsules together, once a day 30 minutes before a meal with a full glass of water, or as directed by your health care professional. For those with a more sensitive constitution, we recommend taking one (1) capsule per day 30 minutes before a meal and with a full glass of water.
✦ Ingredients

Per serving (2 capsules):

Choline (as Choline L-Bitartrate) 12mg
Zinc (as Zinc Oxide) 30mg
Milk Thistle Extract (Silybum marianum, Seed) 200mg
Beet (Beta vulgaris, Root) 50mg
Artichoke Extract (Cynara scolymus, Leaf) 50mg
Chanca Piedra Extract (Phyllanthus ninuri, Whole Plant) 50mg
Dandelion Extract (Taraxacum officinale, Root) 50mg
Chicory (Cichorium intybus, Root) 50mg
Yarrow (Achillea millefolium, Whole Plant) 50mg
Jujube Extract (Ziziphus jujuba, Seed) 50mg
Proprietary Blend: Turmeric (Curcuma longa, Root), Ginger (Zingiber officinalle, Root), Celery (Apium graveolens, Seed), Alfalfa (Medicago sativa, Aerial Parts), Burdock (Arctium lappa, Root), Yellow Dock (Rumex crisps, Root), L-Methionine, Grape Seed Extract (Vitis vinifera, Seed), L-Cysteine HCI Monohydrate, Feverfew (Tanacetum parthenium, Aerial Parts), Red Raspberry (Rubus ideas, Leaf), Berberine HCI (from Phellodendron amurense Bark Extract) 566mg

Other Ingredients: Hypromellose (Capsule),  Magnesium Stearate, Silicon Dioxide, Rice Flour.

Non-GMO, Vegan, Gluten-Free, Dairy-Free, and Soy-Free.
✦ More Information

Each bottle contains 60 Vegetarian Capsules for 30-day Supply.
✦ Safety

Do not exceed the recommended dose. Always consult your healthcare professional before taking this or any dietary supplement, especially if you are under 18, pregnant and/or a nursing mother. You should also consult a professional if you are taking medications or if you have an existing medical condition. Discontinue use and consult your doctor if adverse reaction occurs. Remember that you should not take supplements as a substitute for a varied balanced diet or healthy lifestyle.

CALIFORNIA RESIDENTS
Click here for Proposition 65 warning.
VIEW FULL DETAILS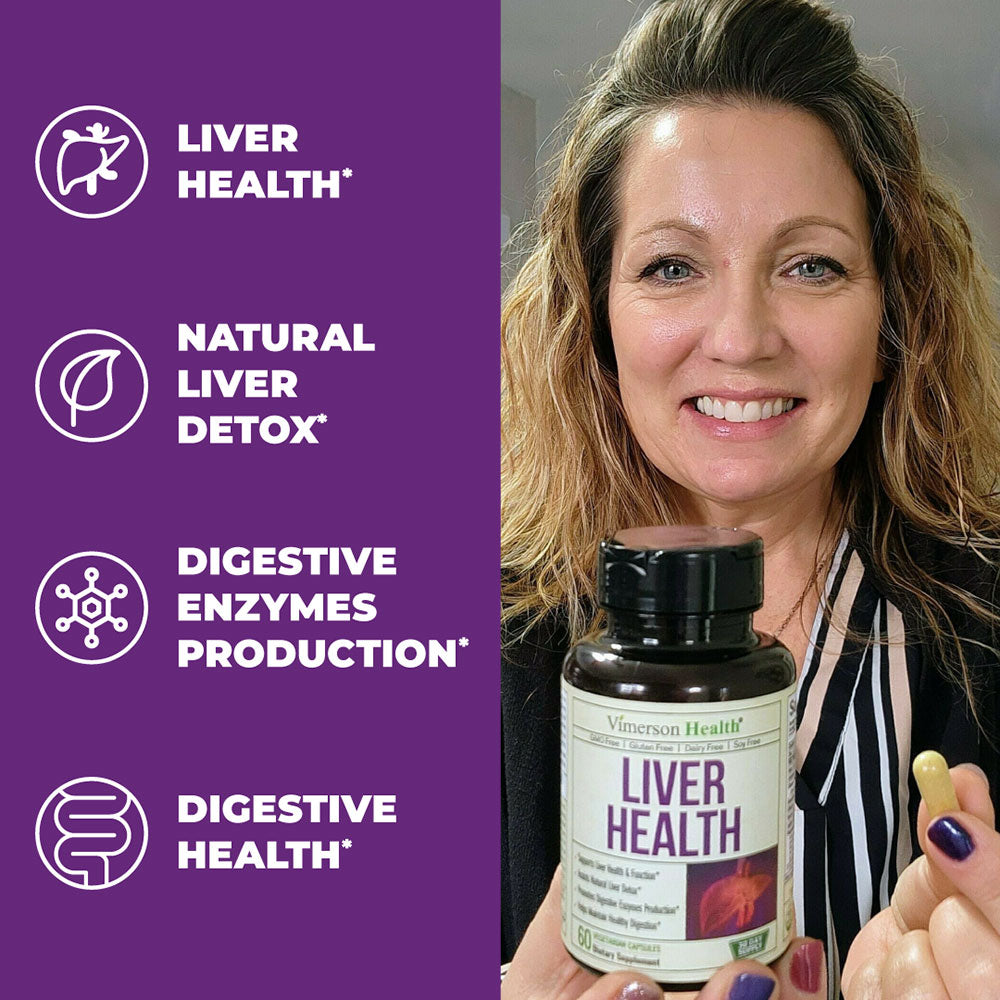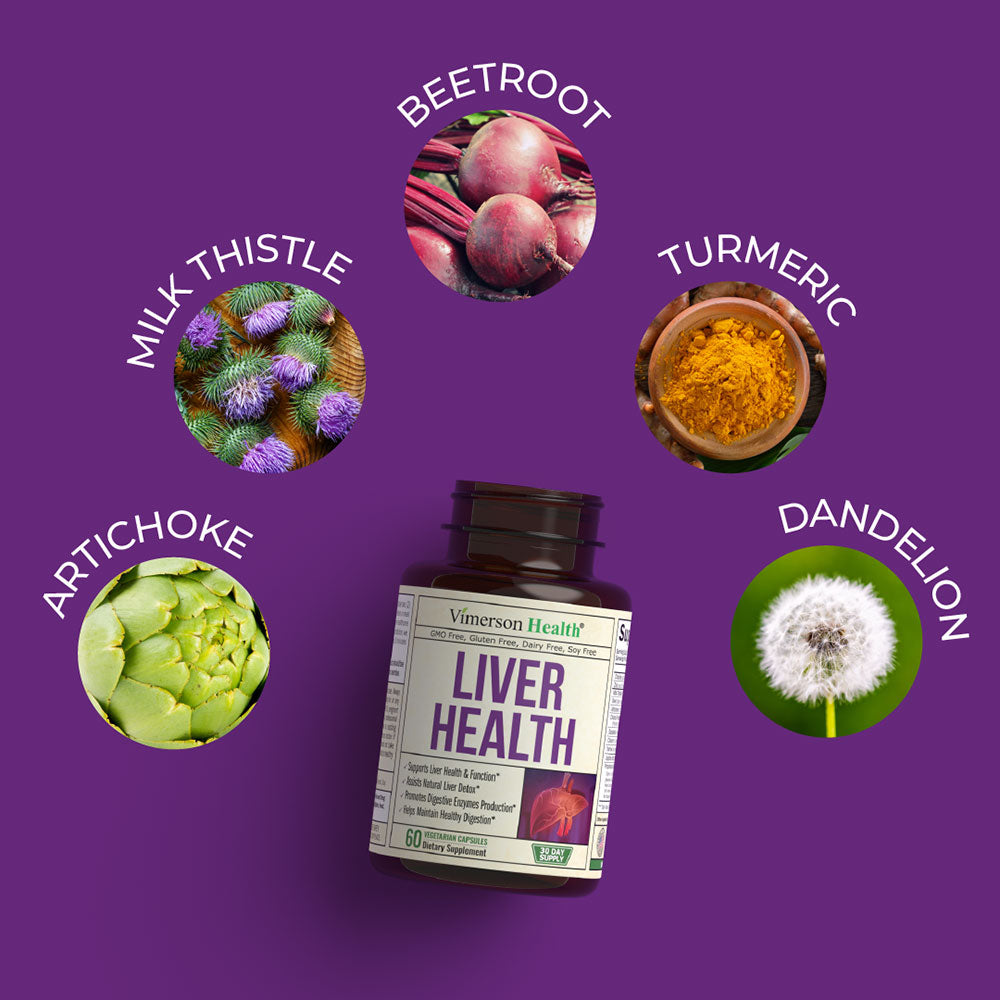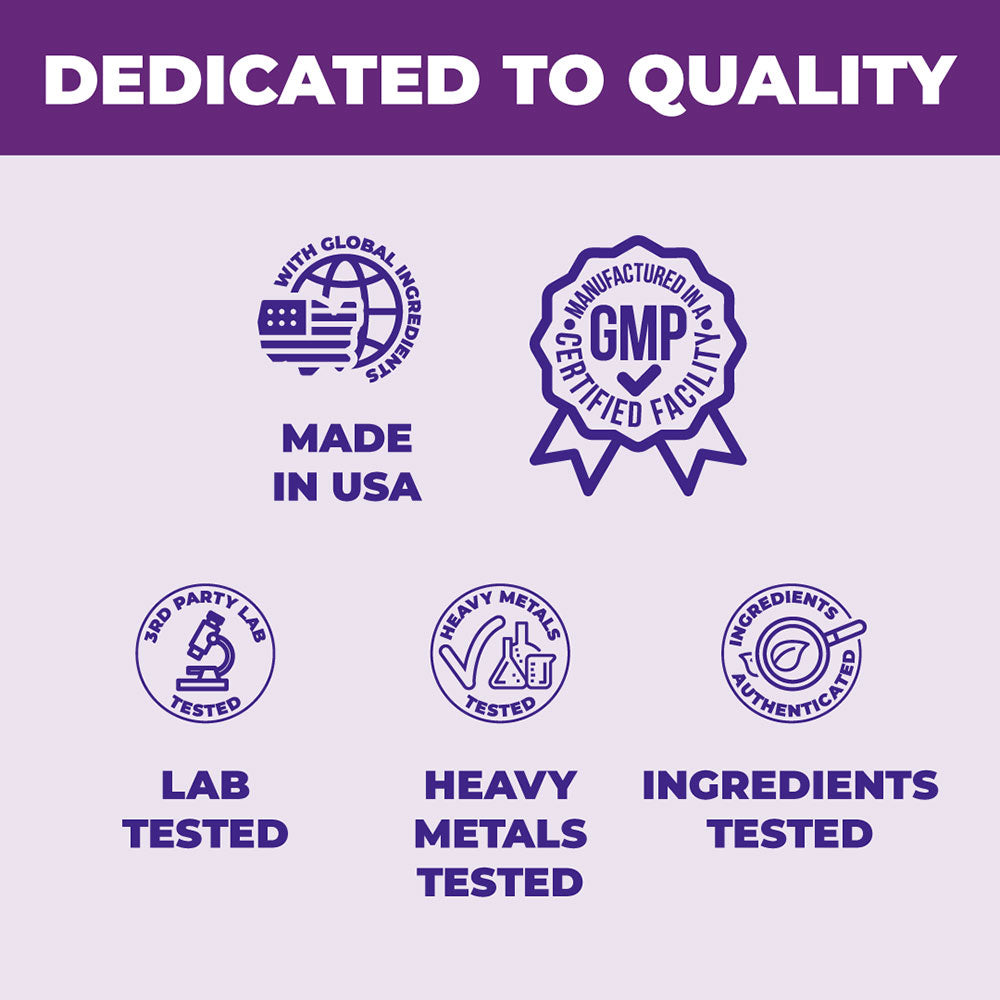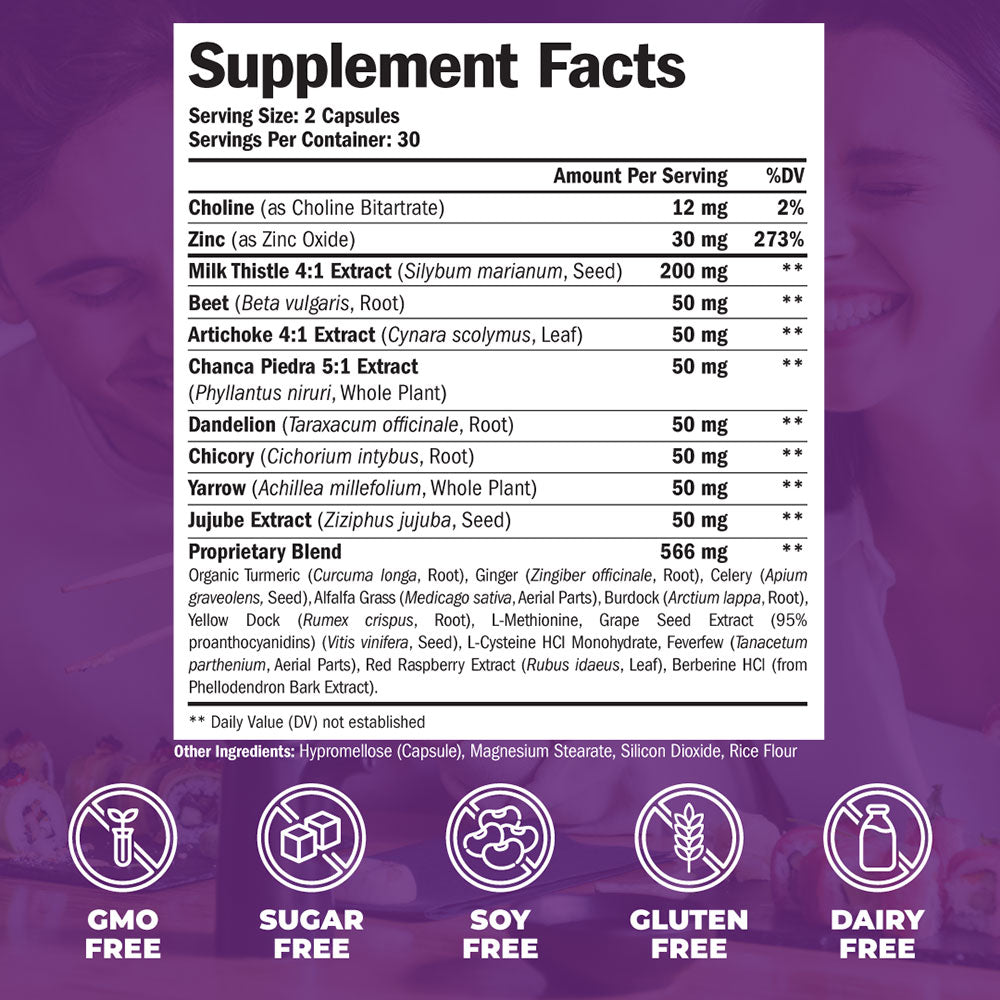 THE ULTIMATE SOLUTION FOR LIVER CLEANSE, DETOX & REPAIR
In the complex machinery that is our body, the liver plays a vital role. Responsible for filtering toxins, producing essential proteins, and aiding in digestion, it's pivotal to maintain its health. Our Liver Health Supplement is your ally in ensuring optimal liver function, aiding in its cleanse, detox, and repair.
LOVE YOUR LIVER!
🌿 SUPPORTS LIVER HEALTH & FUNCTION*

🌿 ASSISTS NATURAL LIVER DETOX*

🌿 PROMOTES DIGESTIVE ENZYMES PRODUCTION*

🌿 HELPS MAINTAIN HEALTHY DIGESTION*
SUPPORTS NATURAL LIVER DETOX
Carefully crafted formula developed to support the liver's natural detoxification process. Ensures efficient processing and elimination of toxins. Promotes a balanced metabolism, energy, and general wellbeing.*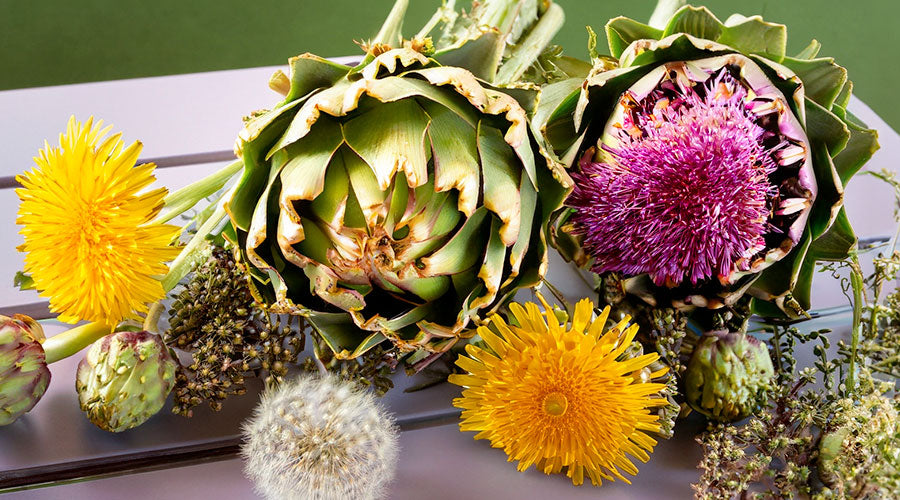 YOUR LIVER DESERVES THE BEST
A powerful blend of Milk Thistle, Artichoke Extract, and 10 carefully-selected ingredients: Turmeric, Ginger, Alfalfa, Beetroot, & Dandelion for complete liver defense, liver rescue and liver aid.*
NATURAL APPROACHES TO LIVER DETOX
For many, the ideal solution is to detox liver naturally. Our supplement stands as the best liver detox supplement, combining natural ingredients that have been proven to offer tangible benefits.* Whether you aim to detox your liver fast or prefer a more gradual approach, our supplement meets your needs.*
POWER INGREDIENTS FOR LIVER HEALTH
ARTICHOKE

Artichoke has long been used as a natural, safe and effective way to promote liver function. This green, leafy vegetable can also help to maintain cholesterol levels already in the healthy range and support kidney health. Of course, few people eat a lot of artichoke in their day to day diet, so we've added 50mg of artichoke extract to each serving of liver health to help fill this gap in your daily diet.*

MILK THISTLE

Milk thistle is a flowering herb that is related to the daisy and ragweed family. It contains plenty of plant-based antioxidants, as well as nutrients, including Vitamin E and Vitamin C, which can help to defend your body against free radicals. The Milk thistle that we use in liver health contains lipophilic extracts from the seeds of the plant, which can promote healthy oxidative activity in your body, supporting your liver on a daily basis.*

BEETROOT

Beetroot has high nutritional value, containing naturally-occurring nutrients including Vitamin A, Vitamin C, Calcium, Iron, Folate, Manganese, Potassium and Fiber. Nutritionally dense foods can stimulate the liver's detoxification process. The 50mg of Beet we've included in each serving can help to get your liver into gear.*

DANDELION

Dandelion can assist your liver's natural detoxification process. While we may be used to seeing this yellow, flowering plant on our lawns, it is actually packed with nutrients that can help to maintain a healthy liver.*

YARROW

Yarrow contains bitter compounds that help stimulate the production of digestive enzymes and bile, which is essential for fat breakdown and overall digestive health.*
THE REMARKABLE LIVER: WHY IT MATTERS
The liver isn't just another organ; it's a powerhouse. Responsible for detoxifying the blood, producing bile for digestion, and regulating glycogen storage, the liver is vital. One fascinating aspect is its ability to regenerate. But how can you aid this regeneration? By using the best liver supplement available.
THE NEED FOR LIVER SUPPLEMENTS
While the liver is inherently self-repairing, external aids can accelerate the recovery and cleansing process.
WHEN DETOX BECOMES VITAL

A sluggish liver might need a boost. This is where methods like detox liver fast and detox liver naturally come into play. Understanding the best way to detox liver can be a game-changer.

ADDRESSING THE FATTY LIVER EPIDEMIC

A diet high in processed fats and sugars has seen a rise in fatty liver disease. This has spurred interest in liver cleanse, liver detox, and the hunt for the best vitamins for liver.
YOUR LIVER'S WELL-BEING - OUR COMMITMENT
The liver, your body's silent workhorse, diligently performs over 500 functions. Just like any machinery, it needs regular maintenance. While many ask, "does the liver regenerate?", the focus should be on preventing damage and nurturing it. Our Liver Health Supplement is crafted with that very essence in mind.
With a rise in environmental pollutants, processed foods, and toxins, it's no wonder the demand for liver cleanse pills, liver detox supplement, and liver repair methods has surged. The market might be replete with options, but our product stands out as the beacon for quality and efficacy.
TOP BRAND

GMO FREE

QUALITY

GLUTEN FREE

MADE IN USA

INGREDIENTS TESTED
ℹ︎Frequently Asked Questions About Liver Health
HOW CAN I IMPROVE MY LIVER HEALTH?

To improve liver health, adopting a healthy lifestyle is key. This includes maintaining a balanced diet rich in fruits, vegetables, and whole grains, while limiting processed foods and excessive alcohol consumption. Regular exercise, proper hydration, and avoiding tobacco use can also support liver function. Additionally, considering natural supplements that contain liver-supportive ingredients may complement a healthy lifestyle, but it's advisable to consult with a healthcare professional before starting any new supplement regimen.
WHAT ARE THE FIRST SIGNS OF A BAD LIVER?

The liver is a vital organ that plays a crucial role in our overall health. Signs of a compromised liver may include fatigue, unexplained weight loss or gain, yellowing of the skin or eyes (jaundice), abdominal pain or swelling, and changes in urine or stool color.* If experiencing these symptoms, it's important to consult a healthcare professional for proper evaluation and guidance.
WHAT VITAMINS HELP THE LIVER?

Several natural ingredients are believed to support liver health. Milk thistle, a well-known herb, is commonly used to promote liver function and protect against liver damage*. Turmeric, with its active compound curcumin, has antioxidant and inflammation balance properties that may benefit liver health*. Dandelion root is another natural ingredient that is thought to support liver detoxification*. Other ingredients like artichoke, ginger, and celery are also believed to have liver-protective properties*. While these ingredients are associated with potential benefits, it's advisable to consult with a healthcare professional for personalized guidance on incorporating them into a liver-supportive regimen.
HOW LONG DOES IT TAKE TO DETOX YOUR LIVER?

The duration of liver detoxification can vary depending on various factors such as individual health, lifestyle, and the extent of liver damage. It is a gradual process that can take weeks to months or even longer. While there is no fixed timeline, incorporating a healthy diet, regular exercise, reducing alcohol consumption, and avoiding exposure to toxins can support natural liver detoxification processes. It's important to consult with a healthcare professional for personalized advice and guidance on liver detoxification.
WHY IS COFFEE GOOD FOR THE LIVER?

Research suggests that moderate coffee consumption may have potential benefits for liver health*. Studies have shown that regular coffee intake is associated with a lower risk of certain liver conditions and may support overall liver function*. Coffee contains various compounds, including antioxidants and caffeine, which may contribute to its positive effects on the liver*. However, it's important to note that individual responses may vary, and excessive consumption or certain additives in coffee may have negative effects.
HOW CAN I CLEAN MY LIVER NATURALLY?

To support natural liver detoxification, consider the following: Maintain a balanced diet rich in whole foods, especially leafy greens, cruciferous vegetables, and foods high in fiber. Limit alcohol and processed foods consumption. Stay hydrated with water, take some herbal teas or natural supplements, such as milk thistle and dandelion, which may benefit liver health.* Regular exercise can also enhance liver function by reducing inflammation and promoting healthy weight. Always consult a healthcare professional before undertaking any detox regimen.
WHAT ARE THE 3 SIGNS OF A FATTY LIVER?

Fatty liver, or steatosis, often presents with subtle or even no symptoms in its early stages. However, as the condition progresses, individuals might notice: 1) discomfort or pain in the upper right abdomen, 2) fatigue or generalized weakness, and 3) unexplained weight loss or loss of appetite. It's essential to note that many with fatty liver don't exhibit noticeable symptoms; hence, regular check-ups and liver function tests are crucial for early detection and management.
WHAT SUPPLEMENTS ARE GOOD FOR THE LIVER?

Several supplements are believed to support liver health. Milk thistle, containing silymarin, is commonly cited for its potential liver-protective properties.* Turmeric's active compound, curcumin, may have inflammatory balance and antioxidant benefits for the liver.* Artichoke extract and dandelion are also sometimes used for liver support.* However, before starting any supplement, it's essential to consult with a healthcare professional to ensure it's appropriate and safe.
DOES MILK THISTLE REALLY HELP LIVER?

Milk thistle, containing the active compound silymarin, has been traditionally used for liver support.* Research suggests that silymarin possesses antioxidant, inflammation balance and anti-fibrotic properties that may be beneficial for the liver.* It might help protect the liver from toxins and support its regeneration.* However, it's important to consult a healthcare professional for guidance and safety.
*These Statements have not been evaluated by the Food and Drug Administration. This product is not intended to diagnose, treat, cure or prevent any disease.
Why Vimerson 💚
JUST PREMIUM SUPPLEMENTS YOU CAN TRUST.
Made in the USA in a GMP-Certified Facility with Globally-Sourced ingredients. Non-GMO, Vegan, Gluten-free, Dairy-Free, Sugar-Free and Soy-Free. A convenient flip-top bottle for on-the-go nutrition.
All Vimerson Health products contain no hormones and no preservatives.