Regular price
Sale price
$23.77
Unit price
per
Sale
Sold out
✦ Main Benefits

We know how important healthy joints are. Joint discomfort can impact work, childcare, socializing, household chores and anything else you have lined up. Take back joint comfort and balance joint inflammation with Turmeric Curcumin.*

Good things come in threes. We've kept this formula simple, combining three joint-supporting ingredients to provide the relief and support you need. Turmeric Root, Turmeric Root Extract, and BioPerine (Black Pepper) to ensure you get the most from every serving.*

Turmeric provides joint comfort and promotes mobility. We've used Turmeric Root so you can benefit from all the goodness Turmeric offers, as well as standardized Turmeric Root Extract to ensure you get enough curcuminoids in each serving to reap its benefits.*

Each serving contains BioPerine, a trademarked Black Pepper extract. It is standardized, which means it contains at least 95% Piperine, which has been clinically proven to help your body absorb 20 times more curcuminoids.*

Turmeric Curcumin is made in the USA in a GMP-Certified facility. We've made sure that it is non-GMO, vegan, gluten-free, nut-free, and soy-free, so as many people can enjoy it as possible.

*These Statements have not been evaluated by the Food and Drug Administration. This product is not intended to diagnose, treat, cure or prevent any disease.
✦ Is Good For

Individuals who are looking to support a healthy immune system may consider incorporating Turmeric Curcumin Supplement into their wellness routine.*
For those interested in maintaining joint health and promoting flexibility, this supplement may be beneficial.*
Some people believe that Turmeric Curcumin Supplement can help reduce occasional joint discomfort and support overall joint function.*
Individuals who engage in physical activities or exercises that put strain on the joints may find this supplement helpful in maintaining joint health.*
Turmeric Curcumin Supplement is often sought after for its potential antioxidant properties, which may support overall well-being.*

It's important to note that dietary supplements are not intended to replace a balanced diet or serve as a substitute for medical advice.

Individuals should consult with their healthcare professional before starting any new dietary supplement, especially if they have any underlying health conditions or are taking medications.
✦ How to Take

As a dietary supplement, take two (2) capsules together, once a day with a meal and a full glass of water, or as directed by your healthcare professional. For those with a more sensitive constitution, we recommend taking one (1) capsule per day, with a meal and with a full glass of water.
✦ Ingredients

Per serving (2 capsules):

Organic Turmeric Root (Curcuma longa) 1200mg
Turmeric Root Extract (Std. to 95% Curcuminoids)(Curcuma longa) 100mg
Black Pepper Extract (BioPerine) (Piper nigrum, Fruit) 10mg

Other ingredients: Hypromellose (Capsule), Rice Hulls, Rice Extract Blend.

100% all natural, GMO free, Gluten Free, Dairy Free, Zero Eggs, Zero Tree Nuts, Zero Peanuts.
✦ More Information

Each bottle contains 60 Capsules for 30-day Supply.

Today, Turmeric is one of the most extensively researched natural medicines of the modern age, with over 3000 published studies investigating its wide range of potential health benefits. Not only is Turmeric Root Extract a natural ingredient to help support the immune system, but also a plant-based antioxidant that helps support cardiovascular, brain and digestive health.* It also promotes vibrant skin, hair & eyes.*

Good Things Come In Threes:
Our Turmeric Curcumin supplement expertly combines Turmeric Root, Turmeric Root Extract and BioPerine to help your body absorb as many joint-supporting curcuminoids as possible.*
Turmeric changes COLOR with the seasons, but the QUALITY remains the same.
✦ Safety

Do not exceed the recommended dose. Always consult your healthcare provider before taking any dietary supplement, especially if you are under 18. Do not take this product if you are pregnant or breastfeeding, if you have a history of gallstones, bile duct obstruction, bleeding disorders, or if you are using anticoagulants (blood thinners). You should also consult your healthcare provider if you are taking medications or if you have an existing medical condition. Discontinue use and consult your doctor if you experience any adverse reactions. Remember that you should not take supplements as a substitute for a varied balanced diet or healthy lifestyle.
This product has a shelf life of 2 years from the production date (embossed in the bottom of the bottle).
Keep out of reach of children. Do not use if safety wrap is damaged or missing. Store in a cool, dry place.

CALIFORNIA RESIDENTS
Click here for Proposition 65 warning.
VIEW FULL DETAILS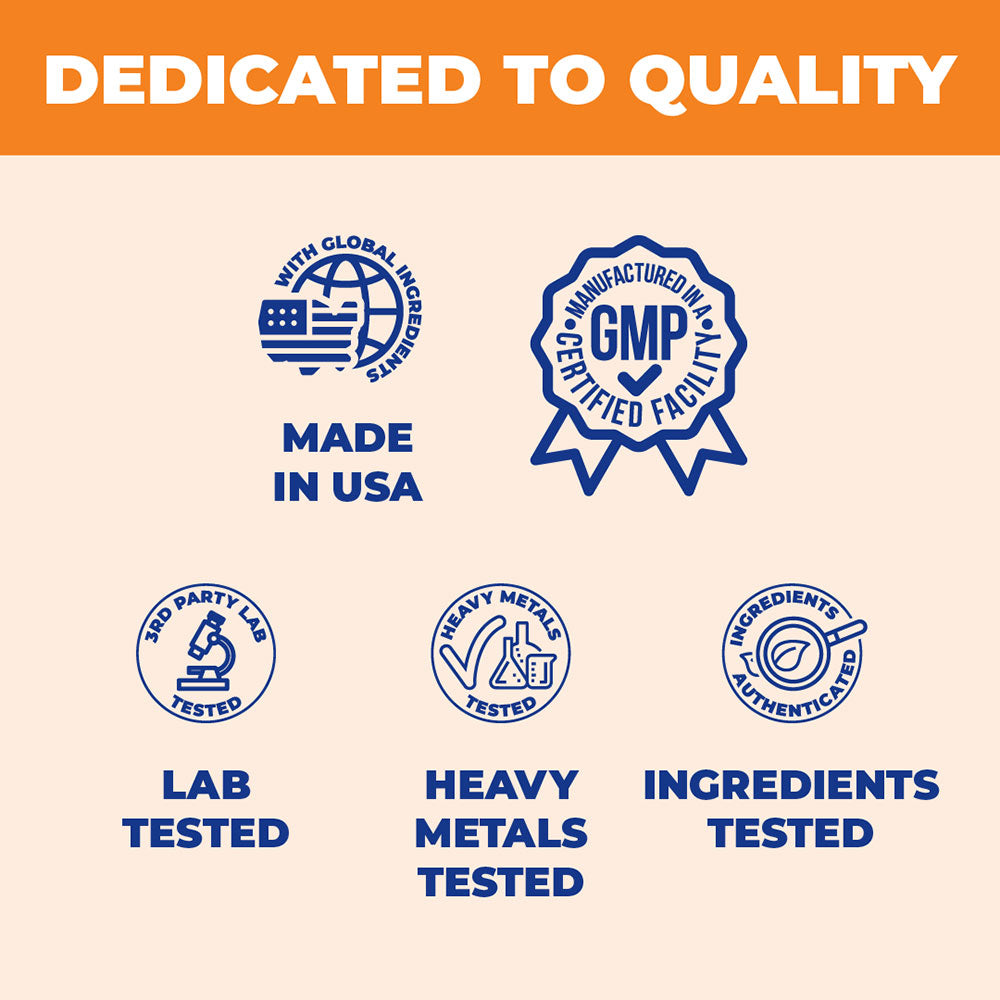 YOUR GOLDEN TICKET TO ENHANCED IMMUNE & JOINT HEALTH
Unlock the ancient secrets of well-being with the Turmeric Curcumin Supplement, supercharged with BioPerine, guaranteeing an unrivaled pathway to immune and joint health optimization.
TAKE BACK JOINT CONTROL WITH TURMERIC CAPSULES!
🏃🏼‍♀️ SUPPORTS WELLNESS AND COMFORT*

🏃🏼‍♀️ PROMOTES HEALTHY JOINTS*

🏃🏼‍♀️ MAINTAINS A HEALTHY IMMUNE SYSTEM*

🏃🏼‍♀️ PROMOTES GENERAL HEALTH & WELLBEING*
BEST TURMERIC SUPPLEMENT WITH BLACK PEPPER
Curcumin, the star compound in turmeric, is lauded for its potent inflammation balance and antioxidant properties.* However, there's a twist. Our body finds it challenging to absorb curcumin on its own. This is where turmeric curcumin with bioperine plays its masterstroke.
FINDING THE BEST TURMERIC SUPPLEMENT
HIGHEST RATED OPTIONS

With so many brands, finding the best rated turmeric supplement can be daunting. Factors to consider include organic sourcing, potency (like turmeric 95 curcuminoids), and the addition of bioperine. They are all found in our supplement!

ORGANIC CHOICE

For those preferring a natural route, organic turmeric capsules also called organic turmeric supplements is the best choice. Our turmeric supplement provides organic turmeric 1200mg per serving.
TURMERIC AND JOINT HEALTH
One of the standout applications of turmeric curcumin with black pepper is in promoting joint health.* The inflammation balance properties of curcumin can alleviate occasional joint discomfort, and with the enhanced absorption from bioperine, results are optimized.*
TURMERIC CURCUMIN: BENEFITS BEYOND THE KITCHEN
1. IMMUNE SYSTEM SUPPORT*

In today's health-conscious era, everyone's searching for an edge to enhance their immunity. Curcumin plays a pivotal role in modulating the body's immune response. By helping inhibit factors that promote inflammation, curcumin ensures the immune system operates at its optimum. Regular intake of the best turmeric and curcumin supplements can provide a robust defense mechanism against pathogens.*

2. JOINT HEALTH AND MOBILITY*

Athletes or even those with occasional joint discomfort can attest to the benefits of turmeric curcumin. It acts as a natural inflammation balance agent, reducing swelling and discomfort in joints.* For those struggling with certain conditions, our turmeric supplement for inflammation balance can be a natural solution to ease discomfort and enhance joint mobility.*

3. POTENT ANTIOXIDANT PROPERTIES*

Free radicals in the body can damage our cells, leading to premature aging and various diseases. Turmeric curcumin is teeming with antioxidants, substances that neutralize these harmful free radicals. By combating oxidative stress, turmeric curcumin preserves the health of our cells, promoting longevity and overall well-being.*

4. SUPPORTS DIGESTIVE HEALTH*

The gastrointestinal tract can benefit substantially from turmeric curcumin. It stimulates the gallbladder to produce bile, aiding in digestion. Plus, its inflammation balance and antioxidant properties can help soothe the digestive lining, helping with symptoms of bloating or gas.*

5. HEART HEALTH CHAMPION*

Turmeric curcumin's inflammation balance and antioxidant attributes play a part in heart health. It improves the function of the endothelium (lining of the blood vessels), facilitating better blood flow. Moreover, curcumin balances inflammation and oxidation, both significant contributors to heart conditions.*

6. NATURAL BRAIN FUNCTION SUPPORTER*

Emerging studies indicate that curcumin can support brain-derived neurotrophic factor (BDNF), a type of growth hormone that promotes brain neuron growth. Regular consumption of turmeric and curcumin supplements might aid in improved memory and sharper cognitive functions.*
BEST TURMERIC SUPPLEMENT ON THE MARKET 🥇
It's essential to identify the best curcumin supplement from the vast array available. Factors like potency, purity, and bioavailability make a significant difference. While many tout their products as the best turmeric supplement, only a few can genuinely make that claim and Vimerson Health Turmeric Curcumin is part of this select group.
Looking at ratings, for many the best turmeric supplement 2023 highlighted the importance of organic ingredients and additional compounds that enhance absorption. That's where Bioperine, an extract from black pepper, comes in.
TURMERIC CURCUMIN AND JOINT HEALTH
UNLOCK THE POWER OF NATURE'S FINEST: CURCUMIN

Whether it's about boosting immunity or seeking joint relief, the turmeric curcumin dietary supplement is unparalleled. At the core of our best turmeric supplement is the harmonious pairing of turmeric and curcumin. Together, they unleash a wave of benefits that envelop your body with wellness and relief.* This supplement stands as a beacon for those keen on holistic wellness.

WHY CURCUMIN AND TURMERIC?

Known as the golden spice, turmeric curcumin stands tall in the realm of natural supplements. From centuries-old traditions to modern scientific revelations, this blend has been celebrated for its ability to bolster the immune system and provide relief to occasional joint discomfort.* It's no wonder that the search for the best turmeric curcumin supplement has grown, and we're proud to present ours as a top contender.
UNVEILING THE MAGIC OF BIOPERINE
BLACK PEPPER'S SECRET: BIOPERINE

To amplify curcumin's benefits, our formula contains Bioperine - a black pepper extract that significantly enhances absorption. This magic ingredient ensures that you're getting the full benefit of our turmeric curcumin with Bioperine with each dose.

WHY BIOPERINE?

When curcumin meets Bioperine, its bioavailability increases. This means that more curcumin gets absorbed into your bloodstream, maximizing the turmeric and black pepper supplement effectiveness. No more worries about wasted nutrients or diminished results. Every capsule ensures a potent dose that your body can use to its fullest potential.
WHY BIOPERINE MAKES A DIFFERENCE
While turmeric and curcumin are fantastic on their own, the human body doesn't absorb curcumin very effectively. Enter Bioperine. It enhances the absorption of curcumin by up to 2000%, ensuring that the body harnesses all the benefits of the turmeric curcumin supplement.*
WHY THIS TURMERIC CURCUMIN FORMULA STANDS OUT
PEERLESS PURITY

With a dedication to offering the best turmeric curcumin supplement, our turmeric is organic, ensuring you consume only nature's purest.

PRECISION PERFORMANCE

By amalgamating curcumin with bioperine, the supplement promises maximum intake of the vital compounds, amplifying benefits manifold.

TRUSTWORTHY TAG

From being the best-rated turmeric supplement to holding the badge of the highest-rated curcumin supplement, the blend's accolades speak for themselves.
SEALING THE DEAL: WHY MAKE THE SWITCH?
With health taking center stage in our lives, integrating a turmeric curcumin dietary supplement seems like a wise choice. But why? Simple: With promising research around its benefits and the power of turmeric curcumin with bioperine, it's a potent ally for joint and immune health.*
ABOUT THE COLOR OF TURMERIC
The color of Turmeric can vary with the seasons due to differences in growing conditions, such as sunlight exposure and temperature fluctuations. These environmental factors can influence the pigmentation of Turmeric, resulting in variations in its color throughout the year.
TOP BRAND

GMO FREE

QUALITY

GLUTEN FREE

MADE IN USA

INGREDIENTS TESTED
ℹ︎Frequently Asked Questions About Turmeric Curcumin
WHAT IS TURMERIC CURCUMIN GOOD FOR?

Turmeric Curcumin is commonly believed by some individuals to offer potential health benefits.* It is often used to support joint health, promote a healthy inflammatory response, and provide antioxidant support.* However, it's important to note that scientific evidence supporting these claims is limited, and individual results may vary. Consult with a healthcare professional for personalized advice regarding your specific health concerns.
IS CURCUMIN AND TURMERIC THE SAME THING?

Curcumin and Turmeric are related but not exactly the same. Turmeric is a plant, specifically the root of the Curcuma longa plant, and it contains various compounds, including curcumin. Curcumin is a naturally occurring chemical compound found in turmeric that has been studied for its potential health benefits.* While turmeric contains curcumin, it also contains other compounds, and the concentration of curcumin in turmeric is relatively low. It's important to note that scientific research on curcumin and turmeric is ongoing, and more studies are needed to fully understand their effects. Consult with a healthcare professional for personalized advice regarding your specific health concerns.
WHAT IS THE BEST TIME TO TAKE TURMERIC?

It is generally recommended to take Turmeric with a meal to enhance its absorption.* Taking Turmeric alongside food can help optimize its bioavailability and increase the chances of reaping potential benefits.* However, individual preferences and needs may vary, so consulting with a healthcare professional is advisable to determine the best timing and dosage for your specific situation.
WHAT IS THE BEST FORM OF TURMERIC TO BUY?

The best form of Turmeric to buy can depend on individual preferences and needs. Turmeric is available in various forms, including capsules, powders, and extracts. Each form has its advantages, and it's important to consider factors such as convenience, dosage accuracy, and personal preferences.

Capsules: Turmeric capsules provide a convenient and pre-measured dose for easy consumption.
Powder: Turmeric powder offers versatility, allowing it to be easily incorporated into various recipes and beverages.
Extracts: Turmeric extracts provide a concentrated form of curcumin, the active compound in Turmeric, offering a higher dose in a more convenient manner.
IS IT SAFE TO TAKE TURMERIC CURCUMIN EVERYDAY?

Taking turmeric curcumin supplements daily is generally considered safe for most people when taken in recommended doses. It's important to choose high-quality supplements from reputable manufacturers to ensure purity and potency. Remember to follow the recommended dosage instructions provided by the supplement manufacturer. It's always advisable to consult with a healthcare professional before starting any new supplement regimen, especially if you have any underlying health conditions or are taking medications.
HOW QUICKLY DOES TURMERIC WORK FOR INFLAMMATION?

Turmeric, particularly its active compound curcumin, has inflammation balance properties.* When taken as a supplement, its effects on inflammation balance can be noticed within a few weeks for some individuals. However, factors like dosage, absorption rate, and individual body responses can vary. Consistent intake, often combined with piperine (found in black pepper) to enhance absorption, yields the best results. It's important to consult a healthcare provider for personalized recommendations.
DOES TURMERIC CURCUMIN HELP WITH BELLY FAT?

Turmeric, with its active compound curcumin, has been studied for its potential inflammation balance and antioxidant properties.* While it can support metabolic health, there's no direct evidence that turmeric or curcumin specifically targets belly fat.* However, when paired with a balanced diet and exercise, it may provide additional metabolic benefits. It's essential to maintain realistic expectations and consult a healthcare provider for tailored advice.
WHAT IS THE MOST POWERFUL NATURAL ANTI-INFLAMMATORY?

One of the most powerful natural inflammation balance agents is turmeric, specifically its active compound curcumin.* Turmeric has been traditionally used in Ayurvedic medicine for centuries and is now backed by numerous studies highlighting its inflammation balance effects.* While there are other natural substances with inflammation balance properties, turmeric stands out due to its extensive research and historical use.* Always consult with a healthcare provider before starting any supplement.
DOES TURMERIC WORK FOR JOINT PAIN?

Turmeric, specifically its active component curcumin, has been studied for its potential inflammation balance properties.* Many individuals take turmeric supplements to help alleviate occasional joint discomfort related to inflammation.* Clinical studies have shown some positive results in relieving symptoms associated with occasional joint discomfort.* As with any supplement, it's essential to consult with a healthcare provider before starting a regimen to ensure it's appropriate for your individual needs.
WHAT IS THE BEST WAY TO TAKE TURMERIC FOR JOINT PAIN?

The best way to take turmeric for occasional joint discomfort is in the form of standardized curcumin supplements, which enhance absorption.* It's beneficial to choose a supplement that includes black pepper extract (piperine) to further improve curcumin absorption.* Always take with a meal, preferably one containing fats, to increase its bioavailability.* Consult with a healthcare provider for appropriate dosages and to ensure it's suitable for your individual health needs.
*These Statements have not been evaluated by the Food and Drug Administration. This product is not intended to diagnose, treat, cure or prevent any disease.
Why Vimerson 💚
JUST PREMIUM SUPPLEMENTS YOU CAN TRUST.
Made in the USA in a GMP-Certified Facility with Globally-Sourced ingredients. Non-GMO, Vegan, Gluten-free, Dairy-Free, Sugar-Free and Soy-Free. A convenient flip-top bottle for on-the-go nutrition.
All Vimerson Health products contain no hormones and no preservatives.