Regular price
Sale price
$22.97
Unit price
per
Sale
Sold out
✦ Main Benefits

IMPROVES SLEEP QUALITY. A Unique Combination of High Potency Melatonin, Vitamin B6, Magnesium, Calcium, and a Sleep Formula Proprietary Blend. Ingredients chosen to help Promote Restful Sleep. Wake up feeling Refreshed and ready to tackle the day.*
BALANCES STRESS. With Vitamin B6 to Regulate Neurotransmitters and Brighten your Mood. Promotes Relaxation, Calms the Mind, and Balances Stress. So you can Fall Asleep Faster, Stay Asleep Longer, and wake up on the right side of the bed.*
EXTRA STRENGTH SLEEPING AID FORMULA. With a Potent 10mg of Melatonin that Packs a Punch, you'll be lights out and Fast Asleep in no time. Our Sleep Aids Formula with Melatonin helps regulate your body's sleep-wake cycles.*
100% DRUG FREE. Need a little extra help falling asleep and thinking of turning to Sleeping Pills? Our Non-Habit Forming, Drug-Free Supplement is a great choice. Fall Asleep Quicker, Sleep for Longer, and Wake up Feeling Rested.*
PREMIUM SUPPLEMENT YOU CAN TRUST. Made in the USA in a GMP-Certified Facility with Globally-Sourced ingredients. Non-GMO, Gluten-free, Dairy-Free, Sugar-Free and Soy-Free. A convenient flip-top bottle for on-the-go nutrition.
✦ Is Good For

Individuals desiring improved sleep quality might find this supplement beneficial.* Melatonin is known to regulate the body's circadian rhythm, which controls sleep-wake cycles, helping to facilitate a restful night's sleep.*
People frequently under stress or experiencing mood fluctuations can consider this formula.* L-Tryptophan is an amino acid precursor to serotonin, a neurotransmitter associated with mood balance and overall well-being, potentially offering mood-stabilizing benefits.*
Those aiming to ensure smooth muscle and nerve function might appreciate the magnesium content.* Magnesium is vital for various cellular processes, particularly muscle relaxation and nerve impulse conduction, fostering overall muscular and neurological health.*
For individuals looking to optimize energy utilization in the body, Vitamin B6 is crucial.* This vitamin plays a significant role in converting food into energy and participates in neurotransmitter synthesis, promoting the body's efficient operation.*
People seeking a holistic approach to stress management can benefit from this blend.* The combination of ingredients, especially Magnesium and L-Tryptophan, can potentially support a relaxed and calm demeanor, helping the body and mind navigate occasional stressors with greater ease.*
Individuals wanting to support their brain health and cognitive function might explore the synergistic benefits of this supplement.* Vitamin B6 is known for its role in neurotransmitter synthesis and overall brain health, potentially enhancing mental clarity and focus.*
✦ How to Take

As a dietary supplement, take 2 capsules daily 20 to 30 minutes before bedtime or as directed by you healthcare practitioner.
✦ Ingredients

Per serving (2 capsules):

Vitamin B6 (as Pyridoxine HCl) 1.8mg
Calcium (as Calcium Carbonate) 17mg
Magnesium (as Magnesium Citrate) 13mg
Melatonin 10mg
Sleep formula proprietary blend 905mg

Other Ingredients: Hypromellose (Capsule), Magnesium Stearate, Silicone Dioxide.

Non-GMO, Gluten-free, Dairy-Free, Sugar-Free and Soy-Free.
✦ More Information

Each bottle contains 60 Capsules for 30-day Supply.
✦ Safety

Do not use if you are pregnant or breastfeeding. Consult your healthcare practitioner prior to use if you are under 18 years of age, if you have an existing medical condition, or if you are taking any medication. Discontinue use and contact your doctor if you experience any adverse reactions. Contact your doctor if sleeplessness persists or worsen. Do not drive, operate machinery, or consume alcohol when taking this product. Remember that you should not take dietary supplements as a substitute for a balanced diet or a healthy lifestyle.

CALIFORNIA RESIDENTS
Click here for Proposition 65 warning.
VIEW FULL DETAILS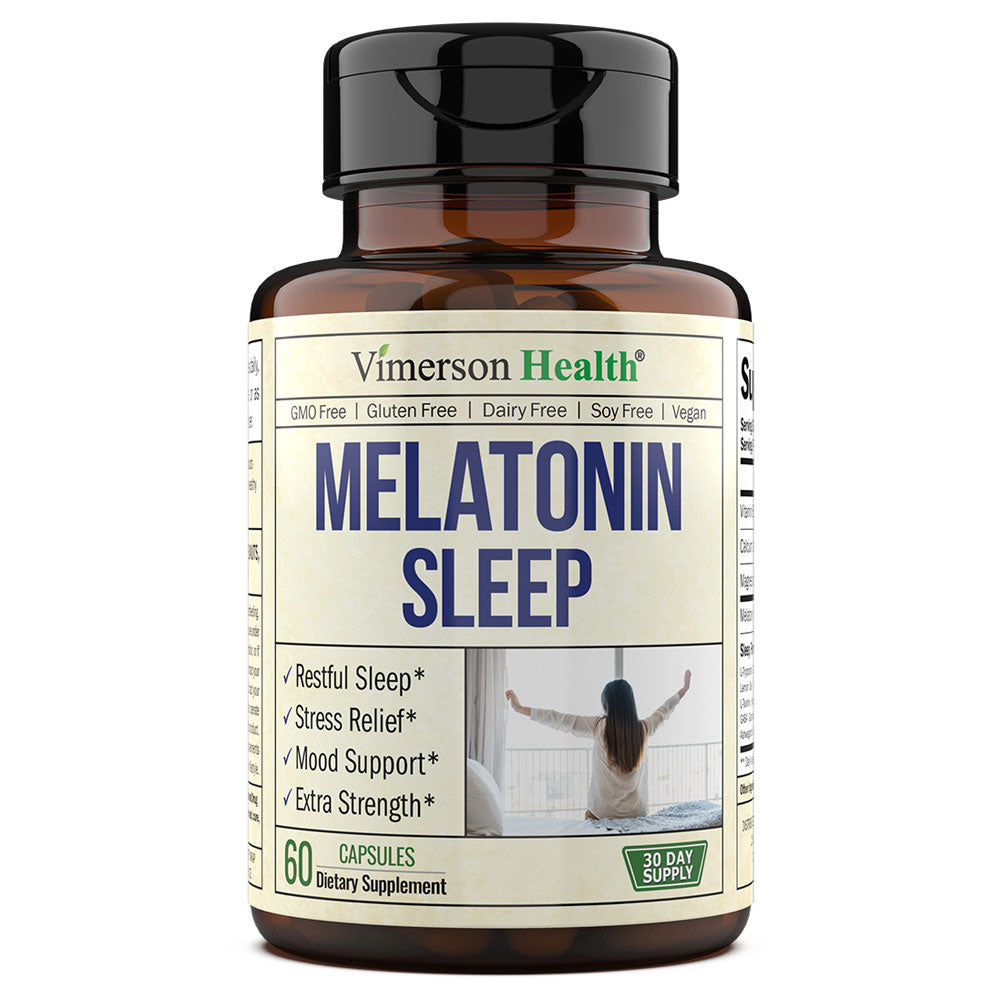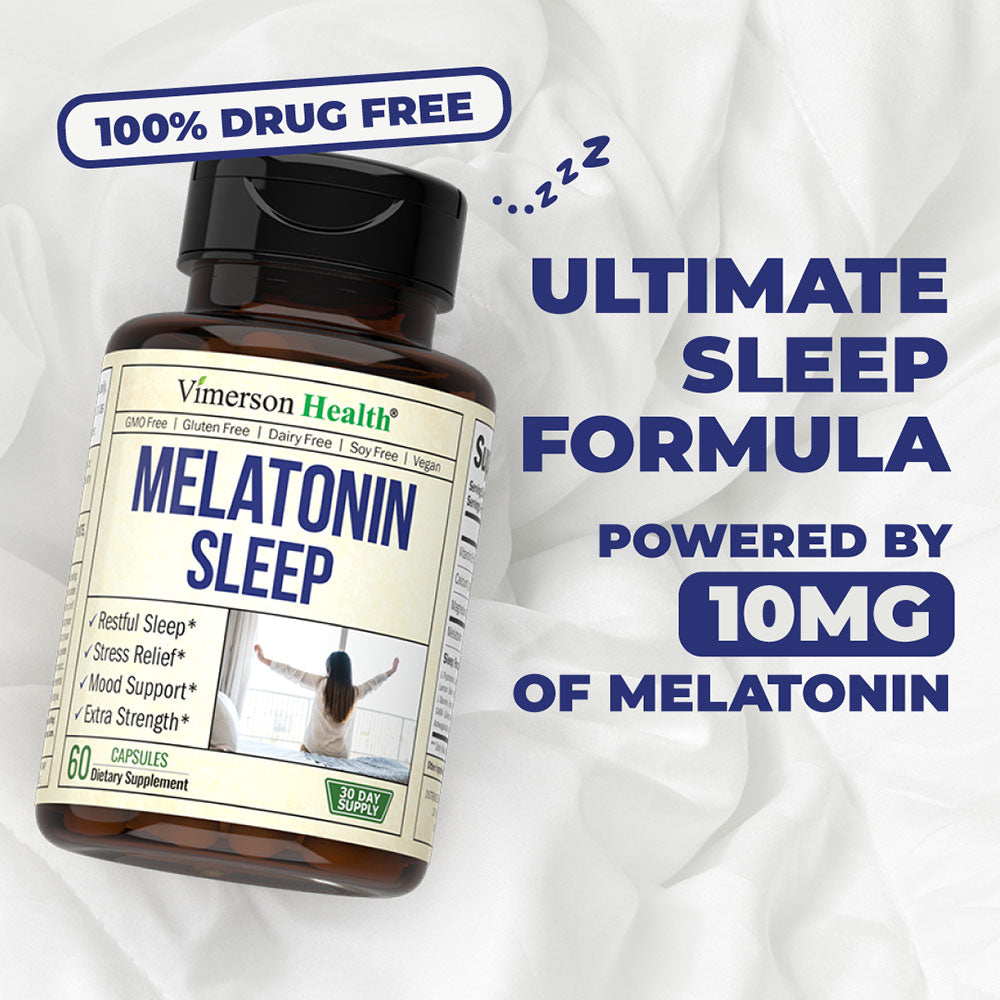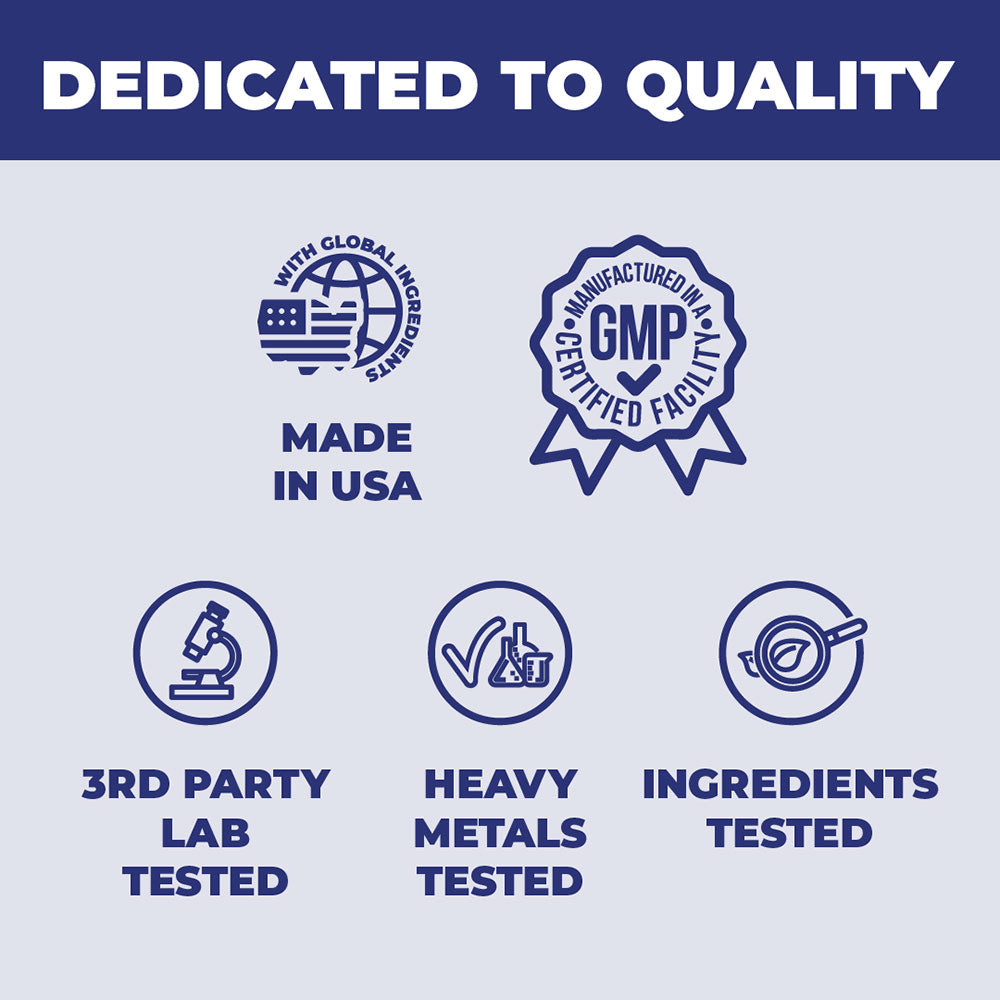 THE RELEVANCE OF SLEEP SUPPLEMENTS
Remember those nights tossing and turning, even though you were exhausted? That's where sleep aids, like the best melatonin for sleep, come into play, bridging the gap between tiredness and peaceful slumber.*
MELATONIN SLEEP SUPPLEMENT: YOUR BEST ALLY FOR RESTFUL NIGHTS
Tired of tossing and turning each night? Are over-the-counter sleep aids not delivering as promised? It's time to discover the best melatonin sleep aid that not only promises but also delivers a restful slumber.* Introducing the Melatonin Sleep Supplement with Vitamin B6, Magnesium, L-Tryptophan, Chamomile, and Ashwagandha - a harmonious blend designed for mood elevation, stress reduction, and inducing quality sleep.*
6 KEY INGREDIENTS IN THE SUPPLEMENT
1. MELATONIN: THE STAR OF THE SHOW

Central to this supplement is melatonin, often referred to as the "sleep hormone."* Melatonin's primary role is to regulate night and day cycles or sleep-wake cycles.* In our modern world, natural melatonin production can be disrupted. By using melatonin sleep supplements, you can balance this crucial hormone.* Whether you're looking for melatonin for jet lag or melatonin to help sleep, it's the primary ingredient that has been a go-to for many.*

2. THE MAGIC OF VITAMIN B6

Vitamin B6 is not just a supporting actor but a star in its own right.* It plays a critical role in serotonin production, a precursor to melatonin.* Melatonin with vitamin B6 is a combination that ensures you not only restful sleep but stay asleep, waking up refreshed.* No wonder many consider it a vital component in the best melatonin supplement.*

3. MAGNESIUM: MORE THAN JUST A MINERAL

Magnesium, often paired with B6 & magnesium supplements, acts as a natural relaxant.* It's not merely about muscle relaxation, but it preps the body for sleep.* When combined with melatonin, like in melatonin magnesium supplements, it amplifies the effect.* Have you ever wondered about the synergy of magnesium and melatonin together for sleep? It's a blend crafted by nature and backed by science.*

4. L-TRYPTOPHAN: BEYOND THANKSGIVING

Beyond the post-turkey dinner drowsiness, L-Tryptophan plays a pivotal role in sleep.* As an amino acid, it's converted into serotonin, which subsequently turns into melatonin.* So when you see tryptophan and melatonin together, know it's a dynamic duo, each enhancing the other's role.*

5. CHAMOMILE: NATURE'S GENTLE EMBRACE

Chamomile isn't just for teas; it's one of the best herbal sleep aids around.* As an herbal sleep aid, it has a rich history of being nature's gentle sedative.* When paired with melatonin, you're looking at one of the best natural sleep aids, providing both immediate and long-term benefits.*

6. ASHWAGANDHA: ANCIENT WISDOM FOR MODERN TIMES

Last, but certainly not least, Ashwagandha. This ancient herb, known for its adaptogenic properties, aids in managing stress.* When you mix ashwagandha and melatonin, it's like combining relaxation with a sleep trigger.* No wonder this combination has surged as one of the top natural sleep medications.*
A WORLD OF RESTFUL SLEEP AWAITS
With our sleep aid melatonin, embrace a world where restful nights are the norm, not the exception.* Dive into tranquility, mood enhancement, and stress reduction - all bundled into one potent supplement.* Your search for the best melatonin supplement ends here. Welcome to the new era of sleep.
THE HERBAL INFUSION: CHAMOMILE & ASHWAGANDHA WITH MELATONIN
CHAMOMILE: THE TRADITIONAL SLEEP PROMOTER

For centuries, Chamomile has been used as an herbal sleep aid.* Its calming properties not only make it one of the best natural sleep aids but also a pleasant addition to our sleep supplement, enhancing its efficacy.*

ASHWAGANDHA: THE STRESS BUSTER

Ashwagandha and melatonin together create a blend that's not just for deep sleep but also for stress alleviation.* Ashwagandha, an ancient medicinal herb, is renowned for reducing stress, supporting energy, and enhancing focus.* When coupled with melatonin, the results are amplified, leading to a rejuvenating sleep experience.*
OTHER NOTABLE HERBAL INGREDIENTS
Beyond chamomile, there are other herbs known for sleep support such as lemon balm, which when combined as melatonin with lemon balm, adds another layer of relaxation.* Also, melatonin and theanine, an amino acid found in tea leaves, work in synergy for improved sleep quality.*
THE SYNERGY OF MELATONIN AND OTHER NATURAL INGREDIENTS
ASHWAGANDHA AND MELATONIN

Ashwagandha, a revered adaptogen, complements melatonin beautifully.* The combination of melatonin and ashwagandha can offer enhanced sleep quality while promoting calmness and reducing stress.*

MAGNESIUM AND MELATONIN

Another dynamic duo, melatonin and magnesium together for sleep, can enhance the depth and duration of sleep.* Magnesium and melatonin, when paired, can combat issues like nighttime leg cramps.*

MELATONIN WITH VITAMIN B6

Vitamin B6 plays a vital role in producing melatonin naturally in the body.* Therefore, supplements that combine melatonin vitamin B6 ensure that the body is sufficiently equipped to both produce and utilize melatonin effectively.*
THE VEGAN TOUCH OF MELATONIN SLEEP SUPPLEMENT
For those seeking a cruelty-free option, vegan melatonin supplement ensure peace of mind and body. You can rest easy, knowing that your sleep aid aligns with your ethical choices.*
BENEFITS OF COMBINING THESE INGREDIENTS
1. SYNERGISTIC SLEEP PROMOTION

When ingredients such as melatonin, ashwagandha, and magnesium come together, they complement each other in promoting deep, restful sleep.* Think of it as a relay race. Magnesium starts by relaxing the muscles, ashwagandha reduces the stress levels, and finally, melatonin carries the baton across the finish line, signaling the body it's time to sleep.* The resultant effect? A night of sleep so profound that it makes you wonder if this isn't the best melatonin for adults you've ever tried.*

2. EXTENDED DURATION OF SLEEP

Melatonin ensures you fall asleep, but the inclusion of L-Tryptophan and chamomile ensures the sleep is long-lasting.* How often have you drifted into sleep, only to wake up hours before your alarm? This blend addresses just that, ensuring not just sleep initiation, but maintenance.* It's the natural sleep aid you can take every night, guaranteeing you wake up refreshed.*

3. MOOD AND STRESS REGULATION

Beyond sleep, this potent mix offers emotional balance.* Ashwagandha is renowned for its adaptogenic properties, aiding in managing stress. Combine that with Vitamin B6, which aids in serotonin production (the feel-good hormone), and you have a formula that not only guarantees a good night's sleep but also ensures you wake up with a positive mood.*

4. NATURAL AND GENTLE ON THE BODY

Many synthetic sleep aids come with a drowsy hangover.* But when you're looking at herbal sleeping tablets or natural sleeping pills, such as this mix, you're assured of a gentle effect.* The blend ensures you wake up refreshed, without the grogginess associated with over-the-counter sleep medications.

5. REDUCED DEPENDENCE

The beauty of this combination is that it's not about creating a dependency.* Ingredients like chamomile and ashwagandha have been used for centuries, not just as sleep aids, but as general tonics for well-being.* So, while they aid in sleep, they also provide holistic health benefits, ensuring you don't become overly reliant on them just for sleep.*

6. ENHANCED ABSORPTION AND EFFICACY

Pairing melatonin with lemon balm or melatonin and theanine, and similar combinations, enhances the bioavailability of these ingredients.* This means the body can absorb and use them more efficiently.* So, you're not just getting a potent dose, but also ensuring your body can utilize it to the fullest.*
ACHIEVING RESTFUL NIGHTS AND BRIGHTER DAYS
The search for the top-rated melatonin or even the strongest melatonin might end with this all-inclusive melatonin sleep supplement.* With a blend of vitamins like vitamin b6 magnesium supplement and herbs, it's designed not just to induce sleep but also to improve overall sleep quality.*
Whether you're looking for melatonin to help sleep or a comprehensive solution to tackle mood and stress, this supplement is a game-changer.* So, why wait? Experience the blend and relish the serene nights and energetic mornings that follow.* Sleep tight!
TOP BRAND

GMO FREE

QUALITY

GLUTEN FREE

MADE IN USA

INGREDIENTS TESTED
ℹ︎Frequently Asked Questions About Melatonin Sleep
IS IT SAFE TO TAKE MELATONIN EVERY NIGHT?

Melatonin is a natural sleep aid produced by the body, and many individuals use melatonin supplements to regulate sleep patterns, especially in cases of jet lag or irregular sleep schedules.* While it's generally safe for most adults for short-term use, if you're considering taking melatonin nightly, it's essential to consult with a healthcare provider to ensure it aligns with your specific health needs.*
WHAT IS MELATONIN SUPPLEMENT GOOD FOR?

Melatonin is a hormone naturally produced in the body that regulates sleep-wake cycles.* As a melatonin supplement, it is commonly used to adjust sleep-wake cycles in people with jet lag or provide a natural sleep aid for those having difficulty sleeping.* It can help improve sleep quality and duration.* Before starting a melatonin supplement, always consult with a healthcare provider.*
WHEN SHOULD YOU TAKE MELATONIN?

Melatonin should be taken 30 minutes to an hour before bedtime to aid in sleep onset.* It's particularly beneficial for individuals experiencing jet lag, shift work, or other disruptions to their natural sleep-wake cycle.* While melatonin is a natural sleep aid, it's essential to consult with a healthcare provider about the appropriate dose and timing, especially if considering long-term use or combining it with other sleep aid supplements.*
HOW LONG WILL 10 MG OF MELATONIN MAKE YOU SLEEP?

10 mg of melatonin primarily helps in initiating sleep. However, the duration of sleep varies among individuals and isn't solely determined by melatonin intake. When looking for sleep support, consider our best melatonin for sleep, is combine it with complementary supplements such as ashwagandha, vitamin b6 and magnesium. Individual needs and preferences play a significant role in the effectiveness of sleep supplements.*
IS MELATONIN BETTER THAN SLEEPING PILLS?

Melatonin and sleeping pills serve different purposes. While melatonin, a natural sleep aid, helps regulate the sleep-wake cycle, sleeping pills have a sedative effect.* Many prefer best melatonin for sleep as it's a natural hormone the body produces.* It's essential to determine personal needs and consult relevant literature when deciding between melatonin and sleeping pills.*
DOES MELATONIN AND ASHWAGANDHA WORK?

Both melatonin and ashwagandha are known to support sleep and relaxation.* Melatonin is a hormone that regulates the sleep-wake cycle, while ashwagandha, a traditional herb, helps combat stress and promotes relaxation.* When used appropriately, they can complement each other to enhance sleep quality and overall well-being.* However, individual responses may vary, and it's advisable to monitor one's reactions when combining supplements.*
WHY TAKE VITAMIN B6 WITH MELATONIN?

Taking vitamin B6 with melatonin can enhance the efficacy of melatonin.* Vitamin B6 plays a crucial role in the synthesis of neurotransmitters, which can influence melatonin production.* Moreover, vitamin B6 aids in converting tryptophan to serotonin, a precursor to melatonin.* Thus, combining them may provide synergistic benefits for improved sleep quality and regulation of sleep-wake cycles.*
CAN YOU TAKE MAGNESIUM MELATONIN AND ASHWAGANDHA TOGETHER?

Yes, you can take magnesium, melatonin, and ashwagandha together.* Many individuals combine these to support relaxation and promote sleep.* Magnesium plays a role in muscle relaxation and neurotransmission.* Melatonin is a natural sleep hormone, and ashwagandha is an adaptogen that can help manage stress.* However, it's essential to ensure appropriate dosages and monitor how the combination affects your body.
HOW LONG BEFORE BED SHOULD I TAKE MELATONIN AND MAGNESIUM?

For optimal sleep support, it's generally recommended to take melatonin 30 minutes to an hour before bedtime.* Magnesium can be taken around the same time frame, or even earlier in the evening, as it helps with muscle relaxation and stress reduction.* Always adhere to the suggested dosages and monitor your body's response to determine the best timing for you.
WHICH IS BETTER FOR SLEEP MELATONIN OR L TRYPTOPHAN?

Both melatonin and L-tryptophan are natural substances that can support sleep.* Melatonin directly influences the sleep-wake cycle, making it especially useful for issues like jet lag.* L-tryptophan, on the other hand, is an amino acid that the body converts to serotonin and then melatonin, helping regulate mood and sleep.* The choice between them largely depends on individual needs and responses.* It's essential to consult a healthcare professional for personalized advice.
*These Statements have not been evaluated by the Food and Drug Administration. This product is not intended to diagnose, treat, cure or prevent any disease.
Why Vimerson 💚
JUST PREMIUM SUPPLEMENTS YOU CAN TRUST.
Made in the USA in a GMP-Certified Facility with Globally-Sourced ingredients. Non-GMO, Vegan, Gluten-free, Dairy-Free, Sugar-Free and Soy-Free. A convenient flip-top bottle for on-the-go nutrition.
All Vimerson Health products contain no hormones and no preservatives.