Regular price
Sale price
$23.97
Unit price
per
Sale
Sold out
✦ Main Benefits

Do you need an overall body health boost? Vimerson Health's Spirulina Chlorella supports cardiovascular health and oxidative balance within the body;* Helps maintain overall health and healthy lifestyle, in addition to assisting the detoxification processes within the body; * Assists in maintaining your optimum health;* Enhances energy and supports your mood.*

Superior nutritional profile: Spirulina has all 9 types of amino acids required for a healthy and balanced diet & lifestyle, promoting general body wellbeing;* It also supports the metabolic processes in the body;* Spirulina taken consistently can assist in the maintenance of cholesterol and blood pressure levels already within the normal range.*

Combined power of algae: Spirulina & Chlorella are 2 of the oldest known food sources on Earth; As 2 nutrient rich types of algae they provide several health benefits to your body; These majestic plants work in symbiotic tandem to support the body's natural cleansing process; may improve gut health* and in addition can play an important role in mental wellbeing maintenance, as it contains an amino acid that supports the production of seratonin in the brain.*

Our promise to you: Each batch we produce is packed with love and real ingredients for real results; Vimerson Health's Spirulina & Chlorella is formulated safely and gently with no dangerous extraction processes or harsh chemicals; It contains zero soy, sugar, GMOs, gluten, and dairy; You're getting more goodness per capsule than anyone else.

*These Statements have not been evaluated by the Food and Drug Administration. This product is not intended to diagnose, treat, cure or prevent any disease.
✦ Is Good For

Individuals who are looking to support their cardiovascular health may find Spirulina & Chlorella Supplement beneficial.*
For those interested in maintain cholesterol levels already in the healthy range, this supplement may be considered.*
Some people believe that Spirulina & Chlorella Supplement can provide antioxidant support, which is important for overall cardiovascular health.*
Individuals who are looking to maintain healthy blood pressure levels within the normal range may consider incorporating this supplement into their wellness routine.*
Spirulina & Chlorella Supplement is often sought after for its potential nutrient content, including essential vitamins, minerals, and phytonutrients that support overall cardiovascular well-being.*

It's important to note that dietary supplements are not intended to replace a balanced diet or serve as a substitute for medical advice. Individuals should consult with their healthcare professional before starting any new dietary supplement, especially if they have any underlying health conditions or are taking medications.
✦ How to Take

As a dietary supplement, take two (2) capsules in the morning with a meal, or as directed by your healthcare professional. For those with a more sensitive constitution, we recommend taking one (1) capsules twice per day with a meal.
✦ Ingredients

Per serving (2 capsules):

Organic Spirulina Algae (Arthrospira platensis) 400mg
Organic Chlorella Algae (Chlorella pyrenoidosa) 400mg


Other Ingredients: Hypromellose Capsule, Rice Flour, Ascorbyl Palmitate, Silica.

Non-GMO, Vegan, Gluten-free, Dairy-Free, Sugar-Free and Soy-Free.
✦ More Information

Each bottle contains 60 Capsules for 30-day Supply.

SPIRULINA
It is a multi-celled organism that grows in both fresh and salt-water. As one of the oldest lifeforms on Earth, it is a type of cyanobacteria, which is a family of single-celled microbes, commonly referred to as blue-green algae. Ancient Aztec and African cultures are known to have consumed this plant, and it's health benefits are still continuing today. Spirulina contains protein, Vitamin B1, B2, B3, B6, B12, E, K, Copper, Iron, Magnesium, Potassium, Manganese, Calcium, Phosphorus, Sodium, Selenium, Omega 6 & Omega 3 fatty acids, Beta-carotene, linoleum acid, chlorophyll, and trace amounts of almost every other nutrient required for normal body functions and as part of a healthy balanced diet.

CHLORELLA
Belongs to a genus of single-celled, microscopic green freshwater algae, native to Taiwan and Japan. It is also one of the oldest known species on the planet and has a unique ability to reproduce 8 times a day, making it a highly sustainable nutrient source. Chlorella contains 40 different nutrients, and hundreds of micronutrients, comprised of: protein, Vitamins A, B1, B2, B3, B6, B12, C, E, K, Iron, Magnesium, Zinc, Copper, Potassium, Calcium, Phosphorus, Sodium, Manganese, Folic Acid, Omega 3 fatty acids, and fiber in large quantities. It has double the Chlorophyll of Spirulina and contains a phytonutrient called Chlorella Growth Factor. This is a nucleotide-peptide complex found in the nucleus of the chlorella cell It has become well known for its ability to help the body's detoxification processes.

*These statements have not been evaluated by the Food and Drug Administration. This product is not intended to diagnose, treat, cure or prevent any disease.
✦ Safety

Do not exceed the recommended dose. Always consult your healthcare professional before taking this or any dietary supplement, especially if you are under 18, pregnant and/or a nursing mother. You should also consult a professional if you are taking medications or if you have an existing medical condition. Discontinue use and consult your doctor if adverse reaction occurs. Remember that you should not take supplements as a substitute for a varied balanced diet or healthy lifestyle.

CALIFORNIA RESIDENTS
Click here for Proposition 65 warning.
VIEW FULL DETAILS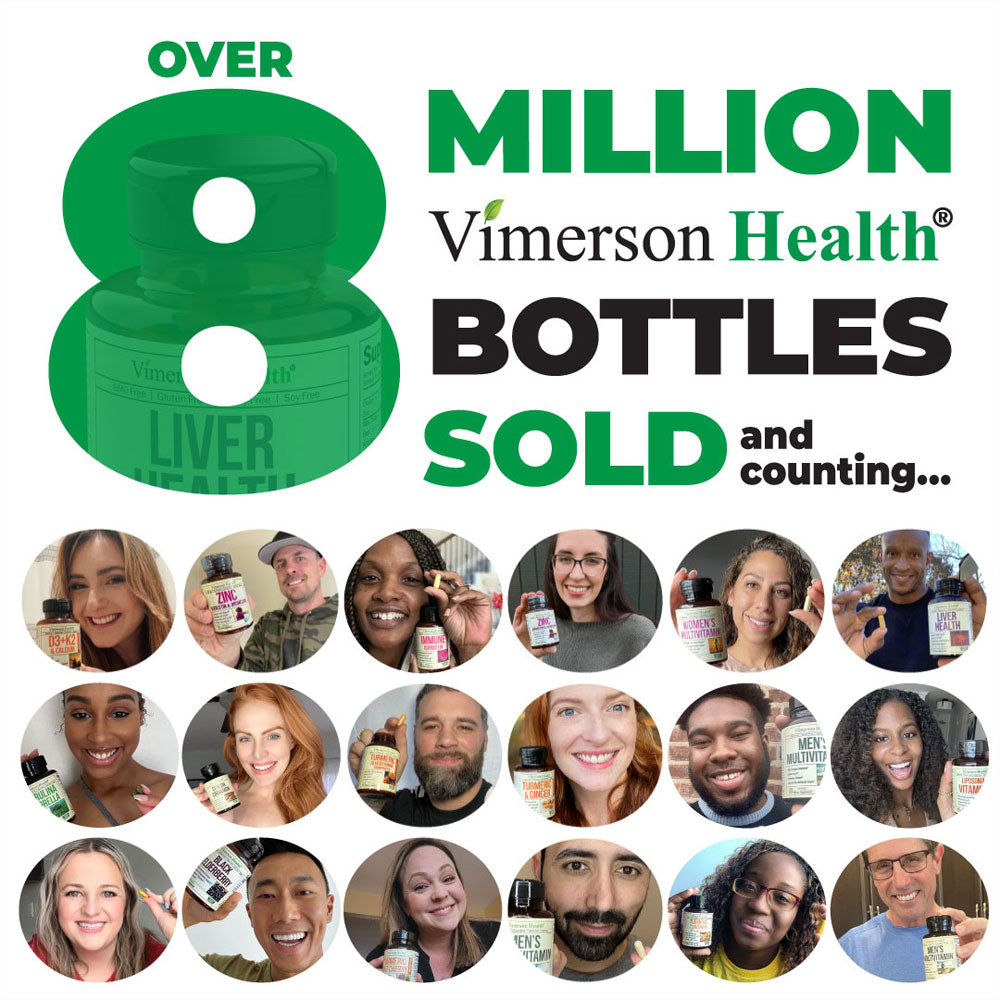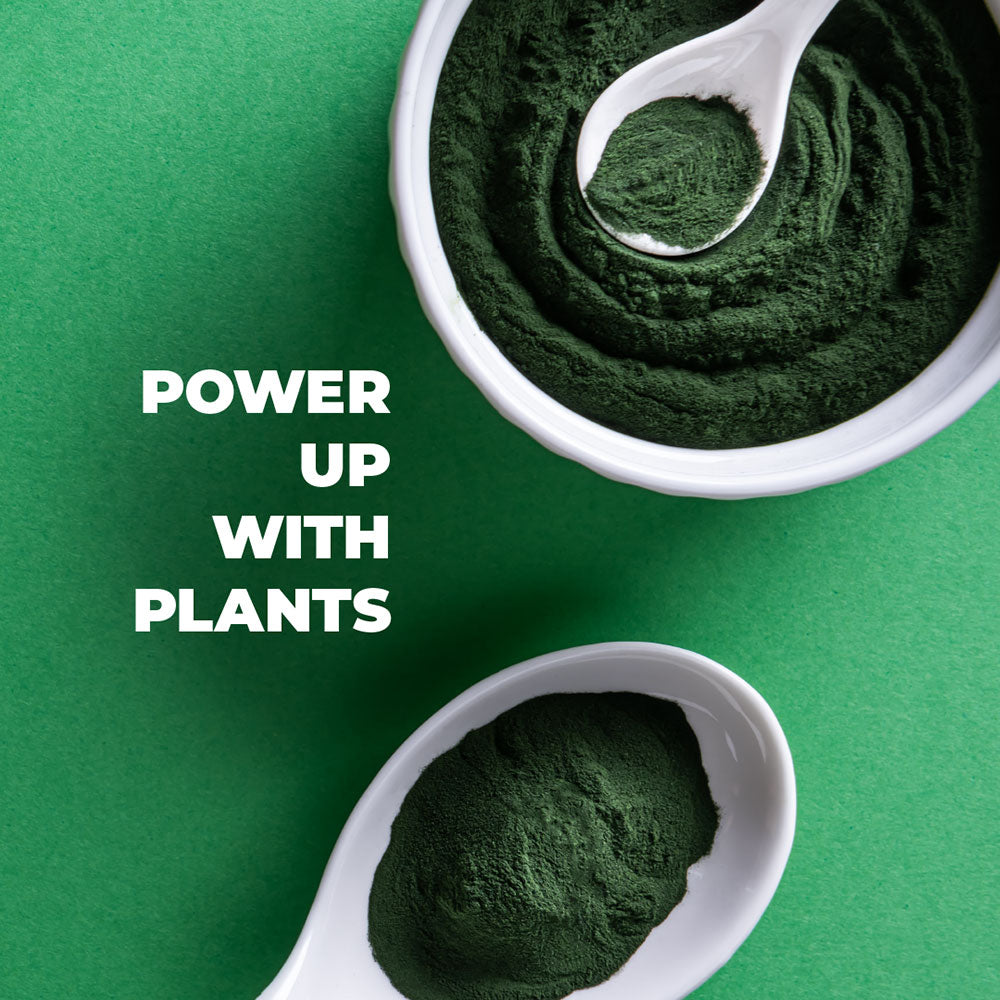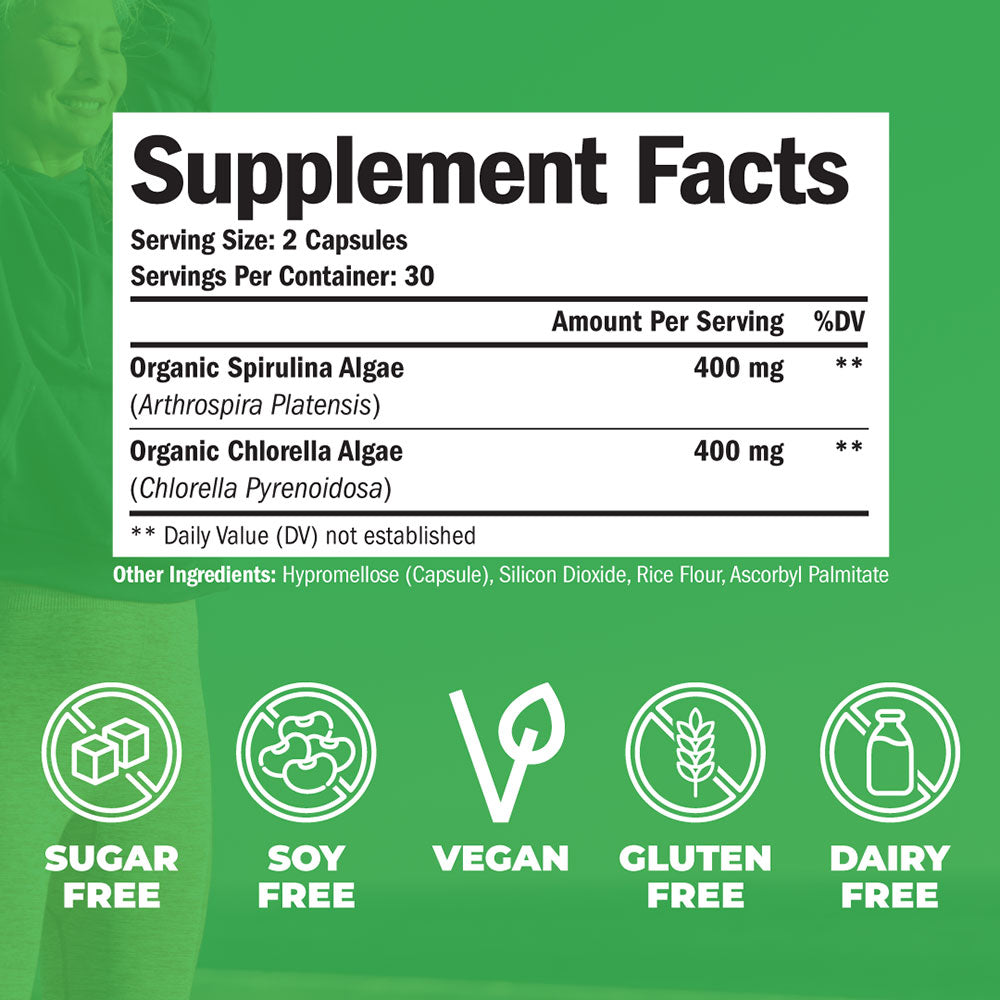 SPIRULINA AND CHLORELLA: NATURE'S POWERHOUSES FOR HEART HEALTH
In the realm of natural health supplements, spirulina and chlorella are making waves for their myriad of health benefits. Specifically, their potential to support cardiovascular health is attracting attention.
THE ALLURE OF SPIRULINA & CHLORELLA
🌿 SUPPORTS THE IMMUNE SYSTEM*

🌿 MAINTAINS CARDIOVASCULAR HEALTH*

🌿 HELPS SUPPORT THE OXIDATIVE BALANCE*

🌿 SUPPORTS OVERALL HEALTH & ACTIVE LIFESTYLE*
WHY OPT FOR SPIRULINA & CHLORELLA TOGETHER?
Often, you'll find chlorella and spirulina tablets separated in two different supplements. Our combination ensures you're reaping the benefits of taking spirulina while also harnessing chlorella's detoxifying prowess.
THE POWER DUO: SPIRULINA & CHLORELLA FOR CARDIOVASCULAR HEALTH
SPIRULINA: THE ULTIMATE SUPERFOOD

Derived from blue-green algae, spirulina stands out as a nutritional powerhouse. Regular consumption of the best spirulina capsules or even organic spirulina powder can offer a bevy of benefits, particularly for cardiovascular health.*
Many marvel at the extensive benefits of taking spirulina. As a nutrient-rich algae, it's not just a simple food supplement. The spirulina food supplement benefits go beyond the norm. Moreover, organic spirulina powder benefits extend to heart health, weight management, and overall well-being. The allure of spirulina for losing weight has also been a topic of interest. Furthermore, those interested in managing cholesterol might be intrigued to learn about spirulina cholesterol benefits.*

CHLORELLA: NATURE'S DETOX AGENT

Like its counterpart, Chlorella is no less impressive. Often hailed as the best chlorella for its extensive health benefits, it's seen as a vital superfood. The chlorella tablets benefits are manifold, from promoting fat loss - hence the interest in chlorella fat loss - to offering essential vitamins.*
Distinguishing between products can be challenging. However, the best chlorella tablets or the top-rated chlorella will usually be organic and free from contaminants.
Chlorella, a freshwater algae, is renowned for its detoxifying properties. Those seeking the best chlorella supplement will find that it not only promotes fat loss but also supports cardiovascular health.*
CHOOSING THE RIGHT SUPPLEMENT: ORGANIC IS OPTIMAL
We opt for organic spirulina and chlorella capsules. These ensure you're getting the purest form without any harmful additives. The organic spirulina tablets and organic chlorella tablets benefits are truly unparalleled in ensuring optimal health.
THE MAIN BENEFITS OF SPIRULINA AND CHLORELLA
A TREASURE TROVE OF NUTRIENTS

Both Spirulina and Chlorella are chock-full of vitamins, minerals, and proteins. These include essential fatty acids and antioxidants that play a vital role in maintaining heart health. Notably, spirulina vitamins and chlorella vitamins can fulfill a wide range of daily nutrient requirements.*

HEART HEALTH MAXIMIZERS

Regular intake of spirulina and chlorella supplements can work wonders for your cardiovascular system. Spirulina, in particular, has been associated with managing cholesterol levels, making it a valuable asset for those aiming to keep their heart in top shape. Spirulina helps to maintain cholesterol levels already in the healthy range, combined with chlorella's potential in fat loss, offers a dual approach to heart health.*

WEIGHT MANAGEMENT WONDERS

Spirulina for losing weight has gained traction due to its protein-rich composition, making it an ideal supplement for those on a weight loss journey. Chlorella weight management benefits also come to the fore, assisting in overall weight regulation. When combined, spirulina and chlorella powder can be a formidable weight management duo.*

PURITY AND POTENCY

While there are multiple options available in the market, it's crucial to opt for the best spirulina capsules. Organic spirulina tablets benefits are pronounced due to the absence of any synthetic additives. Similarly, the benefits of taking spirulina in its most unadulterated form can be significant.*
INCORPORATING SPIRULINA AND CHLORELLA INTO YOUR DIET
When consuming spirulina and chlorella supplements, you're intaking a range of vitamins. These include B-complex vitamins, particularly B1 (thiamine), B2 (riboflavin), and B3 (niacin). Additionally, spirulina contains vitamin E and beta-carotene, which the body can convert to vitamin A. Both algae are nutrient-dense, making them beneficial additions to a balanced diet.*
SPIRULINA & CHLORELLA: THE SUPERFOODS FOR CARDIOVASCULAR WELL-BEING
TOP FORMULA

Combining two nutrient-dense superfoods, Spirulina Chlorella packs a punch. Expect a healthy dose of protein, B-vitamins, carotenoids, antioxidants, copper, iron, magnesium, potassium, manganese and more in every serving.*

CLEAN GREEN ENERGY

No nonsense. Each serving contains two superfoods - Organic Spirulina and Organic Chlorella. You don't have to worry about synthetic fertilizers, prohibited pesticides or any other nasties.

ELEVATE YOUR ANTIOXIDANTS

Gives your body the Antioxidant Support it needs. Helps Combat Free Radicals. Supports Optimal Cellular Health. Encourages Healthy Ageing. Formulated to help Boost your Body's Natural Defenses. Promotes Overall Health and Vitality.*
ORGANIC NUTRIENT DENSE SUPERFOOD
Packed with potent phytonutrients. These plant-based nutrients support everything from digestion to detoxification. Our premium supplement is the ultimate way to support your health and well-being.*
TOP BRAND

GMO FREE

QUALITY

GLUTEN FREE

MADE IN USA

INGREDIENTS TESTED
ℹ︎Frequently Asked Questions About Spirulina & Chlorella
WHAT IS CHLORELLA SPIRULINA GOOD FOR?

Chlorella and spirulina are nutrient-dense algae with potential health benefits.* They are rich in essential vitamins, minerals, and antioxidants.* Chlorella may support detoxification, immune function, and digestion.* Spirulina is known for its high protein content and may provide antioxidant and inflammation balance properties. Both may contribute to overall well-being, but individual experiences may vary. As with any dietary supplement, it is recommended to consult with a healthcare professional to determine if chlorella and spirulina align with your specific health goals and needs.
IS IT OK TO TAKE SPIRULINA AND CHLORELLA TOGETHER?

Yes, it is safe to take spirulina and chlorella together. Combining these two nutrient-rich algae can provide a comprehensive range of beneficial nutrients.* Spirulina offers high protein content and potential antioxidant properties, while chlorella may support detoxification and digestion.* Together, they can contribute to overall nutritional support.* However, as with any dietary supplement, it's important to follow the recommended dosage and guidelines provided by the manufacturer. If you have any specific concerns or medical conditions, it's advisable to consult with a healthcare professional.
HOW MANY SPIRULINA AND CHLORELLA TABLETS SHOULD I TAKE A DAY?

For optimal usage, it is generally recommended to take two tablets of Spirulina Chlorella per day. This recommended dosage allows for the potential benefits of these nutrient-rich algae to be effectively incorporated into your daily routine.*
HOW LONG DOES IT TAKE CHLORELLA TO REMOVE HEAVY METALS?

Chlorella is known for its potential ability to aid in the natural detoxification process.* However, the duration required to address specific concerns can depend on various factors, including the individual's overall health, the extent of exposure, and the dosage and frequency of chlorella supplementation.* In general, it may take between 6 and 8 weeks of consistent use to see potential benefits.* It is advisable to consult with a healthcare professional or a registered dietitian to discuss your specific needs and determine an appropriate timeline for incorporating chlorella into your detoxification efforts.
DOES CHLORELLA AND SPIRULINA DETOX THE BODY?

Chlorella and spirulina are often associated with potential detoxification benefits.* Both algae contain various nutrients and antioxidants that may support the body's natural detoxification processes.* They are believed to help eliminate toxins and promote overall wellness.* While individual experiences may vary, incorporating chlorella and spirulina into a balanced and healthy lifestyle, alongside proper nutrition and hydration, can contribute to overall well-being.* It's important to note that these algae should be used as part of a holistic approach to wellness, and consulting with a healthcare professional is recommended for personalized guidance.
WHAT HAPPENS WHEN YOU TAKE CHLORELLA EVERYDAY?

Taking chlorella daily can provide a boost in essential nutrients like proteins, vitamins, and minerals.* Regular consumption may support detoxification by binding to heavy metals and other toxins, potentially enhancing immune function and promoting digestive health.* However, as with any supplement, it's crucial to adhere to recommended dosages and consult with a healthcare provider to ensure it's appropriate for your individual needs.
WHAT IS THE BEST WAY TO TAKE SPIRULINA AND CHLORELLA?

The best way to consume spirulina and chlorella is in capsule form. Capsules offer a convenient and measured dose, which can help ensure consistent intake. They also mask the distinct taste of these algae, making them palatable for most individuals. As with any supplement, it's essential to follow the recommended dosage on the product label and consult with a healthcare provider before starting a new regimen.
WHAT IS THE BEST TIME TO TAKE SPIRULINA?

The best time to take spirulina is in the morning or early afternoon. Consuming it earlier in the day can provide you with a boost of energy and nutrients to support your daily activities. Taking it too late might interfere with sleep for some individuals due to its energizing properties. Always follow the recommended dosage on the product label and consult with a healthcare provider for personalized advice.
CAN YOU TAKE SPIRULINA WITH OTHER VITAMINS?

Yes, spirulina can be taken with other vitamins. Spirulina itself is a rich source of vitamins, minerals, and antioxidants. When combined with other supplements, it can enhance one's nutritional intake. However, it's essential to ensure that you're not exceeding recommended daily doses of any nutrients. Always consult with a healthcare provider before starting any new supplement regimen to ensure no contraindications or potential interactions.
Why Vimerson 💚
JUST PREMIUM SUPPLEMENTS YOU CAN TRUST.
Made in the USA in a GMP-Certified Facility with Globally-Sourced ingredients. Non-GMO, Vegan, Gluten-free, Dairy-Free, Sugar-Free and Soy-Free. A convenient flip-top bottle for on-the-go nutrition.
All Vimerson Health products contain no hormones and no preservatives.