Regular price
Sale price
$22.47
Unit price
per
Sale
Sold out
✦ Main Benefits

Feeling overwhelmed and on edge? Vimerson Health may help ensure you feel happy, energized and peaceful* with this perfectly combined daily multivitamin and mineral supplement; Our blend promotes relaxation and ease*, supports mood and nervous system*, boosts focus, concentration and memory* as well as enhances energy and well being.*

A flood of relief: This unique proprietary blend formulated with potent mood-supporting extracts to help you feel calmer and more relaxed;* We have selected carefully powerful effective ingredients, including Valerian, Ashwagandha, Hawthorn, Niacin, Gaba & St John's Wort, to name just a few.*

The solution: Finding the time to care for your health is difficult for many Americans today; And why wouldn't it be? Work, family, home, all these day-to-day tasks and duties keep piling up; Our cortisol levels rise and becomes unbalanced; Not only does our Stress Relief capsules strive to balance your nervous system, it also assists you in becoming more more focused and energized.*

Our promise to you: Each batch we produce is packed with love and real ingredients for real results; Vimerson Health's Stress Relief is formulated safely and gently with no dangerous extract processes; It is made with the utmost care and contains zero soy, sugar, GMOs, gluten, and dairy; You're getting more goodness per capsule than anyone else.

Gluten free & non-GMO: This, and all our products, are manufactured in the USA meeting GMP standards; Here at Vimerson Health we select only the highest quality herbs, minerals and vitamins for optimal potency and efficacy; Our standards of testing surpass any others on the market, ensuring that only the best result is delivered to you; Our advanced formula is suitable for men, women and seniors, and is lovingly compacted in veggie easy-to-swallow capsules.

*These Statements have not been evaluated by the Food and Drug Administration. This product is not intended to diagnose, treat, cure or prevent any disease.
✦ Is Good For

Individuals who experience occasional stress may find a Stress Relief Supplement beneficial in promoting relaxation.*
For those looking to support their overall well-being and maintain a sense of ease, this supplement may be considered.*
Some people believe that a Stress Relief Supplement can help support a calm and focused state of mind, contributing to brain health.*
Individuals who are looking to support their cognitive function and mental clarity during stressful periods may find this supplement helpful.*
A Stress Relief Supplement may be suitable for individuals who want to incorporate natural ingredients known for their potential calming and soothing effects into their wellness routine.*

It's important to note that dietary supplements are not intended to replace a balanced diet or serve as a substitute for medical advice. Individuals should consult with their healthcare professional before starting any new dietary supplement, especially if they have any underlying health conditions or are taking medications.
✦ How to Take

As a dietary supplement, take two (2) capsules once a day 30 minutes before a meal with a full glass of water, or as directed by your healthcare professional. For those with a more sensitive constitution, we recommend taking one (1) capsule per day 30 minutes before a meal with a full glass of water.
✦ Ingredients

Per serving (2 capsules):

Thiamin (Vitamin B1) (as Thiamin Mononitrate) 12mg
Riboflavin (Vitamin B2) 12mg
Niacin 28mg
Vitamin B6 (as Pyridoxine HCI) 8 mg, Biotin 300mcg
Pantothenic Acid (as Calcium Pantothenate) 16mg
Calcium (as Calcium Carbonate) 25mg
Magnesium (as Magnesium Oxide) 25mg
Zinc (as Zinc Oxide) 25mg
Potassium (as Potassium Gluconate) 25mg
Proprietary Blend: (Rhodiola Ext Sal 1% HPLC, Lutein 5%, Ashwagandha, Chamomile, Gaba, Lemon Balm, Skullcap, Hawthorn, Bacopa (Brahmi), Magnolia, Passion Flower, Valerian, L-Theanine, Oat Straw (Avena Sativa) 20:1, Mucuna Pruriens 14% HPLC, St. John's Wort, Hops, Griffonia Seed Ext 5-HTP) 830mg


Other: Vegetable Cellulose (veggie capsule), Rice Flour, Magnesium Stearate, Silicon Dioxide.

Non-GMO, Vegan, Gluten-free, Dairy-Free, Sugar-Free and Soy-Free.
✦ More Information

Each bottle contains 60 Capsules for 30-day Supply.

VIMERSON HEALTH - The Natural Advantage

SAFETY COMES FIRST - We believe our customers deserve quality products that are both effective and safe. From formulation and manufacturing to quality control, we adhere to the most steadfast industry standards.
PROUDLY MADE IN THE USA - Vimerson Health formulates and manufactures all its supplements in the United States, using global ingredients. Our customers trust us because they know all our manufacturing processes are performed with a commitment to the highest quality and safety.
HAPPY CUSTOMERS - We care deeply about our customers. That's why we are confident our Vimerson Health's STRESS RELIEF Supplement will help men and women of all ages lead a happier life.* Give our Vimerson Health's STRESS RELIEF Supplement a try; you have nothing to lose.
INVESTED IN HEALTH - At Vimerson Health, we believe everyone has the power to achieve great change. True change takes plenty of effort and sacrifice, and that is where we come in. Vimerson Health is committed to developing natural dietary supplements that give those in pursuit of happiness and health the advantage they are looking for.

Together, health is not a dream but a reality.
✦ Safety

Do not exceed the recommended dose. Always consult your healthcare professional before taking this or any dietary supplement, especially if you are under 18, pregnant and/or a nursing mother. You should also consult a professional if you are taking medications or if you have an existing medical condition. Discontinue use and consult your doctor if adverse reaction occurs. Remember that you should not take supplements as a substitute for a varied balanced diet or healthy lifestyle.

CALIFORNIA RESIDENTS
Click here for Proposition 65 warning.
VIEW FULL DETAILS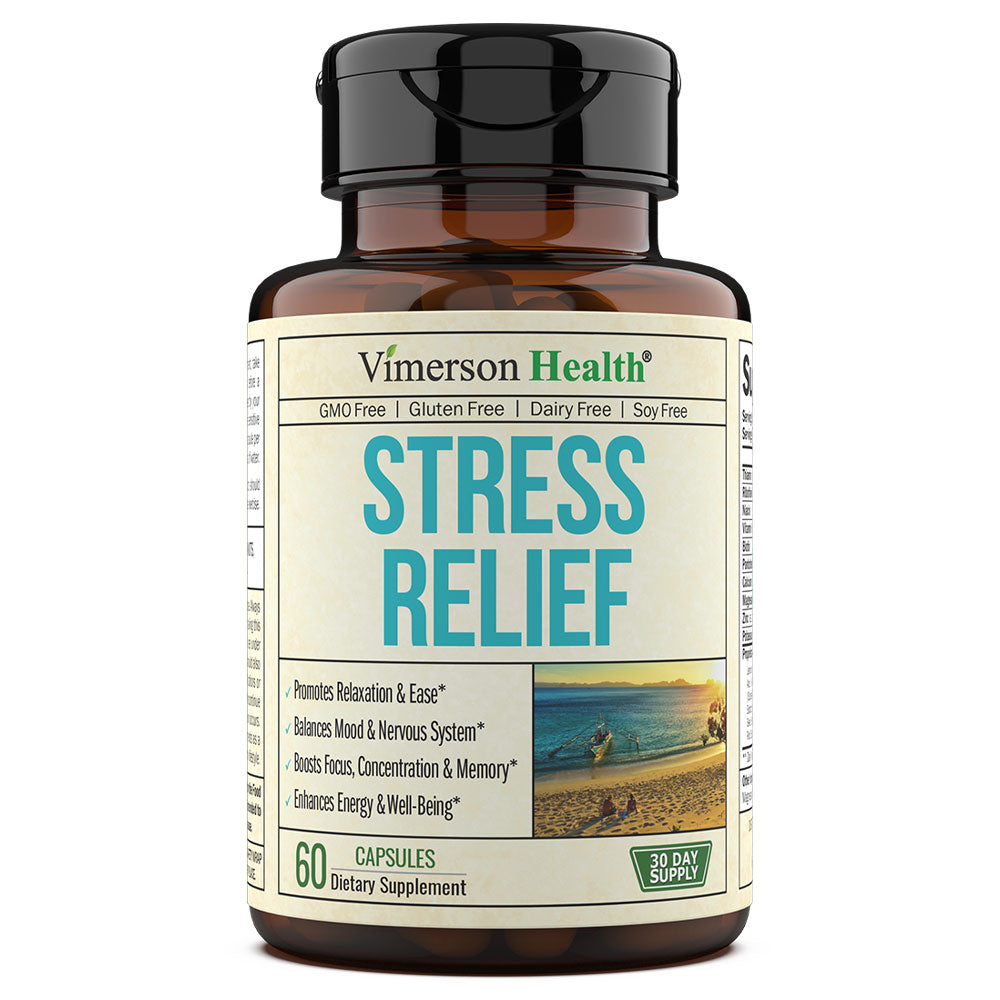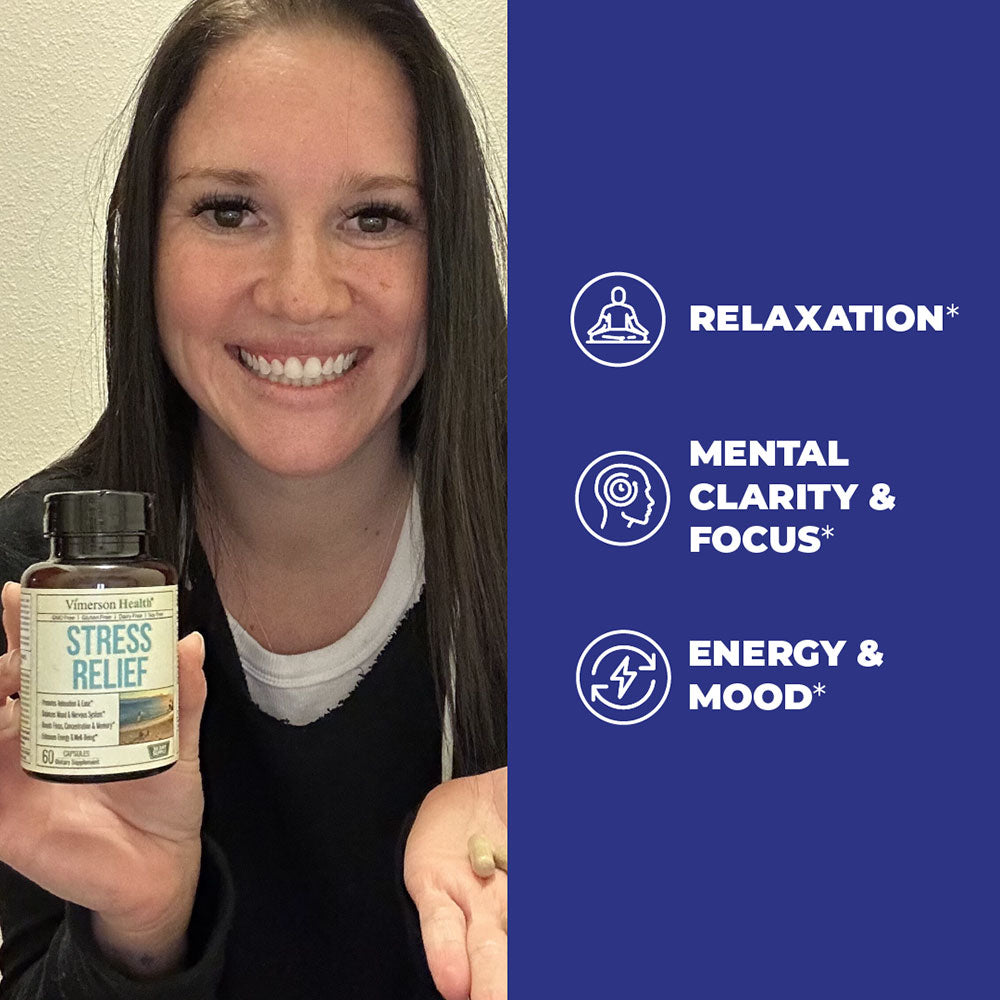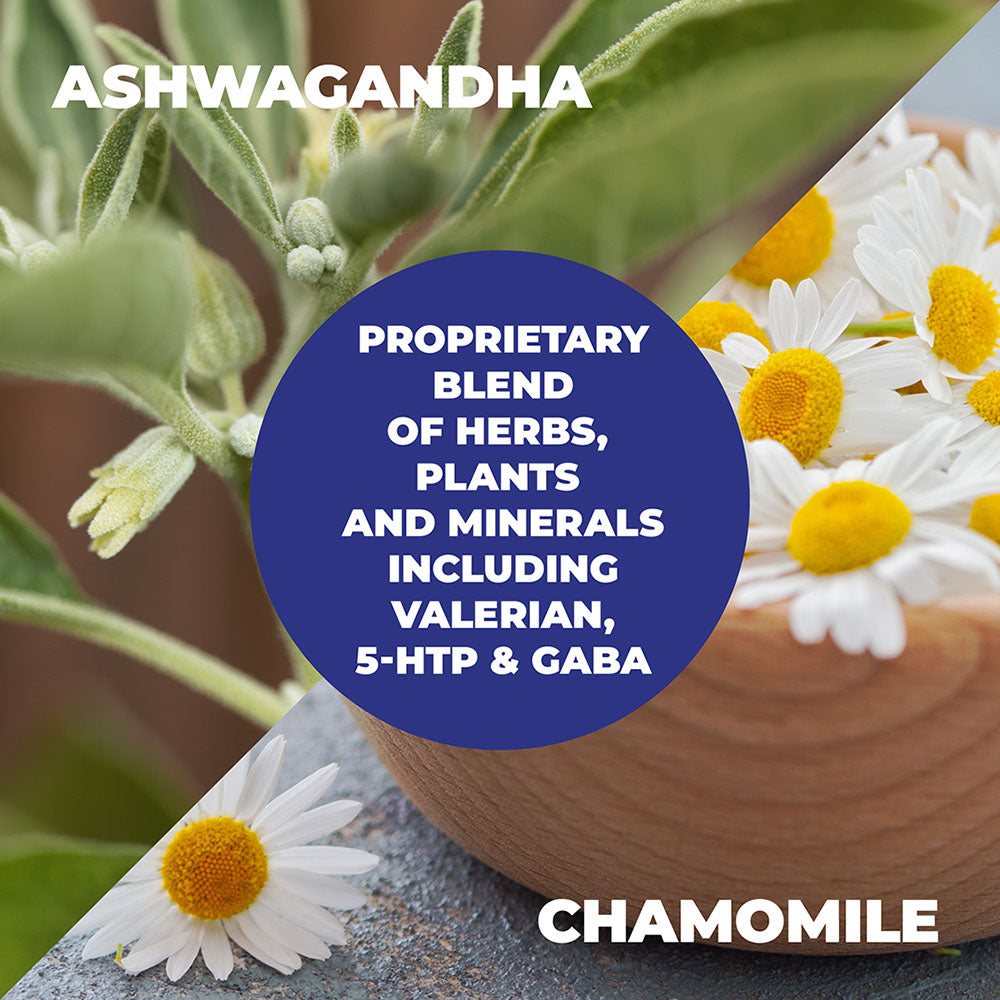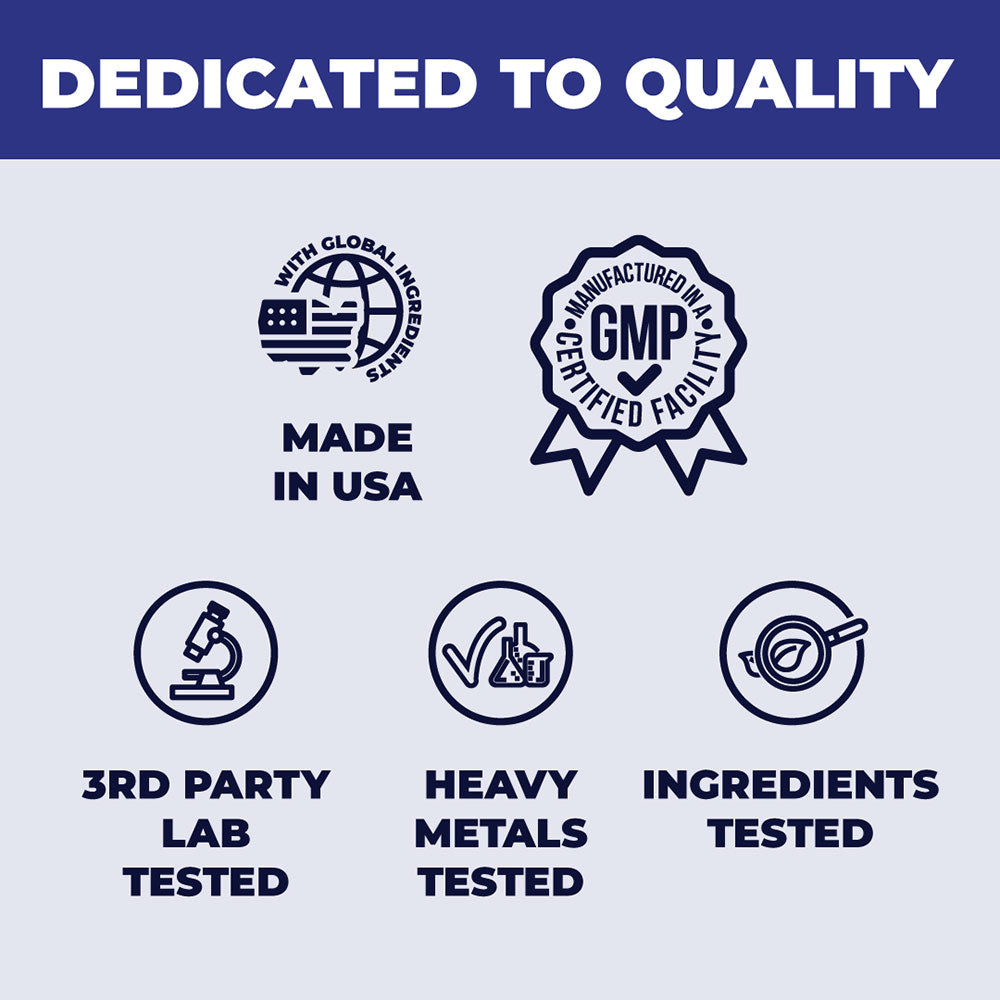 DISCOVERING THE POTENCY OF STRESS RELIEF SUPPLEMENT
Stress has become a prevalent issue in today's fast-paced world. With the increasing demands of daily life, our minds and bodies often feel overwhelmed. Fortunately, nature has provided us with natural stress relief supplements that can help bring a sense of calm and balance.
BEST VITAMINS FOR RELAXATION
🧘🏼 PROMOTES RELAXATION & EASE*

🧘🏼 BALANCES MOOD & NERVOUS SYSTEM*

🧘🏼 BOOSTS FOCUS, CONCENTRATION & MEMORY*

🧘🏼 ENHANCES ENERGY & WELL-BEING*
THE MODERN EPIDEMIC: UNDERSTANDING STRESS
Stress is not just a state of mind; it manifests physically, affecting our health and well-being. Over time, chronic stress can take a toll on our brain, leading to mental fatigue and deteriorating cognitive abilities.
EXPERIENCE NATURE'S CALMING TOUCH
HERBAL STRESS RELIEF

Dive into the realm of herbal stress relief and experience the tranquility nature offers. Our supplement seamlessly blends traditional wisdom with modern science to provide a solution that calms the senses.*

NATURAL STRESS RELIEF TABLETS

Instead of turning to synthetic means, opt for natural stress relief tablets or capsules. Rooted in nature, these capsules promise relief without side effects, ensuring a smooth journey towards relaxation.*
VITAMINS FOR RELAXATION: A CLOSER LOOK
Relaxation is more than just "feeling calm." It's about physical ease, mental clarity, and emotional peace. Vitamins, particularly the B-complex and magnesium, play a pivotal role in this, ensuring that the body and mind remain in harmonious synchrony.*
WHY CONSIDER STRESS RELIEF SUPPLEMENTS?
1. NATURAL RELAXATION

Herbal stress relief components like chamomile and valerian root have been used for centuries, hailed for their abilities to instill a sense of calm and tranquility without the side effects often associated with pharmaceutical solutions.*

2. SUPPORTING BRAIN HEALTH

Chronic stress can lead to cognitive decline and memory issues. Vitamins for stress, especially B-complex vitamins, play a pivotal role in ensuring the optimal functioning of the brain. This includes the regulation of neurotransmitters, which can influence mood and stress levels.*

3. COMBAT FATIGUE

Ever felt drained after a stressful day? Vitamins for tiredness and stress, like B12, can recharge your batteries, helping you tackle challenges with renewed vigor. There are an excellent way of get some more energy.*

4. MANAGE MOOD

Fluctuations in mood can be exacerbated by stress. Magnesium stress relief properties, combined with B vitamins, help balance the brain's chemistry, potentially leading to a more stabilized mood.*
YOUR PASSPORT TO TRANQUILITY, RELAXATION, AND OPTIMAL BRAIN HEALTH
This dietary supplement uses various ingredients and natural extracts. Its proprietary blend of herbs, including Rhodiola, Skullcap, Gaba, Ashwagandha, and St. John's Wort, has calming properties and provides you with essential nutrients for strong brain function.* B Vitamins may help the nervous system, aiding in improved cognitive function.* The powerful blend of Gaba and Chamomile may help with relief of occasional stress* The 5-HTP produced from Griffonia seed extract aid in the production of Serotonin by balancing stress tolerance.*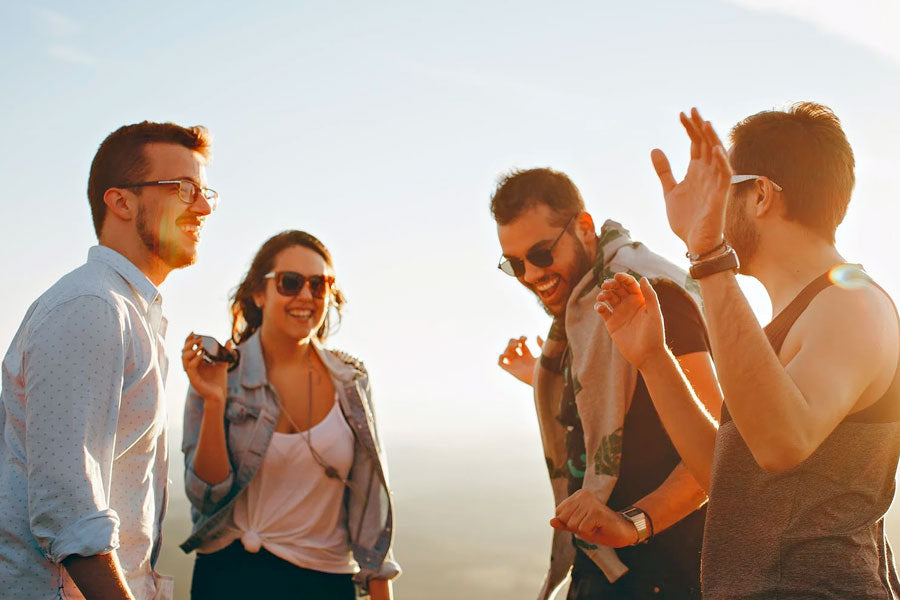 STRESS AND MOOD SUPPLEMENT: THE DYNAMIC DUO
Balancing mood is fundamental in managing stress. Specific supplements serve this dual purpose: Alleviating stress while elevating mood. Ingredients like St. John's Wort, 5-HTP, and L-Theanine are potent players in this arena, promoting a balanced mental state.
THE BEST SUPPLEMENT FOR STRESS RELIEF
✦ B-COMPLEX VITAMINS

The B-complex vitamins have been shown to support mood, improve energy and reduce occasional stress, and they are also among the first to be depleted during times of stress.* The body needs these vitamins, along with several other nutrients, to make Serotonin and other calming neurotransmitters.*

✦ MAGNESIUM

In one of its many important roles in the body, Magnesium acts as a sort of "gatekeeper," helping to move Calcium (which is excitatory) in and out of the cells.* Part of the stress response involves Calcium entering neurons in the brain. It is another nutrient that is quickly depleted in stressful times.*

✦ GABA

Gamma-Aminobutyric Acid (GABA) is both an amino acid and the body's primary calming neurotransmitter.* It may help the brain filter out non-essential sensory information, sort of like blocking out background noise. By doing this, it allows the brain to deal with the most important sensory information, leading to improved mental focus and reduced stress.*

✦ L-THEANINE

This amino acid, found in Green Tea, boosts the brain's levels of alpha waves, which promote a combination of relaxation and mental sharpness, similar to the effects of meditation.* It also appears to increase brain levels of GABA.*

✦ ADAPTOGENS

Some herbs are considered adaptogens, meaning that they may enhance the body's ability to adapt to stress.* Ashwagandha (Withania somnifera) has a long history of use in traditional Ayurvedic medicine and is sometimes called "Indian ginseng."*

✦ CHAMOMILE

Chamomile is primarily recognized for its calming properties.* It has been traditionally used to alleviate mild sleep disturbances and to soothe an upset stomach.* Its inflammation balance and antioxidant properties can also help balance skin inflammation and promote relaxation. *
THE ROLE OF LIFESTYLE IN STRESS MANAGEMENT
Managing stress requires multiple approaches. These include improving eating habits to maintain your nutrient reserves, incorporating mindful practices that help diffuse stress, and complementing your diet with nutritional supplements shown to have calming properties.* Incorporating all three approaches provides the best shield against the stresses life throws at us.*
TOP BRAND

GMO FREE

QUALITY

GLUTEN FREE

MADE IN USA

INGREDIENTS TESTED
ℹ︎Frequently Asked Questions About Stress Relief
WHAT ARE THE BEST SUPPLEMENTS FOR STRESS?

When it comes to managing stress, there are several dietary supplements that are commonly used and may be beneficial for some individuals. It's important to note that everyone's response to supplements can vary, and what works for one person may not work the same for another. Here are a few supplements that are often considered:

Ashwagandha: Ashwagandha is an herb traditionally used in Ayurvedic medicine known for its potential to balance stress levels. It may help support the body's natural response to stress and promote a sense of calm and relaxation.*
Rhodiola Rosea: Rhodiola Rosea is an adaptogenic herb that has been traditionally used to help the body adapt to stress. It may support mental and physical performance, reduce fatigue, and promote a balanced mood.*
Lemon Balm: Lemon Balm is a calming herb that may help balance stress levels and promote relaxation. It is often used to support a sense of calmness and may relief occasional sleeplessness.*
Magnesium: Magnesium is an essential mineral that plays a role in numerous bodily functions, including stress management. It may help relax muscles, support a calm mood, and promote restful sleep.*
B Vitamins: B vitamins, particularly B6, B9 (folate), and B12, play a crucial role in the production of neurotransmitters involved in mood regulation. Supplementing with B vitamins may help support a healthy nervous system and promote emotional well-being.*


It's important to remember that dietary supplements should not replace a balanced diet, regular exercise, and healthy lifestyle practices when it comes to managing stress.
WHAT VITAMINS ARE BEST FOR STRESS AND ANXIETY?

When it comes to managing stress, certain vitamins may play a role in supporting overall mental well-being. While it's important to note that vitamins alone may not be a cure for stress, they can be part of a holistic approach to promote a healthy mind and body. Here are some vitamins that are often associated with stress management:

Vitamin B Complex: B vitamins, including B1 (thiamine), B2 (riboflavin), B3 (niacin), B5 (pantothenic acid), B6 (pyridoxine), B9 (folate), and B12 (cobalamin), are known to be involved in brain function and the production of neurotransmitters. They are often referred to as "stress-relief" vitamins and may help support a balanced mood and nervous system function.*
Vitamin D: Vitamin D deficiency has been linked to lack of relaxation. Adequate levels of vitamin D are important for brain health, and supplementation may be beneficial, especially in individuals with low sun exposure or limited dietary sources of vitamin D.*
Magnesium: Magnesium is a mineral that plays a role in relaxation and stress management. It helps regulate neurotransmitters and supports healthy nerve and muscle function. Adequate magnesium levels may contribute to a sense of calmness and relaxation.*
Vitamin C: Vitamin C is an antioxidant that helps protect the body against oxidative stress. It also plays a role in the production of neurotransmitters like serotonin, which is involved in mood regulation. Adequate vitamin C intake may help support a healthy stress response.*

It's important to remember that vitamins are not a substitute for professional help when dealing with stress or anxiety. If you are experiencing significant stress or anxiety symptoms, it's recommended to consult with a healthcare professional or mental health provider for a comprehensive evaluation and personalized treatment plan.
WHAT CAN I TAKE NATURALLY TO RELIEVE STRESS?

When it comes to naturally relieving stress, several strategies can be helpful in promoting relaxation and well-being. While it's important to note that everyone's response to stress may vary, here are some general recommendations:

Exercise: Regular physical activity, such as walking, jogging, or yoga, can help reduce stress by releasing endorphins, the body's natural feel-good hormones. Exercise also promotes better sleep and overall mental well-being.*
Mindfulness and Meditation: Practices like mindfulness and meditation can help calm the mind and promote a sense of relaxation. These techniques involve focusing on the present moment, observing thoughts without judgment, and deep breathing exercises.*
Natural Supplements: Certain herbs have been traditionally used for stress relief. For example, chamomile tea, passionflower, and lavender are known for their calming properties.* However, it's essential to consult with a healthcare professional or herbalist before trying herbal remedies, especially if you have any underlying health conditions or are taking medications.
Relaxation Techniques: Engaging in activities that promote relaxation, such as deep breathing exercises, progressive muscle relaxation, or listening to calming music, can help balance stress levels. Finding hobbies or activities that bring joy and a sense of peace can also be beneficial.*
Healthy Lifestyle Choices: Adopting a healthy lifestyle can have a positive impact on stress management. This includes eating a balanced diet, getting enough sleep, avoiding excessive caffeine and alcohol, and maintaining social connections and support networks.*

It's important to remember that stress management techniques may vary for each individual, and what works for one person may not work for another. It can be helpful to explore different methods and find what resonates best with you. If stress becomes overwhelming or starts to significantly impact daily life, it's recommended to seek support from a healthcare professional or mental health provider for further guidance and assistance.
HOW DO I STOP OVERTHINKING AND STRESSING?

In today's busy world, many face the challenges of overthinking and stress. Here are some key strategies to help manage these feelings and promote well-being.

Practice Mindfulness: Engage in activities like meditation or deep breathing to redirect focus and cultivate a sense of calm and balance.
Prioritize Self-Care: Allocate time for activities that bring joy and relaxation, such as hobbies, exercise, and quality time with loved ones.
Develop Healthy Coping Mechanisms: Seek support from trusted individuals, consider professional help, journal your thoughts, or engage in creative outlets.
Set Realistic Goals: Break tasks into manageable steps, celebrate progress, and adjust goals when needed to maintain a sense of control and accomplishment.
Establish Healthy Boundaries: Say "no" when necessary, delegate tasks, and create boundaries to prevent overwhelm and protect your well-being.
Support with supplements: Sometimes a poor diet can help us not achieve the state of relaxation we are looking for, in these cases it is recommended to support our diet with specific supplements to achieve a balanced daily intake of vitamins and minerals.

Managing overthinking and stress is an ongoing process. Remember to seek support when needed and prioritize your mental and emotional well-being.
IS B12 GOOD FOR STRESS?

While individual experiences may vary, vitamin B12 is known for its essential role in maintaining overall health. It supports proper functioning of the nervous system and helps regulate mood. Adequate B12 levels contribute to overall well-being, which indirectly impacts stress management. However, it's important to address stress holistically through various strategies, including self-care practices and seeking appropriate support. Consulting with a healthcare professional can provide personalized guidance on incorporating B12, whether through dietary sources or supplements, into a comprehensive stress management plan.*
WHAT SUPPLEMENTS ACTUALLY HELP WITH STRESS?

Certain supplements are believed to help manage stress.* These include ashwagandha, which has adaptogenic properties that can improve the body's resilience to stress, and Rhodiola rosea, another adaptogen that may reduce fatigue linked to stress.* L-theanine, found in tea leaves, can promote relaxation without drowsiness.* Additionally, B-complex vitamins can support overall energy and mood balance.*
DO STRESS SUPPLEMENTS ACTUALLY WORK?

Stress supplements, such as ashwagandha, Rhodiola rosea, and L-theanine, have shown potential in some studies to help manage stress and promote relaxation.* Their effectiveness can vary among individuals based on factors like biochemistry, the nature of the stress, and dosages used. While they may provide benefits for some, it's crucial to approach them as part of a broader stress management strategy and always consult with a healthcare provider before starting any supplementation.
DOES MAGNESIUM REDUCE STRESS?

Magnesium plays a role in regulating the body's stress response system.* Adequate magnesium levels support neurological and physiological processes that may help reduce feelings of occasional stress and promote relaxation.* Many people use magnesium, especially in forms like magnesium oxide, as a natural approach to manage stress.*
WHAT IS THE NUMBER ONE HERB FOR STRESS?

Ashwagandha is often regarded as one of the top herbs for managing stress.* It's an adaptogenic herb used in traditional Ayurvedic medicine to enhance the body's resilience to physical and mental stress.* Research suggests that ashwagandha can help reduce cortisol levels, a primary stress hormone.*
*These Statements have not been evaluated by the Food and Drug Administration. This product is not intended to diagnose, treat, cure or prevent any disease.
Why Vimerson 💚
JUST PREMIUM SUPPLEMENTS YOU CAN TRUST.
Made in the USA in a GMP-Certified Facility with Globally-Sourced ingredients. Non-GMO, Vegan, Gluten-free, Dairy-Free, Sugar-Free and Soy-Free. A convenient flip-top bottle for on-the-go nutrition.
All Vimerson Health products contain no hormones and no preservatives.